Click Here for More Articles on NEW YORK CITY
The Freedom Theater's THE SIEGE and More Join NYU Skirball's 2017-18 Lineup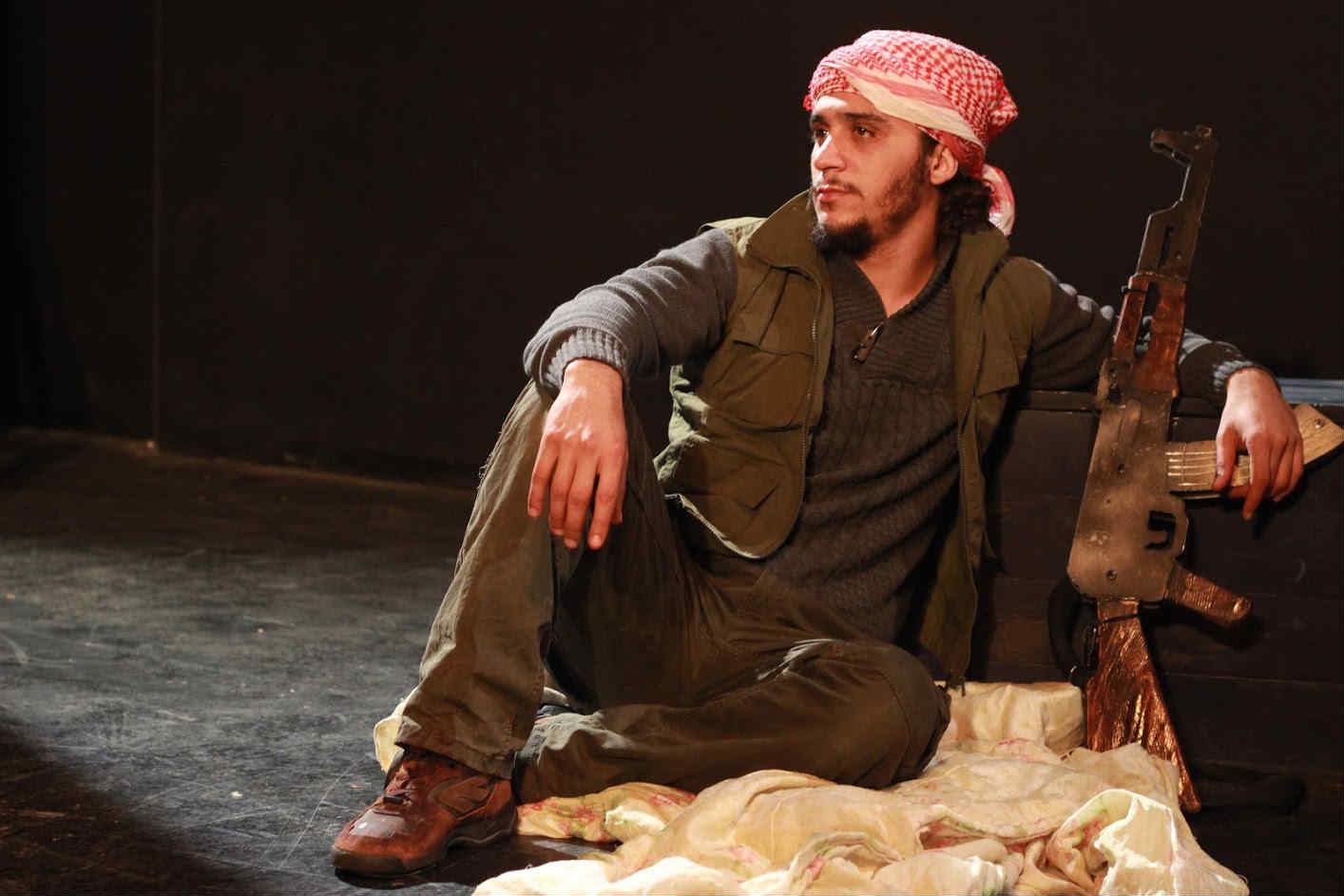 NYU Skirball has added five presentations to its 2017-18 season lineup, announced NYU Skirball Director Jay Wegman, including American premieres from the Palestinian Freedom Theatre and Ireland's outrageous THISISPOPBABY, and a performance from composer Morton Subotnick.
The season will feature over 45 unique presentations by some of the world's leading provocateurs, artists and activists, performing unconventional and often controversial works in varied spaces throughout NYU Skirball - turning the lobby, dressing rooms, hallways and backstage areas into centers of creativity. The season, the first curated by Jay Wegman, will showcase diverse and cutting-edge international talent from Brussels, Chile, Denmark, France, Germany, Ireland, Pakistan, the Palestinian West Bank, Democratic Republic of Congo, the U.K. and the United States.
More than 100 performances and events will feature nine American premieres, running from September 8, 2017 - May 28, 2018.
---
IN THE SOLITUDE OF THE COTTON FIELDS
Free Site-Specific Event
Thursday, October 5 at 7:30 pm and Sunday, October 8 at 3 pm
This free theatrical event will be performed on the Grand Staircase of NYU's Kimmel Center, directly around the corner from the NYU Skirball entrance.
Audience members will receive headphones, allowing them to eavesdrop on the intimate, secretive, and transgressive negotiations between a drug dealer and his client in a new adaptation In the Solitude of the Cotton Fields by the French playwright Bernard-Marie Koltès. The action of this French theater classic unfolds in an intense transaction between conflicting desires for drugs, love, connection, and a sense of existence. The play is directed by the innovative French director Roland Auzet, with a new English translation by Judith Miller, featuring Becca Blackwell and Tory Vazquez.
Performances of In the Solitude of the Cotton Fields are made possible thanks to the support of the Cultural Services of the French Embassy in the United States, FACE Foundation, La Muse en Circuit, Compagnie Act-Opus, and NYU-Center for French Civilization and Culture.
Tickets: FREE (RSVP Required)
THE FREEDOM THEATRE: THE SIEGE
American Premiere
October 12 - 22*
The Siege is a passionate retelling of the story of the 2002 siege of Bethlehem's Church of the Nativity, during the height of the second intifada. Drawn from interviews with survivors, it is told from the point of view of some of the armed Palestinian fighters who found refuge in the church. Along with 200 civilians, they were given sanctuary by the church's resident priests and nuns and spent 39 days there with dwindling food, water and medical supplies. While the world watched, the fighters grappled with survival, ideology, and the decision to continue the struggle to the end, or surrender. In Arabic with English supertitles.
The Freedom Theatre, based in the West Bank refugee camp of Jenin, is dedicated to using culture and art as catalysts for social change. Through workshops, classes and professional theater productions, the company helps Palestinian adults, youth and women develop tools to deal with the hardships of daily life under occupation. thefreedomtheatre.org
The North American premiere tour of The Siege is produced by ArKtype / Thomas O. Kriegsmann.
*Schedule: Tuesday - Saturday at 7:30; Sunday at 3 pm
Tickets start at $65
Morton Subotnick: Silver Apples of the Moon
Friday, November 3 at 7:30 pm
Pioneering American electronic music composer Morton Subotnick presents a rare concert celebrating the 50th anniversary of his groundbreaking record Silver Apples of the Moon, the first electronic album ever to be commissioned by a classical record label. Often called the "founding father" of electronica, Subotnick's work Silver Apples has become a modern classic and was recently entered into the National Registry of Recorded Works at the Library of Congress. Only 300 recordings throughout the entire history of recordings have been chosen. Subotnick tours extensively throughout the U.S. and Europe as a lecturer and composer/performer. mortonsubotnick.com
Tickets start at $35
LOST LANDSCAPES OF NEW YORK: A Rick Prelinger Film Event
New York Premiere
Sunday, November 12 at 3 pm
Lost Landscapes of New York, a unique film presentation by film historian and archivist Rick Prelinger, includes home movies by New Yorkers, tourists and semi-professional cinematographers with outtakes from feature films and background "process plates" picturing granular details of New York's cityscape. The program covers life during much of the 20th century and includes views of the old Penn Station before its demolition; the Lincoln Center area pre-redevelopment; depression-era "Hoovervilles"; and much more. Viewers will be invited to comment, to ask questions and to interact with one another as the screening unfolds.
Presented in partnership with the Museum of the Moving Image and in cooperation with NYU Cinema Studies and its Orphan Film Symposium.
Tickets: $20
THISISPOPBABY: RIOT
American Premiere
February 15 - 17 at 7:30 pm
RIOT, the jaw-dropping theatrical highlight and winner of Best Production at the 2016 Dublin Fringe Festival, is a disorderly cocktail of wild theater, gut-punching spoken word, banging jigs, slapstick comedy and eye-popping circus that leaves audiences dazzled and dizzy. RIOT is both party and politic, a love letter of hope to the future, a clarion call on the state of the nation and a divine celebration - and a blunt criticism of the world today. The all-star cast includes Panti Bliss, Ireland's Queen of Drag; Up & Over It (former Riverdance leads); and Megan Riordan, star of Once - The Musical.
THISISPOPBABY, self-described "theatre makers, club creatives and good time gurls [sic]," lands somewhere between pop culture, counter culture, queer culture and high art. Founded in 2007, the Dublin-based company has played to sell-out crowds and critical acclaim throughout Ireland and around the world. In addition to making small and large-scale theatre and musicals, THISISPOPBABY has also produced alternative performance arenas at outdoor music festivals and created Ireland's queer arts festival, Queer Notions. thisispopbaby.com
Riot is co-presented with Irish Arts Center. Irish Arts Center is an arts and cultural center dedicated to projecting a dynamic image of Ireland and Irish America for the 21st century, building community with artists and audiences of all backgrounds, forging and strengthening cross-cultural partnerships, and preserving the evolving stories and traditions of Irish culture for generations to come. irishartscenter.org
Tickets start at $50
---
Tickets may be purchased online at www.nyuskirball.org, by phone at 212.998.4941, or in person at the NYU Skirball Box Office: Tuesday-Saturday, 12:00-6:00 P.M. NYU Skirball is located at 566 LaGuardia Place at Washington Square, New York, New York 10012.
NYU Skirball, located in the heart of Greenwich Village, is one of New York City's major presenters of international work, and has been the premier venue for cultural and performing arts events in lower Manhattan since 2003. The 860-seat state-of-the art theater, led by Director Jay Wegman, provides a home for internationally renowned artists, innovators and thinkers. NYU Skirball hosts over 300 events annually, from re-inventions of the classics to cutting-edge premieres, in genres ranging from dance, theater and performance art to comedy, music and film.
NYU Skirball's unique place as a vibrant cultural center within New York University enables it to draw on the University's intellectual riches and resources to enhance its programming with dialogues, public forums and conversations with artists, philosophers, scientists, Nobel Laureates and journalists.
Jay Wegman is responsible for the direction and leadership of the Center's artistic programming. He previously served as director of the Abrons Art Center at Henry Street Settlement from 2006-2016, where he curated a balance of local, international, emerging and established multi-disciplinary artists. During his tenure, Abrons was awarded a 2014 OBIE Award for Innovative Excellence and a 2015 Bessie Award for Best Production. www.nyuskirball.org.