The Dare Tactic Presents Joey Contreras & Kate Thomas FORGET ME NOT A Concert Performance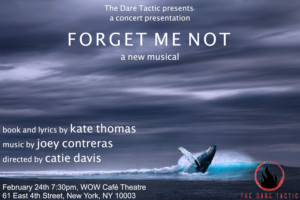 Opening The Dare Tactics 4th Season, Forget Me Not, music by Joey Contreras, book and lyrics by Kate Thomas, tells the story of a remote coastal town where a whale washes ashore and brings a burst of attention back to the struggling community. Unsolved murders, tender relationships, and a media frenzy lead to an explosive reveal that makes us wonder what we would do to keep from being forgotten. Forget Me Not is a new musical in progress. The creative team completed a successful Act One 29-Hour Equity reading of the show in December 2017, and is now taking the Spring of 2018 to finish the first full draft of the piece. "The current workshop you will be witnessing courtesy of The Dare Tactic's support is an exploration of potential orchestrations for the piece, as well as an opportunity to further define the relationship between a few central characters." - Kate Thomas.
Forget Me Not will be held at WOW Cafe Theatre on February 24th, 7:30pm. For Tickets, visit thedaretactic.org.
At the helm is Director Catie Davis, "Forget Me Not is about a lot of things, but pointedly - about how a community or simply an individual can easily be persuaded to capitalize off of, or exploit, suffering - whether it's the suffering of a living thing, a movement, a country - we fail to realize that sometimes we're reaping the benefits of someone else's pain or humiliation. We so quickly forget the ripple effect we could create in our personal quest for validation."
Casting for this workshop includes Dan Rosales (Pete), Emily Kay Shrader (Gail), Michael Williams (Banjo), Amanda Lopez (Maddie), and Diana Huey (Ensemble). Musicians include Joey Contreras (Piano), Brian Russell Carey (Violin), and Jenn Chandler (Cello).
Why this Piece?
"Forget Me Not is its own beast, but perhaps the feel of the show could be described as Pretty Little Liars meets Come From Away, but with an exploding whale...which is really why we started writing this show...to literally get to a place where we could justify a whale exploding onstage is a fun, ridiculous challenge," Joey and Kate
Why The Dare Tactic?
"Collaborating with The Dare Tactic is a wonderful opportunity for us to delve further into the sonic texture of this piece, while also allowing us room to focus on a few specific characters. We're certainly learning more from this workshop, and it will ultimately influence Act Two."
Founded in 2014, The Dare Tactic is a New York based theatre company dedicated to producing new, innovative, original works by underrepresented voices. Under fiscal sponsorship by Fractured Atlas, The Dare Tactic has produced 10 Mainstage productions at venues including: The ShapeShifter Lab, St. Paul's Theatre, The White Horse Tavern, Melville Gallery, and more. The Dare Tactic has been nominated at Planet Connections Theatre Festivity, appeared at Poetic License Festival, and collaborated with administration at Pace University. We dare our artists to cross boundaries, allowing the freedom for artistic exploration. ?Leadership of The Dare Tactic includes Executive Director Quentin Madia, Creative Artistic Director Vinny Eden Ortega, Producing Artistic Director Bleu Zephra Santiago, and Director of Media and Publication Noura Boustany Jost. For more information visit www.thedaretactic.org.
Artist Bios
Joey Contreras is a musical theatre and pop songwriter originally from California. He is internationally known for his first album Love Me, Love Me Not, which featured an all-star lineup of Broadway talent and spawned performances of his music around the world, including the US, Australia, London, South Korea, Germany and Japan. In 2014, his second and more pop-focused album, Young Kind of Love, immediately debuted in the iTunes Pop Charts. Out Magazine labeled the sophomore effort "sexy and catchy," and branded Joey a "Broadway-pop crossover extraordinaire." In 2016, Joey wrote the music and lyrics for the Disney Junior animated short, "Kiwi's First Flight," featured in the series, "Lights, Camera, Lexi!" Hailed as one of Playbill's "Contemporary Musical Theatre Songwriters You Should Know," Joey is a 2018 Jonathan Larson Grant Finalist, and his musicals with bookwriter/lyricist, Kate Thomas, include Ring Around (Provincetown Playhouse, Tisch, IWU, O'Neill NMTC Finalist), and Forget Me Not (The Dare Tactic, dir. Catie Davis). He also has written the music and lyrics for the song-cycle, In Pieces (originally presented at Lincoln Center). Joey is an alumnus from the NYU Graduate Musical Theatre Writing Program (2010 ASCAP Max Dreyfus Scholarship Recipient) and the 2017 Johnny Mercer Songwriters Project.
Kate Thomas is a Brooklyn-based theatre writer. She is a 2018 Jonathan Larson Grant Finalist, and the bookwriter and lyricist for her musicals with Joey Contreras, Ring Around (Provincetown Playhouse, Tisch, IWU, O'Neill NMTC Finalist) and Forget Me Not (The Dare Tactic, dir. Catie Davis), and her play Dirty July (Monsterpiece Theater Collective) was recently a 2017 selection for The Eddy Theatre. She received her MFA in Musical Theatre Writing from Tisch, and is currently a playwright in the Athena Writes 2018 play group. Her songs have been performed at Lincoln Center, 54 Below, and The Laurie Beechman, and she has contributed to a multitude of online platforms like ONMOGUL.com, The NewMusicalTheatre.com Green Room, and Thought Catalog.
Catie Davis is a NYC-based director interested in contemporary musical theater and classical adaptations. Favorite directing credits include We the People and Charlotte's Web (Theatreworks USA), Girl Versus Corinth (Joe's Pub, NY Fringe, DC Capital Fringe), Adonna (Joe's Pub & The Duplex), The Who's Tommy (Tarrytown Music Hall), and Rent (Paramount Center for the Arts). For NYU's musical theater program she has guest directed Tuck Everlasting, Leader of the Pack, Xanadu, and Legally Blonde. Associate/assistant credits include Joan of Arc: Into the Fire (The Public Theater), Measure for Measure (Hudson Valley Shakespeare Festival) and The Robber Bridegroom (Roundabout Theatre Company). She is currently associate to Alex Timbers on the musical adaptation of Beetlejuice and developing a musical adaptation of Medusa that will have a workshop production in NYC summer 2018. Catie is an associate member of SDC. www.catie-davis.com