The Center At West Park & Linked Dance Theatre Present BELOVED/DEPARTED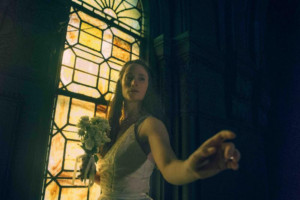 The Center at West Park(165 West 86th Street) Linked Dance Theatre is thrilled to announce that Beloved/Departed will make its Off-Off-Broadway debut at The Center at West Park (located at 165 West 86th Street, at Amsterdam Avenue) beginning Thursday, April 26, 2018. This strictly limited engagement will run through May 18, 2018.
Beloved/Departed is a modern, immersive reimagining of the Greek tragedy Orpheus and Eurydice featuring movement-based storytelling and original music. Audiences are invited by the host Aphrodite, Goddess of Love, and the bride and groom to attend this celestial wedding, where they will celebrate with other guests, divine creatures, and ultimately tackle the timeless question - is love enough?
The intimate setting of Beloved/Departed will keep audiences to less than 40 people, giving everyone a unique perspective of the festivities and allow them to be completely engaged in the wedding celebrations.
An exciting theatrical event, drawing on Linked Dance Theatre's experience in the immersive realm, Beloved/Departed features original movement and text created by the company. The production will feature lighting & scenic design by Cheyenne Sykes, costume design by Nicholas Smith, original music composed by Brendan Littlefield, stage management by Cati Pishal, and direction by Jordan Chlapecka (Co-Artistic Director of Linked Dance Theatre).
Beloved/Departed will star Josh James, Kendra Slack (Co-Artistic Director of Linked Dance Theatre), Kellyn Thornburg, Calvin Tsang, Maya Gonzalez, Nick Kepley, Chloe Markewich, Rita McCann, Matt Engle, and Oliver "Tillett" Burke.
"Our version of the myth of Orpheus and Eurydice aims to give a perspective on jumping into things too fast," says Jordan Chlapecka and Kendra Slack, Co-Artistic Directors of Linked Dance Theatre. "Weddings are a particular ritual where everything is called into question, and your past can come to haunt you at a family gathering, and begs a greater question of self, the myths we make, and the age old question 'is love enough to conquer death?' As a company, Linked Dance Theatre is inspired by the spaces around them. They think of the spaces they find as a characters in the shows they create, so the residency at The Center at West Park presented the ideal opportunity to explore this story and invite everyone to an otherworldly wedding.
Performances of Beloved/Departed will take place at The Center at West Park (165 West 86th Street, at Amsterdam Avenue) from April 26 through May 18, 2018, according to the following schedule: Thursday, April 26, Friday, April 27, and Saturday, April 28 at 7:30pm; then Wednesdays through Fridays at 7:30pm; and one additional performance on Saturday, May 12 at 3:00pm.
Tickets, ranging from $45 for General Admission and up to $75 for Premium tickets that allow audience members the chance to be part of the wedding party and engage with the performers, are available for purchase online from www.linkeddancetheatre.com/beloved/departed.
General Admission tickets grant patrons entrance into the wedding as a guest of Orpheus or Eurydice. Premium "Bridesmaid and Groomsman" tickets give patrons the opportunity to step into the role of an actual bridesmaid or groomsmen, giving more intimate access to the "bride and groom." With only 4 premium tickets available per performance (2 bridesmaid tickets & 2 groomsmen tickets), audiences are welcome to choose either designation, no matter what their gender identity is.
Click HERE to view the video teaser
Beloved/Departed is an immersive experience that lasts approximately 2 hours. Patrons must be able to stand and/or walk for the duration of the performance, including up and down stairs. The wedding will begin promptly at 8pm; late admittance is up to the discretion of our front of house staff. Be advised that haze and laser effects will be used in this experience. Please notify our front of house upon arrival if you think this will be an issue for you. Dressing for the occasion is highly encouraged - think, semi-formal relaxed spring wedding but comfortable footwear is advised. Food and beverage will be served/available at different points throughout the night. If you have serious food allergies or do not wish to consume alcohol, we suggest you politely decline any offers of snacks or drinks. There will also be a free, mandatory coat and bag check at the start of the experience.
Jordan Chlapecka & Kendra Slack (Co-Artistic Directors of Linked Dance Theatre) are both New York based artists. Jordan received his master's degree in Performance Studies from New York University and earned bachelor's degrees in Advertising and Anthropology from Southern Methodist University. He's performed pieces ranging from art activism with Jesusa Rodríguez in Chiapas, Mexico to a reimagining of Erik Satie's Parade with Richard Move at Yale. Kendra studied acting at Ithaca College and Circle in the Square Theatre School. From 2013-2014 she was a performer at The McKittrick Hotel as a company member with Punchdrunk and original cast member of The Heath. Her choreography has been featured in the NY Fringe Festival, The Choreographer's Canvas, and in the Big Range Austin Dance Festival in Austin, TX. Through their collaborations which began in 2014, they created Linked Dance Theatre, a company that strives to tell stories through movement, text, music and everything related to the body. A collaborative company that makes movement that fits its movers' bodies, Linked maintains that how you tell the story is most important.
Cheyenne Sykes (Lighting and Set Designer) is a multi-disciplinary designer originally from Western Canada. Her work has been displayed at the Prague Quadrennial and The Great Plains Theatre Conference. This past summer she served as an Assistant Lighting Designer at the Williamstown Theatre Festival, her fourth season there. Select Design Credits: NYU Faculty Dance Concert 2018, Red Light Winter (The Bridge Production Group), The Feels (KMS) (New Ohio), Blue Ridge (Williamstown), Hair (Columbia, Connelly Theater), Anne of Green Gables (Royal Family Productions). Assistant LD Credits: Counting Sheep (3LD), Strange Interlude (Transport Group), Charm (MCC Theater), Joan of Arc: Into the Fire (The Public Theater), Drake 'Boy Meets World' (European Tour). www.cheyennesykes.com
Nicholas Alexander (Costume designer) is a 2014 graduate from Ball State University with a bachelors degree in dance performance. He began sewing at a young age and began to design and create costumes for many theatre and dance productions throughout college. After moving to New York City in 2014 he has been working at Talent Unlimited High School costuming their musical theatre, drama and opera departments. This will be his fifth show working with Linked Dance Theatre either dancing or designing costumes. ~Clothes make a statement. Costumes tell a story. -Mason Cooley~
Brendan Littlefield (Composer) is a New York-based composer, singer, and pianist from the Pacific Northwest. He holds a Bachelor's degree in composition from Western Washington University, where he studied composition under Roger Briggs, and a Master's from NYU Steinhardt, where he studied under Bang on a Can founders Julia Wolfe and Michael Gordon. Brendan writes for a wide range of performers, ensembles, and collaborators, in a variety of settings and styles. This is Brendan's third production with Linked Dance Theatre.
Cati Pishal (Stage Manager) is an immersive stage manager, dramaturg, and consultant. Favorite works include The Visitation, My Life Among the Serial Killers, The Golden Lotus, Peter Pan (Beijing Premiere), The Bad Years, One Way, Boys Who Tricked Me and Sleep No More. Cati also serves as the resident stage manager for Walden Shakespeare.
ABOUT LINKED DANCE THEATRELinked Dance Theatre makes stories come to life through movement, text, music and everything related to the body. We believe that motions inspire emotions which lead our collaborative creative process, and out of our practice comes staged and immersive works that merge the worlds of theatre and dance by telling stories through movement, and subvert the conventional norms of what theatre or dance should or should not be. We use space to inspire the work and collaborate with our dancers to make each piece a truly unique reflection of the world around us.