Taylor's Mac's HOLIDAY SAUCE Comes to Town Hall December 11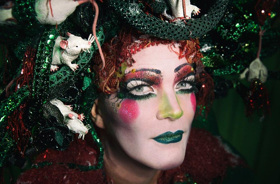 Taylor Mac's Holiday Sauce, the latest installment of the artist's award-winning A 24-Decade History of Popular Music project, will return to The Town Hall in New York City for another skewering of the sacred and the secular on Tuesday, December 11th at 8pm. A follow-up to its debut at The Town Hall in December 2017, the show explores Christmas as calamity, upending our yuletide traditions and celebrating the holiday in all of its dysfunction with the families you choose to love.
For this second New York holiday installment, produced by Pomegranate Arts (Executive Producer, Linda Brumbach; Associate Producer, Alisa Regas) and Mac's company Nature's Darlings, Mac will be joined by longtime collaborators: costume designer Machine Dazzle, music director Matt Ray and a band of eight. Once again the aim is to unnerve and unleash. "My job as a theatrical artist," he told the Paris Review, "is to remind people of the things they've forgotten, dismissed or buried, or that other people have buried for them."
Conceived, written, performed, co-directed, and co-produced by Taylor Mac, the creative team for Holiday Sauce includes Matt Ray (Musical Direction and Arrangements), Niegel Smith (Co-Direction), Machine Dazzle (Set and Costumes). Special Guest Performers include Machine Dazzle, Tigger!, Glenn Marla (as Sexual Consent Santa), and the local Dandy Minions and other surprise guests.
Playwright, actor, singer-songwriter, performance artist, director and producer, Taylor Mac is a 2017 MacArthur Fellow and is the author of seventeen full-length works of theater. Mac's A 24-Decade History of Popular Music won the 2017 Edward M. Kennedy Award for Drama inspired by American History and was a 2017 Pulitzer Prize Finalist for Drama. The work was also made The New York Times "Best of 2016" lists in three categories: Performance, Theater and Classical Music.
Taylor Mac's A 24-Decade History of Popular Music, a 24-hour live performance that debuted in Brooklyn in 2016, was a tectonic work. New York Times critic Wesley Morris called the show "one of the great experiences of my life". The program offered battle hymns, black spirituals, Tin Pan Alley songs, blues, Broadway musicals, reconstructions of "Yankee Doodle" and lesbian-feminist punk -- 246 songs in all, and all popular in one community or another in the United States over the last 240 years. The program has since been performed in parts and in its entirety all over the world including Melbourne, Los Angeles, London, San Francisco and Philadelphia.
About Taylor Mac:
Taylor Mac (who uses "judy," lowercase sic, not as a name but as a gender pronoun) is one of the world's leading theater artists. A playwright, actor, singer-songwriter, performance artist, director and producer, and "Critical darling of the New York scene" (New York Magazine), judy's work has been performed in hundreds of venues including New York City's Town Hall, Lincoln Center, Celebrate Brooklyn, The Public Theatre, and Playwrights Horizons, as well as London's Hackney Empire and Barbican, Washington D.C.'s Kennedy Center, LA's Ace Theater (through UCLA's Center for the Art of Performance), Chicago's Steppenwolf Theatre, the Sydney Opera House, The Melbourne Festival (Forum Theater), Stockholm's Sodra Theatern, the Spoleto Festival, and San Francisco's Curran Theater and SF MoMA.
judy is the author of many works of theater including the soon to be produced plays, Gary, A Sequel to Titus Andronicus, Prosperous Fools, and the previously produced works, A 24-Decade History of Popular Music, Hir, The Walk Across America for Mother Earth, Comparison is Violence, The Lily's Revenge, The Young Ladies Of, Red Tide Blooming, The Be(a)st of Taylor Mac, Cardiac Arrest or Venus on a Half-Clam, The Face of Liberalism, Okay, Maurizio Pollini, A Crevice, and The Hot Month.
Sometimes Taylor acts in other people's plays (or co-creations). Notably: Shen Teh/Shui Ta in The Foundry Theater's production of Good Person of Szechwan at La Mama and The Public Theater, in the City Center's Encores production of Gone Missing, Puck/Egeus in the Classic Stage Company's A Midsummer's Night Dream, and in the two-man vaudeville, The Last Two People on Earth opposite Mandy Patinkin and directed by Susan Stroman.
Mac is a MacArthur Fellow, a Pulitzer Prize Finalist for Drama and the recipient of multiple awards including the Kennedy Prize, a NY Drama Critics Circle Award, a Doris Duke Performing Artist Award, a Guggenheim, the Herb Alpert in Theater, the Peter Zeisler Memorial Award, the Helen Merrill Playwriting Award, two Bessies, two Obies, two Helpmanns, and an Ethyl Eichelberger Award. An alumnus of New Dramatists, judy is currently a New York Theater Workshop Usual Suspect and the Resident playwright at the HERE Arts Center.
Taylor Mac's Gary, A Sequel to Titus Andronicus will debut this spring on Broadway, with Nathan Lane and Andrea Martin, at Booth Theatre.
The Town Hall Presents: Taylor Mac's Holiday Sauce
Tuesday, December 11, 2017 at 8:00pm (doors 7:30pm)
TICKETS: $49/69/89/99
TICKETS at The Town Hall Box Office 212-997-6661 or http://www.ticketmaster.com [public on sale September 25; member pre-sale September 18]
Photo Credit Little Fang
| | | |
| --- | --- | --- |
| | Donations | Arts Orgs |
Related Articles
More Hot Stories For You
Marc Shaiman and Scott Wittman Announce Future HAIRSPRAY Productions Must Cast to 'Reflect Characters as Written'
Progress is being made in the world of musical theatre today, as OnStage Blog's Chris Peterson reports that Hairspray creator Marc Shaiman and Scott W... (read more)

Chris Trousdale, Former Member of DREAM STREET Who Began Career on Broadway, Has Died at 34
BroadwayWorld is saddened to report that actor and musicians Chris Trousdale has passed away. TMZ has reported that he passed away due to COVID-19. He... (read more)

Lea Michele Responds to Being Called Out for Behavior on GLEE Set- 'We Can All Grow and Change...'
Lea has now issued an apology in response. 'I apologize for my behavior and for any pain which I have caused,' says Michele. 'We can all grow and chan... (read more)

PETER PAN LIVE!, Starring Allison Williams, Christopher Walken, Kelli O'Hara, Taylor Louderman, and More, Will Be Broadcast Online
Peter Pan Live! will be broadcast online as part of The Shows Must Go On! The show will launch this Friday at 2pm EDT (7pm BST) and be available for 4... (read more)

VIDEO: The Cast of HADESTOWN Performs a Tiny Desk Concert
Cast members from Hadestown united for a Tiny Desk Concert, hosted by NPR! The concert was filmed back in March, but has just been released.... (read more)

Broadway on Demand Postpones Tony Award Celebration Set For June 7
Broadway On Demand has made the decision to postpone its Tony Awards celebration event that was scheduled for this Sunday, June 7. The announcement wa... (read more)