THIRTEEN's 'Theater Close-Up' to Present Signature Theatre's OLD HATS, 6/13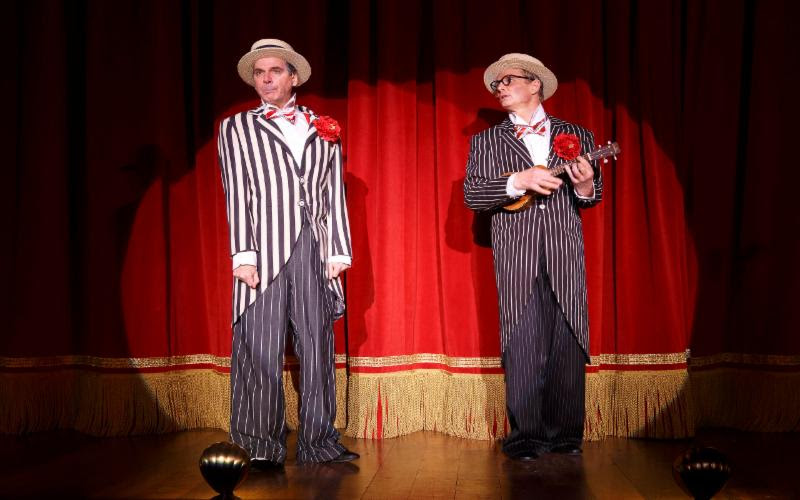 Theater Close-Up -- the unique collaboration between THIRTEEN and the large community of New York City area Off-Broadway and regional theaters - presents Tony Award winners Bill Irwin and David Shiner in their award-winning, critically acclaimed production of OLD HATS from Signature Theatre, Tuesday, June 13 at 8 p.m. on THIRTEEN, with an encore presentation on early Thursday morning, June 15 at 1:30 a.m. The play will also airSunday, June 25 at 9 p.m. on WLIW21. The play will be available for streaming in the tri-state area.
Old Hats is created and performed by Irwin and Shiner, with music and lyrics by and featuring Shaina Taub.
Signature enjoyed an extended, sold out run of the show in 2013, and brought it back in early 2016. This production reunites the clowns with original director Tina Landau and introduces their songstress and comic foilTaub, hailed as "a young Judy Garland meets grown-up Lisa Simpson" by the San Francisco Chronicle.
Bill Irwin reunites with fellow clown David Shiner for a new work combining their inimitable magic, slapstick, and hilarity. Using music, technology, and movement, plus other tricks up their respective sleeves, Irwin and Shiner create another wild and remarkable outing of theatre after this dynamic duo's first collaboration, the Broadway hit Fool Moon.
Bill Irwin was an original member of Kraken and of San Francisco's Pickle Family Circus. His original works include Fool Moon, The Regard of Flight, and Old Hats. He received a Drama Desk Nomination in 2009 for Roundabout Theatre Company's production of Waiting for Godot and a Tony Award and Helen Hayes Award in 2005 for the Broadway/West End revival of Who's Afraid of Virginia Woolf. He has received a National Endowment for the Arts Choreographer's Fellowship, a Guggenheim, a Fulbright, and a MacArthur Fellowship.
Clown/Playwright David Shiner made his American debut starring in the renowned Canadian Cirque du Soleil and toured NORTH AMERICA in Cirque's Nouvelle Experience from 1990 through the spring of 1991. Mr. Shiner starred with Bill Irwin and the Red Clay Ramblers in Fool Moon (Tony Award for Unique Theatrical Experience), touring the show throughout the U.S. and Europe. He also starred on Broadway as The Cat in the Hat in Seussical: The Musical. Recent credits include Cirque du Soleil's Kooza which Mr. Shiner wrote and directed.
The design team includes G.W. Mercier (Scenic and Costume Design), Scott Zielinski (Lighting Design), John Gromada (Sound Design), Wendall K. Harrington (Projection Design), Mike Dobson (Foley Design). David H. Lurie is the Production Stage Manager. Casting by Telsey + Company, Will Cantler, CSA.
Theater Close-Up on THIRTEEN has most recently featured The Woodsman recorded at New World Stages, Buried Child from The New Group, Buyer & Cellar from Westport Country Playhouse, and The Originalist captured live onstage at Arena Stage in Washington, D.C.
THIRTEEN is using its UNRIVALED expertise in producing national PBS arts programming - which began with such classic series as Theater in America, part of the award-winning series Great Performances and special limited series such as Stage on Screen -- to provide New Yorkers with unparalleled access to one of the City's greatest underexposed cultural assets.
The production was directed for television by David Horn.
Directed for television by David Horn, Old Hats is a production of THIRTEEN Productions LLC for WNET and Signature Theatre in association with Broadway HD. Mitch Owgang is producer; Bill O'Donnell is series producer; and David Horn is executive producer. Stewart F. Lane and Bonnie Comley are executive producers for Broadway HD. Executive-in-charge for WNET is Neal Shapiro.
Major support for Theater Close-Up, Season Two is provided by the Howard Gilman Foundation, the President's Innovation Fund, Bernard and Irene Schwartz, the LuEsther T. Mertz Charitable Trust, Leo Shull and Family and The Wilson Family.
Photo Credit: Joan Marcus