THE UN-AUGURATION: An Evening Of American Voices to Be Presented at the Bernie Wohl Center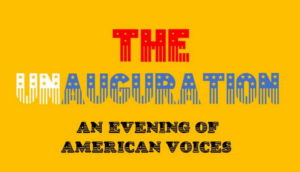 29th Street Playwrights Collective presents The UN-Auguration, an Evening of American Voices, short plays by New York City playwrights inspired by and commenting on the State of Our Nation. The staged readings will take place on Monday, January 29, at 7pm, at The Bernie Wohl Theater, 647 Columbus Ave.
Topics range from climate change to gun control, the opioid epidemic to Trump's White House, Women's March to plumbers, and all kinds of views of life in our modern world.
Featuring short plays by: Melissa Bell, Cindy Cooper, Quinn D. Eli, David Hilder, Penny Jackson, Robin Rice, Carrie Robbins, David Sard, John Robert Tillotson, Michael Wells-Oakes, Matthew J. Wells, Suzanne Willett.
The cast includes Jess Beveridge, Kelsea Feder, Carole Forman, Cynthia Granville, Sarah Kiefer, Mark Lanham, Greg Marlow, Jared Mason Murray, Emily Rahm, Abigail Ramsay, Khalid Rivera, Tepper Saffren, Kristin Samuelson, Isaiah Seward, Joe Sicari, Griffin Stanton-Ameisen, and Maria Wolf.
Refreshments will be served.
Please RSVP at EVENTBRITE/The unauguration
Suggested donation of $10.
For further information, visit www.29thStreetPlaywrightsCollective.org.
Related Articles
More Hot Stories For You