THE DRAGON GRISWYND Comes to the Theater For The New City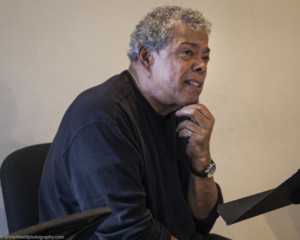 A playful, and poignant fairy tale for all ages, THE DRAGON GRISWYND by Carrie Robbins will have its world premier in the Community Space Theater at The Theater for the New City, Crystal Field (Artistic Director), as part of the 2018 Dream Up Festival, committed to wide-ranging, original theatrical visions. THE DRAGON GRISWYND is based on a story by RDRobbins.
Griswynd, a lone dragon, millenia old, last of his kind on earth, fire-breathing capacities down to barely a puff, lives in a burned-out volcano. The Humans have damaged Earth beyond repair and fled with the animals to a new planet they named EarthAgain. But they forgot one creature - this ancient dragon, left behind to ponder his lonely fate. Suddenly, a research android, sent by the Humans, enters Griswynd's lair! And then another! Now Griswynd's campaign to remedy his loneliness and hitch a ride to EarthAgain begins ...
The Dragon Griswynd is played by New York native Charles Turner*, an accomplished actor on stage and screen, who is often the understudy for James Earl Jones and has spent much of the last few B'way seasons in YOU CAN'T TAKE IT WITH YOU at Lincoln Center's Beaumont, ON GOLDEN POND with Leslie Uggams, A TRIP TO BOUNTIFUL with Cicely Tyson, and THE GIN GAME, also with Cecily Tyson. Turner has gone on for Mr. Jones many times.
Last season Mr. Turner appeared in Broadway's THE LITTLE FOXES with Laura Linney and Cynthia Nixon. He was part of the award-winning ensemble of Horton Foote's ORPHAN HOME TRILOGY at The Signature. Mr. Turner has been featured in TV dramas such as LAW & ORDER, THE Dave Chapelle SHOW, Sesame Street, and recently MME. SECRETARY. He has starred in many commercials, both on camera and in voice-overs. Mr. Turner's latest project is appearing in "If Beale Street Could Talk," a film adaptation of a James Baldwin story directed by Barry Jenkins, director of the academy award-winning "Moonlight," and entry into the NY Film Festival.
Award-winning costume designer/playwright Robbins' play SAWBONES & THE DIAMOND EATER (HERE Theater) received 6 NYITA nominations (from the NY Innovative Theatre Awards), more than any other production in 2014. In 2018, SAWBONES & THE DIAMOND EATER were semi-finalists in Theatre at the 14thStreet Y's 2018/19 season's juried competition. Robbins' MY SWOLLEN FEET, garnered Summerfest Theater Festival's Best Supporting Actor award for Thomas Leverton. Robbins' LE WEDDING DRESS reached the semi-finals in NYNewWorks 2015 Festival,and her play THE ACTRESS was a finalist in 2016's Summerfest Theater Festival.
THE DRAGON GRISWYND is directed by Joseph R. Sicari,who has directed Leslie Uggams, Doris Roberts, Ed Asner, Harold Gould, Pat Harrington, Larry Pressman, Barbara Bain, and Bonnie Franklin in productions of PLAZA SUITE, THE SUNSHINE BOYS THE CREATION OF THE WORLD AND OTHER BUSINESS, THE PRICE, ROUND AND ROUND THE GARDEN (Dramalogue Award - Best Direction), George Furth's MUSIC MINUS ONE, and CARNIVAL among many others.
The Dragon's android visitors and possible saviors, T22EA-M, also known as "Frank," and T22EA-F, also known as "Marcia," are played by Steven D. Hauck*and Jenne Vath*. Mr. Hauck is a veteran of many Broadway, film and television roles, and Ms. Vath is well-known to downtown Off-Broadway audiences.
THE DRAGON GRISWYND is Stage Managed by Lisa R. Stafford*
THE DRAGON GRISWYND will run for eight performances:
Thursday, September 6 at 6:30 pm
Saturday, September 8 at 3:30 pm and 8 pm
Wednesday, September 12 at 6:30 pm
Friday, September 14 at 9 pm
Saturday, September 15 at 3:30 pm and 8 pm
Sunday matinee, September 16 at 3:30 pm.
All performances will be held at Theater for the New City's Community Space Theater, 155 1stAvenue (9th/10thStreets), New York City.
Tickets are $20 at the door or through Smarttix: https://www.smarttix.com/Modules/Sales/SalesMainTabsPage.aspx?ControlState=1&SalesEventId=7952&DC=