THE ART OF SISTERS: Tales & Letters By The Brontës Comes To The American Irish Historical Society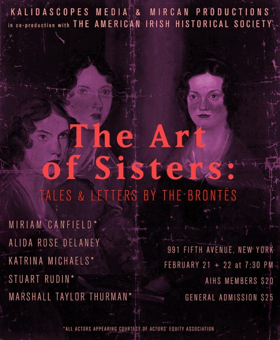 Jane Eyre, Wuthering Heights, and The Tenant of Wildfell Hall, evoke deep emotions for those who have read these beloved literary works. And yet, few readers know the history of the creators behind these great novels and the raw life experiences that gave birth to their writings. Charlotte, Emily and Anne Brontë, were sisters who grew up in 19th century Yorkshire, England, where the land and people were rough and the death toll was high.
Having been exposed to the hardships of life from a young age, the Brontë sisters' fertile minds and soulful natures were apt to express their understanding of the human experience by creating extraordinarily, original stories. The Art of Sisters: Tales and Letters by the Brontës, delves into these sisters lives and reveals Charlotte, Emily and Anne Brontë's personal struggles as they faithfully persevered.
Featuring the talents of: Miriam Canfield*, Alida Rose Delaney, Katrina Michaels*, Rae Nelson, Stuart Rudin*, and Marshall Taylor Thurman*
*These Actors are appearing courtesy of Actors' Equity Association.
Musical Arrangement and Original Composition by Nathan Ben-Yehuda
Costume Design by Liz Altmann + Mekenna Hartwig
Produced by KALIDASCOPES Media & MirCan Productions
Graphics by Kim Hoeckle
Photography by Shannon Finnell
The World Premiere of-
The Art of Sisters: Tales & Letters by the Brontës
Adapted and Directed by Miriam Canfield
February 21st and 22nd, 7:30pm
$25 General Admission
American Irish Historical Center
991 5th Avenue