Click Here to Visit the College Center

Blogs are the opinions of the authors and do not necessarily reflect the opinions of BroadwayWorld. BroadwayWorld believes in providing a platform for open and constructive conversation.

Student Blog: "These are a few of my favorite things…" for College!
My Top 10 essential items as a Musical Theatre major!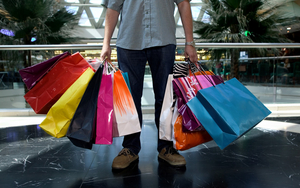 As most seniors in high school have finished up their college auditions, hearing decisions from schools, and putting down deposits, I thought it would be the perfect time to share my "must-have" items that have made college so much easier, especially as a Musical Theatre major.
When I first came to college, I had no idea what to expect. Programs will usually tell you the basic items to bring and advice blogs on the internet will help to connect the dots, but it was initially hard to truly determine what I would need as a BFA student that would best assist me in my training.
I have listed my top ten essential items down below, along with the links to the place where you can purchase them! This post is not sponsored at all, I'm just hyping up my favorite products. Of course everyone is different and has different needs, but these are what have helped me the most:
1. A Steam Inhaler.
I can easily think of many different occasions where my personal steam inhaler saved the day before an audition, voice lesson, or after a long day of training. I even used it during my college auditions to keep my throat warm and hydrated. It also helps a lot with congestion and allergies! I use the Mypurmist Handheld Personal Steam Inhaler and it is quite possibly my favorite "college" item that I have purchased so far. While it is on the pricier side, it is definitely an investment. I highly recommend a steam inhaler, no matter the brand, as it will for sure become your best friend in college.
2. A Cute Journal!
At my college, Long Island University Post, we do a lot of journaling. In our classes, we are encouraged to journal about our process- what we are learning, what we are struggling with, what we are excelling at, etc. It is such a great way to keep track of your progress in all of the different classes. I have found it to be such a helpful tool, especially when training in the performing arts. It is awesome to be able to look back and see how far you have come from the first day of freshman year. I also use a general journal to write about life and how I am growing as a person. Theatre school is intense and it can be so easy to get wrapped up in the chaos of it all. But mental health comes first! Always! I find that journaling at the end of my long school days are such a nice way to decompress and wind down. Again, I strongly recommend.
Here's a link to an ADORABLE journal!
3. A Diffuser/Humidifier.
A downside to living in the dorms is the dry air. While of course every school is different, the air can be especially dry during the winter months. The lack of humidity can be irritating to the vocal folds and not great for one's skin! It is nice to add extra moisture to the room. I have both a humidifier and a diffuser in my room primarily for these reasons. It can be so relaxing and make dorm life ten times better to have a nice, calming scent drifting around the room. Good vibes all around. 10/10.
4. A Roller.
Training in a musical theatre program can be very physically demanding. You are constantly dancing, moving your body in acting, and doing a lot more walking than you would think. I find that my muscles are constantly sore, which is why I love having a roller around in my dorm room to help relieve the tension from my muscles after a long day of classes. I didn't realize how necessary this item was until about a month into college when I noticed that I was feeling sore everyday and that my muscles were super tight. There are tons of different types of rollers, styles, and brands to choose from, so the options are endless!
5. A Nice Audition Outfit.
In addition to your athletic wear, leotards, tights, and more, I have found that it is absolutely essential to have a few nice pieces of clothing for auditions or special events. Here at LIU Post (pre-pandemic) there was always a show every weekend that one could dress up for, as well as auditions and performances throughout the semester that required a nice, clean outfit. Even now when everything is still online, we are still always auditioning and preparing self tapes. You never know when a nice outfit will come in handy, so it is best to pack accordingly.
6. A Good Speaker!
For blasting fun music in the dorm room, playing instrumental accompaniments for your voice lessons, long dance rehearsals, and more. Having your own portable, personal speaker is truly a lifesaver when you are in a performing arts program. It is best to find one that also has a long battery life, so that you can use it for longer periods of time and not worry about it dying in the middle of an important audition or extra dance class.
Here is my favorite portable speaker and where you can buy it. (Some speakers will be more on the pricier side, but they will be extremely beneficial to have all throughout college and the future, so it truly is an investment.)
7. Yoga Mat.
Having a yoga mat at school, especially in the dorm room, is honestly a life saver. I have gotten so much use out of my yoga mat and it has definitely made college life much easier. I use it to do Yoga in my dorm, workout, in dance classes during warm-up, and even sitting outside on the lawn to do homework with my friends. It is a multi-functional product and a good investment, especially if you are living in the dorms and don't have access to a gym.
Here is a link to some pretty yoga mats.
8. A Good, Sturdy Backpack For School.
There are days that my schedule is so packed and I have absolutely no time to run back to my dorm room. More often than not, I am going from class to class. Acting to ballet to tap to rehearsals. It is nice to have a big backpack that I can stuff all of my dance clothes, books, snacks, and items that I will need throughout the day. Whether it be a backpack, a tote bag, or a big purse- it is always a good idea to have a sturdy bag that you can carry with you every single day to your classes.
I have been using the Fjallraven Kanken Backpack since my junior year of high school and it has stayed with me throughout the past year and a half of musical theatre training! I highly recommend it. But also, remember that any backpack works!
9. An Amazing Water Bottle.
I know it seems silly that I am including this, but it is absolutely essential to have a good water bottle to carry with you to classes. It's good for the environment and it is beneficial when you are constantly moving and sweating and singing. Try to find something that can hold a lot of water and stay insulated throughout the day as you move from class to class. I cannot stress enough how important it is to stay hydrated. It can also be fun to personalize it with stickers! I find that doing this is always a good conversation starter and a way to connect with classmates.
I use HydroFlasks, which you can find here.
10. ACTIONS: The Actor's Thesaurus
This book has been so helpful for me in my training thus far. It contains a myriad of active verbs that you can use when fighting for your objective in a scene. I have used it for every scene and show that I have worked on in college, and it is absolutely a life saver. I highly recommend this book.
That's my list! Again, only you know what is best for you and what will help you to thrive the most in college. Happy packing!