Click Here to Visit the College Center

Blogs are the opinions of the authors and do not necessarily reflect the opinions of BroadwayWorld. BroadwayWorld believes in providing a platform for open and constructive conversation.

Student Blog: There's Hope for Aspiring Immigrant Artists
How do I plan to work in the US in the future without a visa, union or connections to the industry? Let me share with you.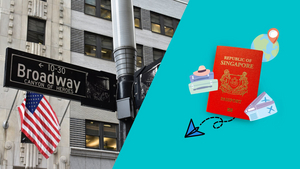 If you're not a US citizen or a green card holder, and have a dream of pursuing a career in the US, fret not. I am from Singapore and in this part 1 of 2, I'll be sharing my financial plans and visa application plans. But before that, here's my story...
In 2018 I saw my senior having her vacation in New York, watching a lot of Broadway shows. I was captivated by the places she visited and I wanted to experience them myself. So I decided that New York will be the destination for my diploma graduation trip. Then I had a conversation with myself (that spanned over a period of a few months).
Me: I think that 1 week is not enough. The flight there already takes 1 day.
Me again: Let's go for 2 weeks.
Me: Maybe I can go for some workshops or classes while I'm there.
Me again: Then I think I will go for 1 month.
Me: Maybe I can audition for something too. (how ignorant I was about how hard it is to find an open call without a talent agency!)
Me again: Let's do 3 months then!
Me: But that's too short, I don't think I can get a job that fast.
Me again: 6 months then!
Me: What if I get a job and I'm already back in Singapore?
Me again: Let's make it 1 year!
And so I began my journey of being serious about my dream. My plan is to head over to New York in 2024 but my plan had some financial setbacks due to Covid-19. So I may be delaying for a bit. The plan is to head there for 1 year and land a job within that period of time to be able to extend my visa. Please note that the plan is still work in progress, so let's see in the future how it pans out!
Financial Planning
The first thing I did was to save as much money as I could. I do not come from a well off family so I have to save every penny. I listed down the essential things I needed to set aside to move to New York, which are the flight ticket, rent, transportation, bills, food and visa application fees. That will total up to US$40,000 at least, with emergency cash flow. I prefer to head over with a plan and financial security so that I won't stress about money.
I set up a spreadsheet of the incoming earnings and outcoming spendings in order to keep track of how much I will save. I have also taken extra shifts and work odd jobs to earn more. Remember that even though it is temporary, make sure you are comfortable and doing something you would enjoy. I have also started investing (do it only if you are confident) and it is a risk that I am willing to take.
I have to cut back on eating out so I will often have breakfast and dinner at home and only eat lunch outside. Occasionally I will eat dinner with friends to ease the stress. I will also get the best deal and wait out for leisure purchases until there's a good bargain. I will only purchase necessities and think multiple times before getting something I want. Remember to be flexible with your planning because it may make you unhappy and not enjoy the moments you have with your loved ones. I fell into that state because I avoided social gatherings to save more but now I am still thrifty but I will set aside extra $50 a month to enjoy myself.
Tips: Check your local banks for the highest interest rates to get more savings.
Visa Application
Next on my itinerary is the visa application. There are a lot of visas that you can apply for. I am not an expert in visa but I am aiming for the O-1 visa, for individuals with extraordinary abilities and achievements. I would like to give a shoutout to Arts for Immigrants who has inspired me and helped me to kick start my visa application process. They are a community of immigrant artists that supports other immigrant artists. You can check them out and join the community!
From my consultation with Arts for Immigrants, they discussed with me if I should lawyer up or not. So I decided to tackle this visa application on my own without a lawyer since I have 3 years to work on it. I need to make sure that my visa application is spot on. I have to archive all my works properly, making sure to showcase as many of my works and get my works published in the media. The visa is basically a portfolio of my life.
I managed to get some contacts to local newspapers to feature my works in the future. Media coverage is important for the visa application to 'legitimise' your talent. I am also building my connections to both local and US art practitioners in order to get referrals for the visa application. Now is a good time to participate in online workshops, contests and performances to get recognised in the industry. I also need to plan out my itinerary for the things I will be doing in the US during my stay. It is a lot of work, and I am tackling it one step at a time.
Tips: International students in the US can consider applying for OPT first. It allows you to stay in the country after the completion of your studies to work for a period of time depending on your course duration. Then during your OPT you can apply for the O-1 visa.
I really hope that I may inspire some of you to take a leap of faith and don't throw away your dreams, thinking that it's impossible. What's the worst that could happen? Plan B: I will just have a lot of savings and the visa application works as my personal database with all my portfolio. I can use them to apply for grants to support my future works. Stay tuned to the next part, where I will share more about my plans on getting into the union and how I prepare for Broadway!