Click Here to Visit the College Center

Blogs are the opinions of the authors and do not necessarily reflect the opinions of BroadwayWorld. BroadwayWorld believes in providing a platform for open and constructive conversation.

Student Blog: Singer Actor Dancer
You're right where you are supposed to be and your skills will only get stronger.
This goes out to all my dancers who are singers and actors first. You know, when you are handed that piece of paper and have to checkmark which ones come easiest to you, and dance is at the bottom and you're like "here it goes again haha..."
When I came to AMDA I didn't have professional dance experience. I danced in the show choir at my high school, in musicals and I was on the cheerleading team. Those things were wonderful to have in my pocket walking into the dance world. But I'd never stepped into a tap class. I didn't know how to do a double triple time step, let alone know what a LaDuca shoe was or that they needed to be rubberized to avoid slipping before school started (oops, never gonna make that mistake again).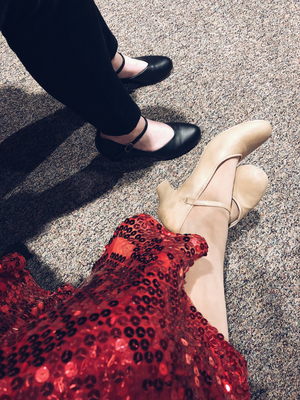 When I walked into dance placements the very first week, I noticed that there were people on different levels than me, people who had been dancing for years. Drawbacks, legs lifted to the skies, triple pirouettes galore. It was like one of those movie moments where it's all "Is this real?" and your jaw is dropped and you immediately feel intimidated.
But it was real. And some people were also starting out like me; we all had this movie moment reaction walking in. This was comforting to know I wasn't alone as we stretched in the corner. "Beginner," I'd shyly say with my head down as they asked, "Where are you at?" Honestly, I felt embarrassed. There were all these talented dancers around me with tons of experience. I wasn't where they were. I got discouraged.
But then I remembered a note I had written down from orientation that was spoken the week before. It said "Don't compare your chapter 1 to someone else's chapter 20." I took a breath and realized I needed to be right where I was. This quote has helped me through every single dance class I have taken and will ever take at AMDA. We are all in a different place in our process. If this is you I encourage you to stop judging yourself, allow yourself to make mistakes, to not be perfect, to give yourself room to grow.
To embrace the excitement or terror of being a beginner, to have patience with yourself, and most importantly to not compare your process to others with more experience than you. You're right where you are supposed to be and your skills will only get stronger. Chapter 1: Grow on.