Click Here to Visit the College Center

Blogs are the opinions of the authors and do not necessarily reflect the opinions of BroadwayWorld. BroadwayWorld believes in providing a platform for open and constructive conversation.

Student Blog: How to Prepare for In-Person Auditions Again
As in-person auditions start to invade our calendars again, it's time to refresh! Here are some tips on how to properly prepare for the upcoming audition season!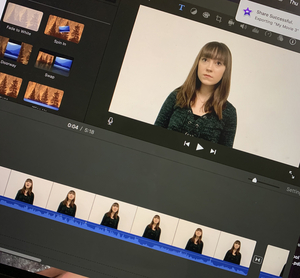 How to Prepare for In-Person Auditions Again
For the last fifteen months, we as performers have had to adjust to a new format of auditioning. We've had to completely rely on our online appearance and skills to receive recognition or respect from casting. This has been difficult for every performer, to make sure their zoom audio was clear enough, the camera was crystal clear, the background wasn't distracting and so many more concerns I'm sure we've all experienced during the pandemic. It's not easy for anyone to entirely abandon a normal way of working toward a successful career. There was no way when the virus reached our shores, for actors to keep attending in-person auditions multiple times a day everyday. It just wasn't safe. So, we had to invest in proper microphones, virtual training sessions, recorded dance classes, zoom voice lessons, and new high-end cameras just to make sure we weren't disrupting the flow and growth of our craft. One thing I find so inspiring about performers in the theatre industry is how they're always growing, always learning and always striving to be better than they were yesterday. It's truly inspired me to continue auditioning and putting myself out there within the industry. However, if you find yourself a bit nervous to be stepping back into the in-person element of the theatre industry or auditioning, look no further. There are certain elements of the auditioning aspect of the industry that you might need to spend time refreshing; reviewing your audition book, reviving your "look", getting new headshots if necessary, and returning to in-person dance/acting/voice classes.
Reviewing Your Audition Book
As you're reading this article, when was the last time you opened up your audition binder? Is it collecting dust? If it is, don't feel discouraged. You are not alone. The first step to reviewing your audition book after a year without in-person auditions is to go through each song and decide if it still fits your vocal part after a year, determine if your personality still shines through and figure out if it's appropriate for you based on your age range to continue singing that song in auditions. Now as far as monologues go, you can pretty much do the same thing. However, with monologues you can be a bit more personal. You can decide if a specific monologue does not inspire you or connect with you anymore. After the emotional rollercoaster of a year we've had in the last 15 months, you are given the right to decide what monologues you identify with. Another option for you is to completely reinvent your audition book. That might take a bit longer than just a refresher, however, it might be necessary in your particular situation to start from scratch. Just a reminder when picking new audition songs, make sure you're searching for songs that aren't overdone. The last thing casting directors want to hear when we return to the audition room is "On My Own" sung 12 times in one day. So do some deep diving and find songs that are rarely done in order to surprise directors and make yourself stand out to casting after hours and hours of auditions. Here's a great website to find under-appreciated musical theatre audition songs categorized by vocal part.
Reviving Your "Look"
I'm sure we could all appreciate a nice haircut and a facial after the year we've all had. If you look at your headshot you brought to your last in-person audition and don't recognize them, I would suggest a haircut. When in-person auditions start opening up again, you want to be ready to hit the ground running. You want to walk into that audition ready to show casting that you are ready to work after a year of being locked up with almost zero personal interaction. So, use this as an opportunity to treat yourself. Show your body some love after the harsh effects of 2020. Also, if you want to change part of your "look," like dye your hair, change your makeup routine, or update your style, use this as the perfect opportunity to do so.
Getting New Headshots
Now, if you're reviving your "look" as mentioned in the last tip, make sure you are getting headshots to match your new "look." I would suggest not dying your hair red and then handing a casting director a headshot of you with blonde hair. If you are significantly updating your physical appearance, make sure your headshot matches your new changes! However, if you are updating your wardrobe or your makeup routine, it might not be necessary to get new headshots. Outside of the pandemic, it's normal for an actor to get new headshots every 2-3 years or more frequently if your physical attributes are changing. So, look at your current headshot and decide if it's the right time to update your headshots! If it is, here are some great headshot photographers in Chicago and New York.
Attend In-Person Lessons
As in-person auditions and open calls begin to get scheduled, make sure you are continuing dance, vocal and acting lessons in order to keep growing, learning and evolving as a performer. Many popular dance studios in New York reopened the first week of April. All you have to do to get back into the dance studios at highly recognized studios like Broadway Dance Center, Steps on Broadway and Peridance Center is wear a mask and get vaccinated! It couldn't be any easier! So, get your tap, jazz and ballet shoes out, grab your water bottle and get back to the studio!
As performers, casting directors, music directors, choreographers, costume designers, etc. continue to get vaccinated, we can start to get excited about the future of musical theatre again! Broadway will open up on September 14th, 2021! Mark your calendars! Until then, get vaccinated, continue training and prepare yourself for a rolling audition season this year! New projects are being developed everyday so open yourself up to everything. Put yourself out there. Be confident in your abilities. Update your audition book, get that haircut, invest in new headshots, and get back in the studio! Theatre's coming back everyone!