Student Blog: Broadway Reopens and South Africa Recloses
The third wave in a third world country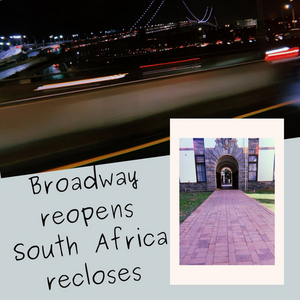 I am so excited for Broadway and the West End to reopen. It is so amazing to see the greater countries returning to a somewhat normal life. I love that there is that hope in the world for a better tomorrow.
South Africa on the other hand, we're in our third wave of the pandemic and our biggest threat is the delta variant, which devastated India. And as of last night, 27 June, we have been placed back under lockdown level four. Mind you, it is adjusted but with more precautions in place.
So, last year lockdown level 4 was around May. It was placed in order to allow for more of our economy to work again. We could leave our houses to exercise, we could order takeaways and now, schools' winter break has been brought forward. Schools, not universities.
Residences remain open but in contact examinations and classes have to end by Wednesday. I am supposed to go home on Friday, and I am so excited to go home, and I pray that they reconsider the lockdown and not make us go back to campus because as much as I have loved being at res with my friends, this place is not safe, and I do not want to die here.
Our dining hall feeds eight residences, no more than fifty people are allowed in "indoor gatherings", but my res has 78 students plus another seven residences. And with the adjusted lockdown, restaurants are not allowed to do "indoor dining" so, where does that leave our dining hall, it's concerning to say the least.
But hey, we are in exams so bigger priorities.
Speaking of, we're in week two of exams and I am surprised I haven't cried yet.
I had a practical exam for Sound Technology last week. I wrote two short essays for IFJ, and I answered eleven questions worth 200 marks. And I submitted a three-page essay for Psycholinguistics.
Now, it feels like I have made a dent in my work but, I have so many more assignments to complete. Here's the rundown:
I have two assignments to do for Systemic Functional Linguistics. Two timed quizzes for Syntax. A completely confusing essay for Sociolinguistics. I hope to finish all of these things by the end of the week because they're only due next week. So, finish five assignments while still packing up my res room.
I also want to get started on one of my four written assignments for Sound Technology, all of which are out of 100.
Dead, I will be dead after this but it's okay because by Friday I will get to see my furbabies.
Then next week, I have a zoom oral and then I have to make sure to finish all of sound technology by Thursday. It's okay, it will be fine.
And then once that is all over, a rightfully deserved pizza and movie night with my family watching In the Heights. Which I already watched with my friend, but I mean it was so good, I need to watch it again at home with pizza. To reward myself and challenge myself to not cry.