Click Here to Visit the College Center

Blogs are the opinions of the authors and do not necessarily reflect the opinions of BroadwayWorld. BroadwayWorld believes in providing a platform for open and constructive conversation.

Student Blog: Back to Broadway
I, along with many others, recently made my return to Broadway. Now, let's talk about how everything went down.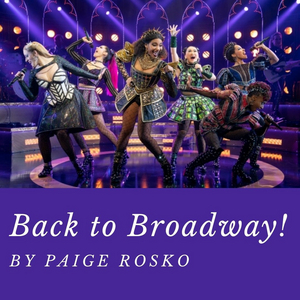 The moment we've all been waiting for has finally happened: I went back to Broadway. Making the return to Broadway has been something I've been thinking about a lot and I did contemplate the pros and cons, but I did it. And on September 17th, I got to go back to the Brooks Atkinson Theater and witness the magic.
My first show in over 18 months just happened to be my last show before the shutdown. I saw Six in February 2020, just a few days before it was announced that ushers at the theater had tested positive. It was a very special moment getting to be back in the theater, especially for the first show back. In this article, I am going to share some of my feelings towards being back and answer some questions that I posed in some of my previous articles.
First off, I did feel safe being back in the theater. I was definitely worried about going back into a crowded theater because I am immunocompromised, but every person I saw walk into the theater had their proof of vaccination out and ready, which made me feel comfortable and confident. While we were squished on top of each other, as is normal in a theater, I did not see anyone who was not wearing a mask. Everyone seemed to be following the rules and no one made a big fuss about having to wear a mask. Before being let into the theater, every audience member had to show a staff member their vaccination card and photo ID. While this did slow down the process of getting everyone into the theater, it was worth it. I have seen a few live, outdoor shows since the beginning of the pandemic and I do still feel more comfortable seeing a show outside, but I'm not opposed to seeing shows inside.
Once inside the theater, things were very close to pre-pandemic. The merchandise stands were open, the bar was open, and we were all crowded next to each other in line. The one thing that I did notice was missing was the people who walked around the mezzanine and orchestra selling food and drinks. The only place to buy food and drinks inside the theater were at the bars. Playbills (and second first preview pins!!) were handed out by ushers, just like they always were. People had masks on unless they were eating or drinking and everyone kept their hands to themselves. People tried to give others as much distance as possible when moving around the aisles and seats, with everyone being respectful of boundaries and rules.
The energy in the theater was amazing and breathtaking. For those of you who are not aware, Six is a concert/musical, where the queens are performing a concert for the audiences. This night truly felt like a rock concert, complete with singing along, clapping, standing, and dancing in the aisles. Personally, I sat in the rear mezzanine of the Brooks, which was probably the most active and fun section. We were standing up and cheering, dancing, and overall just having an amazing time. There were constant standing ovations, even when the show was stopped due to a technical issue right after "Get Down". I had a great time with the whole audience and everybody was living their best lives. It seemed like the cast members and musicians were really living their dream and it was just incredible to be a part of that. During "Six" (the song), everyone in the rear mezzanine was on their feet dancing, because we knew the choreography, and singing along. During songs like "Heart of Stone", along with people cheering for Abby Mueller's beautiful voice, you could hear a lot of people sniffling and crying (I was one of them). It was just really wonderful to be back and be together and be connected by amazing music and amazing women. It was really an amazing re-introduction to Broadway.
The energy of the Theater District itself was just as electric as it used to be. Six is a shorter show, running at about 90 minutes, so we finished earlier than other shows, but there was the same energy happening before the show. As we were all waiting in line to get checked in, there were people walking by in cosplay, singing, and talking about how excited they were to see the show. There were people running around Times Square trying to get to their show on time and the anxious but excited energy took over the whole area. It was a great experience to be back and be on the same wavelength as all these other audience members.
I am so excited for Broadway to be back. I think that the concerns I've discussed over the last few months are valid and we still should be discussing them. Just because we're excited to have Broadway back, doesn't mean we should forget everything we've fought for and worked towards during the shutdown.