Click Here to Visit the College Center

Blogs are the opinions of the authors and do not necessarily reflect the opinions of BroadwayWorld. BroadwayWorld believes in providing a platform for open and constructive conversation.

Student Blog: An Open Letter to Incoming Freshman
We could all use a little advice going into college, not matter what year we are. So, here are some of my best tips and tricks.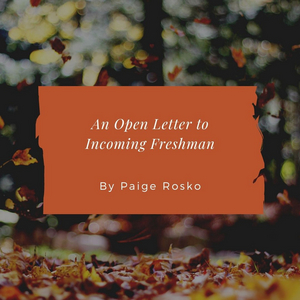 Dear Incoming Freshman,
Welcome to college! These are going to be four fun, frustrating, exhilarating, and exhausting years. While you are here to learn and get a degree, you're going to learn so much about yourself and how the world operates. I wanted to write this letter because as I sit on campus preparing for the new students to move in, I know that there is so much anxiety around what college is going to be like. My college experience so far has not been easy, but I know that I have grown in the best ways possible because of it. So, I'm going to give some of my best tips and tricks to hopefully help you become comfortable at college.
Beginning with move-in day. This day will be chaotic and very emotional. It is okay to cry out of frustration. I just moved into my dorm for the third year in a row and I cried because my ID card wouldn't work; there's just a lot of feelings being thrown around at that time. Just know that you are not alone in what you're feeling. Everyone is exhausted and frustrated and we all just want to lay down and nap for hours. This one extremely stressful day is going to lead to a lot of good. It's worth it 100%. I understand your mix of emotions, stressed but excited, nervous but exhilirated all at the same time. That's normal. Don't let the chaos of move-in day determine how the rest of your semester goes. While today is frustraing just know that you are going to have days of activities and orientation to do before classes. As an orientation leader myself, I want to make sure that the freshman are not feeling the crazy stressors of moving in before they start classes.I want the students to be on neutral ground, feeling good about the future at their school.
For me, the dining hall was terrifying the first few days of school. It feels like high school all over again and where you sit right now is going to determine how the next four years will go; that's not true here. Almost everyone is willing to have a stranger sit next to them for a meal and strike up a conversation. While it can be nerve-racking to just sit down next to someone and start talking, it will not be as bad as it may seem. Also, if you're with a bunch of people and you have open seats at your table, invite people to sit with you. Even if you never talk to them again after this meal, you now have one more friendly face on campus. Dining hall food is not always good and that's to be expected. But, you should still eat something. Nutrition is important. Take it from someone who didn't eat a lot her freshman year and ended up getting really sick. Even if the food sucks, you still need to eat. The "freshman 15" will probably happen, but it happens to everyone. Taking care of yourself is so important during this time.
On that note, we should talk about taking care of yourself. Your mental and physical health is so much more important than anything else during this time. Yes, you should take time and put focus into your education but also, don't be afraid to take a day off and get back in tune with yourself. During high school they always say that college professors won't let you take a day off; that is false. College professors understand what you're going through, they know this is a challenging time, so they're going to let you do what you need to do. Don't take advantage of this but use it when you need to. Also, early in the semester locate places on campus or nearby that will help with your mental and physical health. This could be the counseling center, the gym, a therapist, or even some hiking trails. Anything that you can store in the back of your mind for later when you need some help.
So, that is my not-entirely-professional advice about college. I didn't talk much about classes and all of that because during orientation and your first few weeks, you're going to here so much about classes and professors and all of that. While you are at college to get an education, there are other things that are just as important. So, I leave you with this: Please take care of yourself. Do whatever you need to do, but just take care of you first. College will not be as wonderful as it is supposed to be if you are not in the right headspace to really enjoy it.
Best wishes,
Paige