Stephen Colbert to Return as Host of 39th KENNEDY CENTER HONORS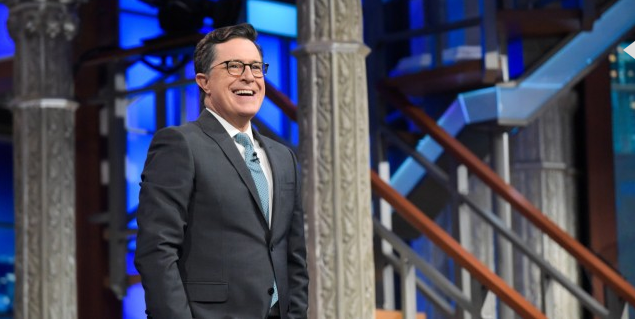 The John F. KENNEDY Center for the Performing Arts today announced Stephen Colbert will return to host the 39th KENNEDY CENTER HONORS on Sunday, December 4, 2016. The Honors Gala will be recorded for broadcast on the CBS Television Network for the 39th consecutive year as a two-hour primetime special on Tuesday, December 27 at 9 p.m. (ET/PT). This will be Colbert's third consecutive year hosting the special. As previously announced, the recipients of the 2016 KENNEDY CENTER HONORS will be Argentine pianist Martha Argerich, rock band the Eagles, screen and stage actor Al Pacino, gospel and blues singer Mavis Staples, and musician James Taylor.
Stephen Colbert
is the host, executive producer, and writer of "The Late Show with
Stephen Colbert
," which launched in September 2015 on CBS. Previously, he served as host, executive producer, and writer of the long-running, multiple Emmy® and Peabody Award-winning series "The Colbert Report" on Comedy Central. Colbert has written multiple New York Times bestsellers, including I AM AMERICA (And So Can You!) (2007) and AMERICA AGAIN: Re-Becoming The Greatness We Never Weren't (2012). He also won a Grammy® Award in 2010 for his one-hour original musical holiday special, "A Colbert Christmas: The Greatest Gift of All!" Before hosting the show in 2014, Mr. Colbert appeared at
THE
KENNEDY
CENTER HONORS during a 2011 tribute to
Yo-Yo Ma
. Ricky Kirshner and
Glenn Weiss
of White Cherry Entertainment are executive producers of the speci
Al. White
Cherry Entertainment is well known for producing the award-winning Tony® Awards for the last 13 consecutive years, the NFL Opening Kickoff and
SUPER BOWL
Halftime Shows, the Democratic National Convention, Presidential Inaugural Galas, and many others. To date, White Cherry Entertainment has won eight Emmy® Awards, while Kirshner and Weiss have individually received an additional four Emmy® Awards, six Directors Guild Awards, a Peabody Award, and more than 30 Emmy® nominations. The
KENNEDY CENTER HONORS
is one of the most awarded programs in television history, having received the Emmy® for Outstanding Variety, Music or Comedy Program 10 times. The Honors recipients recognized for their lifetime contributions to American culture through the performing arts-whether in music, dance, theater, opera, motion pictures, or television-are selected by the Executive Committee of the Center's Board of Trustees. The primary criterion in the selection process is excellence. The Honors are not designated by art form or category of artistic achievement; the selection process, over the years, has produced a balance among the various arts and artistic disciplines. The
KENNEDY CENTER HONORS
Founding Producer is
George Stevens
, Jr. Boeing is the Exclusive Underwriter of the 2016
KENNEDY CENTER HONORS
Gala. Delta Air Lines is the Official Airline of the
KENNEDY
Center Honors.