Click Here for More Articles on She Believed She Could
She Believed She Could: HADESTOWN's Anais Mitchell Could Change the World with a Song
There is very little that's typical about Hadestown, so it seems fitting that there is very little that's Broadway-typical about its writer-composer, Anaïs Mitchell. Previously a folk singer-songwriter, Mitchell is blazing new ground on Broadway this season, both with her unique jazz-folk interpretation of classical Greek mythology and as the first woman in over a decade to be solely responsible for the book, music, and lyrics of a Broadway musical.
Mitchell's journey to Broadway began with a car ride. In the course of her folk career, she spent time touring, which meant some long drives. It was during one of these that the first lines that inspired Hadestown - and a snippet of melody that became one of the show's signature songs - came to her out of the blue.
"I was driving in my car early on to get from one gig to another, and these lines came into my head - which are no longer in the show - but they seemed to be about the Orpheus and Eurydice story," Mitchell describes. The lines in question?
"'Wait for me / I'm coming / In my garters and pearls / With what melody / Did you barter me / From the wicked underworld?'" she quotes. "And the music was [what became] 'Wait For Me," she adds, continuing to explain how she became intrigued by the myth of a singer-songwriter and his "crazy, optimistic belief that, if he could just write a song beautiful enough, maybe he could change the rules of the world."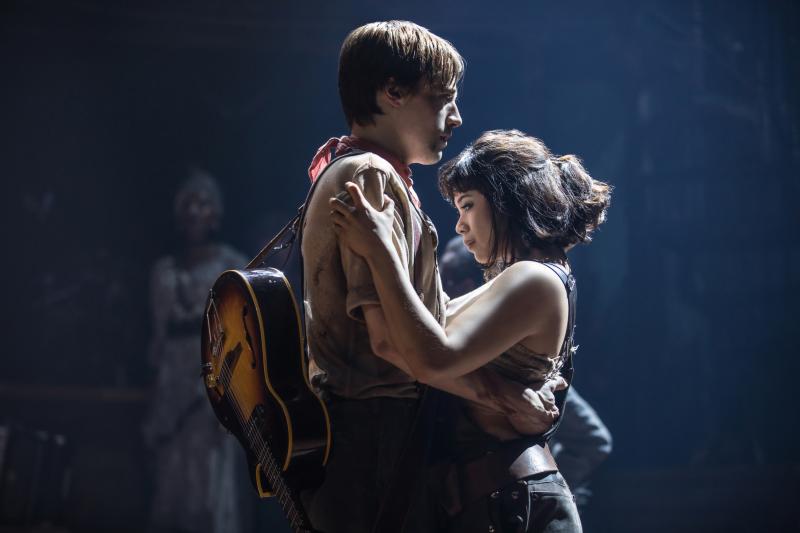 It's an unconventional beginning for what's become one of the hottest tickets in town - but don't the best stories have interesting origin stories, anyway? Mitchell explains that, rather than starting with a story, she starts with a bit of melody or lyric and lets it take her where it wills.
"The folk world has a lot of narrative songs anyway, a lot of balladry... I love to be pulled along in a story-song, so to write a musical was like doing that same thing but writ large," she begins. "I don't go at [a lot of songs I write] with a specific idea in advance. There's not a conceptual framework - usually a lyric will come, and it's sort of mysterious, and then I'll follow it into the labyrinth and see where it goes!"
For the uninitiated, Hadestown is a retelling of the Orpheus myth, setting the tale of the musician "touched by the gods" and his wife Eurydice in a world that evokes the railroad company towns of the early 20th century, while overlapping the young lovers' struggles with the struggling marriage of Hades and Persephone. Mitchell explains that the story's setting allows it to retain that mythological feel while also bringing in contemporary, timeless themes - and no, not just the bit about "Why We Build The Wall."
"It's always existed in this mythic plane, but it takes some influences from the Depression era. There's this idea of "Hadestown" being like a company town, with a gap between rich and poor, and yet this is a place of relative security but you 'owe your soul to the company store," says Mitchell, comparing the musical's aesthetic to a sort of archetypal, archaic Americana.
"Issues of climate change, the troubled relationship between history and nature, have really come to the fore in the show we're doing now," she adds, pointing out the way that Persephone - the goddess of the seasons - affects the literal environment. "In the Depression era, there was the Dust Bowl: man-made natural disasters. And themes like that feel contemporary, but I feel like they resonate in a vintage way."
That's been a big part of transitioning from the folk-songwriter mode into a full-fledged Broadway musical: finding ways to strengthen the story and its thematic content without worrying so much about "cleaning up" the show that it polishes away all the interesting edges. Mitchell credits her collaborators with working together to find the strongest version of their show.
"We'd had a long time to just focus on what [Hadestown] was as a piece of music, so there's a lot of ways in which the show has always been music-first," she says. The shaping of the show as a piece of theatre took off even further when director Rachel Chavkin came onboard in 2012.
"A lot of the work in development has been about how we can make this piece of music also work as a piece of dramatic storytelling. Moment to moment, can we be tracking the characters and what their choices are? I remember saying to one of our producers, 'It's never going to be "clean," it's always going to be messy!' And she said, 'It doesn't have to be clean, it has to be full and rich,' and that's what I hope that we've done."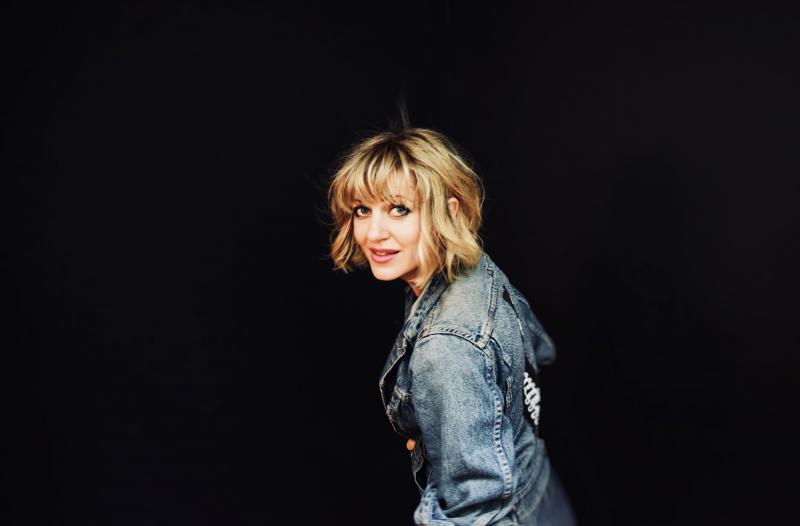 Those characters, ciphers from mythology, get blown up in Mitchell's hands into complicated, messy characters who live and love and make mistakes - huge ones, in some cases. It's that flawed humanity, combined with the contemporary, timeless resonance of the themes, that inspired Mitchell's creativity. The songwriter Orpheus, for instance, is someone she describes as "an artist and a dreamer who sees the way the world could be and has a hard time in the world as it is."
"He's more in his own world, tuned into a frequency that others aren't, but he can't see what's right in front of his face," she describes. And yet - his music is so beautiful that it does, almost, change the world. Mitchell's work meditates on flawed humanity at the same time it embraces the epic, life-changing power of the arts - contemporary, indeed.
As spectacular as Hadestown's journey has been, don't expect to see Mitchell trodding the road to Broadway again right away. Her next project takes her back to her folks roots, collaborating with other musicians on Bonny Light Horseman. Mitchell calls it a "very charmed, strange project" and speaks with enthusiasm about returning to folk songwriting and a smaller-scale project. It's a fitting full-circle moment for a writer and a project that began as a snippet of words and melody - and who knows when the next inspiration will strike.
Related Articles