Click Here for More Articles on NEW YORK CITY
Sarah Michelson to Premiere SEPTEMBER2017/ Next Month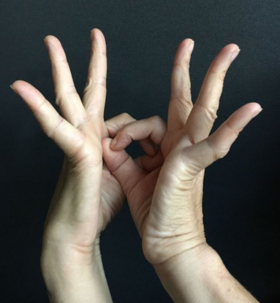 Live Arts Bard (LAB), the residency and commissioning program of the Richard B. Fisher Center for the Performing Arts at Bard College, has announced the world premiere of Sarah Michelson's September2017/. Michelson has created the new work through four years in residence at the Fisher Center, working throughout that time with a cohort of four Bard undergraduate students alongside her frequent collaborators.
The professional premiere of September2017/ will take place in the Frank Gehry-designed Center's LUMA Theater September 22-24. September2017/ features performances by the former Bard students from the class of 2017, with whom Michelson worked over the course of their college career, joined by a company of long-time Michelson performers. September2017/ is the opening chapter of a major new body of work by Michelson, with further iterations planned for the coming year.
Performances will begin nightly at 6pm. Tickets are $35 ($10 for students with ID) and can be purchased at to fishercenter.bard.edu or 845.758.7900. The Richard B. Fisher Center for the Performing Arts is located at 60 Manor Avenue, Annandale-On-Hudson, NY, 12504.
Playful, demanding, rigorous and inscrutable, Sarah Michelson creates dances of unmatched intensity and beauty. The only choreographer to win the Whitney Biennial's coveted Bucksbaum Award, she is as controversial and elusive as she is acclaimed. The Fisher Center's relationship with her began in 2012 with the discussion of a new commissioned work. Michelson ultimately suggested creating something over a period of four years using a combination of professional and student dancers, who have since had the opportunity to work intensively, during each spring and summer of their college career, with one of the most demanding and in-demand contemporary choreographers practicing in the U.S. today.
Gideon Lester, the Fisher Center's Artistic Director for Theater & Dance, said: "Sarah Michelson is one of the most radical and brilliant contemporary choreographers in America today. Her complex and iconoclastic performances take considerable time to develop. In our climate of instant gratification, sustained attention and ongoing commitment are perhaps our most precious resources. It has been remarkable having Sarah in residence at the Fisher Center over the past four years, working in painstaking relationship with a group of Bard students from their freshman year through their graduation. We can't wait to share their creation with our audiences."
Regarding this unique collaboration, Michaelson says: "Sharing four years with these four exciting young people has taught me so much about my own practice - we come to this new work together as a true team - disrupting all our learning as we go."
Bard alum and performer Anna Witenberg '17 shares this about her experience: "This project is about a deep commitment to work: learning how to work at this level and what conditions allow for true creative work to unfold. I began this process with Sarah when I was 18 years old and I am now 22, making my professional debut. The roots of this process are deep inside who I am as young performer."
Performing the world premiere of September2017/ will be, from the Bard Class of 2017, Rebecca Capper, Rebecca Ganellen, Joanna Warren, and Anna Witenberg, along with Rachel Berman, Jennifer Lafferty, Madeline Wilcox, and Michelson.
September2017/ exemplifies the Fisher Center's LAB program, which aims to create a community of professional artists and students who develop work side by side, inspiring one another to create and experiment. LAB provides commissioning and residency fees, studio and stage time, research resources and dramaturgy, and production support to a wide range of professional artists and ensembles working in theater, dance, performance, and the visual arts. Though their projects and methodologies vary widely, LAB artists share a common commitment to rigorous inquiry and innovation. At a time when developmental resources and commissioning funds for contemporary performing artists are increasingly scarce both nationally and internationally, LAB provides them much-needed support. LAB provides important benefits for the wider communities of Bard and the region. Students are mentored and taught by a roster of master artists from across the performing arts, and audiences enjoy a full season of performances and works-in-progress at the Fisher Center. The program's impact is also felt far beyond Bard and the Mid-Hudson Valley. Projects developed during LAB's first five years have been performed in more than 80 communities worldwide, including new works from Claudia Rankine, Will Rawls, Nature Theater of Oklahoma, Ralph Lemon, Miguel Gutierrez, Annie Dorsen, Michelle Ellsworth, Jack Ferver, Big Art Group, John Jasperse, Geoff Sobelle, Amanda Palmer, and many others.
Sarah Michelson's work has been presented and commissioned by BAM, PS 122, The Kitchen, Danspace Project, Movement Research, LMCC's River to River Festival, The Walker Art Center, On the Boards and Chapter Arts (Cardiff, Wales); and has toured to Cutting Edge Festival in Frankfurt, the Venice Biennale, SommerSzene in Salzburg, Tanz im August in Berlin and Zuercher Theater Spektakel in Zurich, where she received the Der Foerder prize.
She has created several evening-length and modular works, including The Devotion Series: Devotion, which premiered at The Kitchen (2011) and toured to the Walker Art Center in Minneapolis, ODC Theater in San Francisco and On the Boards in Seattle; Devotion Study #1, The American Dancer at The Whitney Museum of American Art (2012); Devotion Study #3 (work in progress) at the Museum of Modern Art, for the Some sweet day series curated by Ralph Lemon (2012); 4 for The Whitney Museum of American Art (2014); tournamento for the Walker Art Center (2015); and For James Tyson for the Kitchen (2015).
Michelson has received two Bessies for choreography and one for visual design; a Doris Duke Artists Award, the Bucksbaum Award, a Guggenheim Fellowship, a Foundation for Contemporary Arts Award, the Alpert Award in Dance, a NYFA Fellowship; and support from Altria, Creative Capital, Jerome Foundation, NYFA BUILD, Mid-Atlantic's USAI, AMC Live Music for Dance, MAP Fund, the DNA Project, NEFA's National Dance Project, NPN, Sophie and Leonard Davis Fund, Yellow House Fund and Arts International.
Named for the late Richard B. Fisher, former chair of Bard's Board of Trustees, the Fisher Center has become an influential force in performing arts programming, earning critical acclaim for innovative productions of opera, orchestral, chamber, dance, and theater programs. The Center was designed by legendary architect Frank Gehry and distinguished acoustician Yasuhisa Toyota, and has received international praise for its breathtaking architecture and superb sound.
Each summer the Fisher Center presents the Bard SummerScape festival, seven weeks of performing arts programs reflecting the life and times of the featured composer of the esteemed Bard Music Festival, now celebrating its 28th year. Fall and spring seasons include original productions, special one-night-only concerts, and touring artists from around the globe.
The Fisher Center is home to the Bard College Theater & Performance and Dance Programs, providing students access to exceptional theater facilities and opportunities to work with professional directors and dramaturges on publicly attended productions throughout the year. The Bard College Conservatory of Music and Bard College Music Program stage regular orchestral and chamber concerts.
Related Articles
More Hot Stories For You
VIDEO: HAMILTON Releases Side-By-Side Comparison of 'Helpless' and 'Satisfied'
Back in August, one Hamilton fan, YouTube user Ye Olde Bard, saw some parallels while watching the musical on Disney+, specifically between A Winter's...

MATILDA Film Adds Emma Thompson As 'Miss Trunchbull' and Alisha Weir in the Title Role
The upcoming film adaptation of the acclaimed musical Matilda has found its title star! ...

Winners Announced For The 2020 BroadwayWorld Cabaret Awards!
This year, the BroadwayWorld Cabaret awards were thrilled to be able to celebrate streaming events from all across the globe thanks to the innovation ...

Debbie Allen, Joan Baez, Garth Brooks, Midori, and Dick Van Dyke to be Honored at 43 Annual Kennedy Center Honors
Recipients to be honored at the 43rd annual national celebration of the arts are: multi-disciplinary artist, choreographer, and actress Debbie Allen; ...

The State of Broadway: January 2021
It's no secret that the state of the world has had a major impact on the theatre industry over the past year. Broadway, which usually brings in $14 bi...

DVR Alert: Hollywood Bowl Concert Series Kicks Off Tonight With MUSICALS AND MOVIES, With Audra McDonald, Kristin Chenoweth, and Sutton Foster
As BroadwayWorld previously reported a new weekly concert series, IN CONCERT AT THE HOLLYWOOD BOWL, will air on PBS. The series kicks off today with t...