SHENANDOAH's Rachel Potter Takes Over Instagram Today!
Get ready for an inside look at Serenbe Playhouse's new production, Shenandoah, with one of its stars, Rachel Potter as she takes over BroadwayWorld's Instagram Story today, March 29th! Make sure to tune in to go behind-the-scenes and see what it takes to put on this unique outdoor theatrical experience at a Civil War-era camp! You're not gonna want to miss this!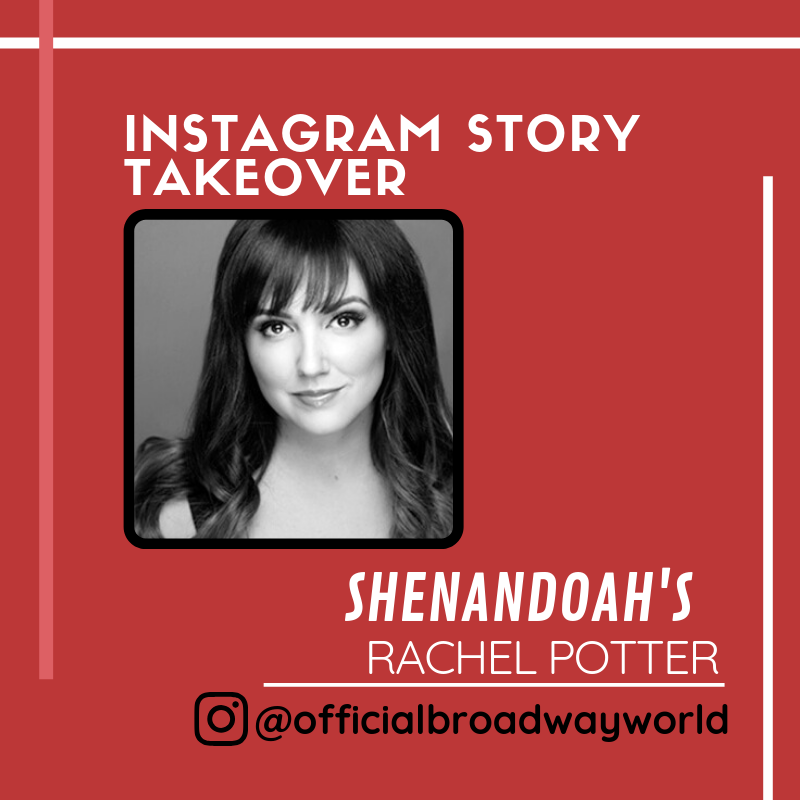 The story of one family's struggle living in the Shenandoah Valley during the American Civil War leaps to life in a hidden field in Serenbe, transporting you to the rolling hills of Virginia. A theatrical journey of heartbreak and ultimately hope in a fight for human rights will erupt out of an actual Civil War reenactment with over 100 soldiers, canons, horses and with an all-star cast of singer/musicians in a fight for Freedom and Love!
Rachel Potter (Anne Anderson) is thrilled to be making her debut at Serenbe Playhouse! She began her professional career at Walt Disney World, singing as Ariel, Belle and Nemo. She later starred on Broadway in The Addams Family, as Wednesday Addams, originated the role of the Mistress in the Tony-Nominated revival of Evita, and toured as Glinda in Wicked. Some of her favorite roles she's had the honor of playing regionally: Wendla in Spring Awakening, Sophie in Mamma Mia!, and Eponine in Les Miserables.
Pursuing another dream of country music and recording arts, she moved to Nashville in 2013. Potter went on to become a Top 12 finalist on season 3 of The X Factor, earning international praise for her country rendition of Queen's "Somebody to Love." Her take on the classic tune, which has now reached over 46 million views on YouTube, is featured on her album, "Not So Black and White."
In addition to the previously announced Taylor Hicks and Rachel Potter, the cast features: Caleb Baumann (Gabriel), Daniel Burns (James Anderson), Chase Davidson (Jacob Anderson), Pilot Bunch (Boy Anderson), Sophie DeLeo (Jenny Anderson), Jeremy Gee (John Anderson), Cullen Gray (Nathan Anderson), Jordan Patrick (Sam), Aaron Schilling (Henry Anderson), Jeremy Skidmore (Rev. Byrd). The Ensemble includes: Andrew Andersen, Alden Burroughs, Brady Dunn, Destiny Freeman, Alexandria Joy, Karley Rene, Terrence Smith.
To breathe new life into this classic story, Director Brian Clowdus (Artistic/ Executive Director, Founder of Serenbe Playhouse) leads a creative team including: Bubba Carr (Choreography), Chris Brent Davis (Music Director), Adam Koch (Scenic Designer), Joel Coady (Lighting Designer/ Director of Production), Rob Brooksher (Sound Designer), Emmie Thompson (Costume Designer), Mark Warner (Technical Director), and Jake Guinn (Stunt Coordinator).
Tickets are on sale now. Ticket prices start at $40. Senior/student and group discounts are available. Rain Insurance is available for all tickets. All may be purchased online at www.serenbeplayhouse.com, or by calling the box office (770-463-1110), Wednesday - Sunday, 12pm - 5pm.
Related Articles