Ripple Effect Artists Presents GUARDING THE BRIDGE In Limited Run At Triad Theatre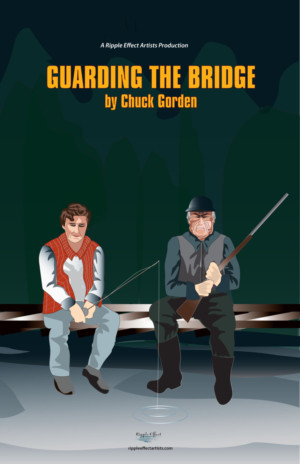 In conjunction with six designated days honoring equality, Ripple Effect Artists (REA) will present 'Guarding the Bridge' the 1995 award-winning play about racism by Chuck Gorden. REA continues to leverage theatre for social good with its 2018 actor's equity production of the one-act play starring Tim Dowd and Scott Zimmerman, directed by Jonathan Libman.
Guarding the Bridge with a spoken word performance by Dawn Speaks premieres at NYC'S Triad Theatre April 4th on MLK Remembrance Day -- the 50th anniversary of his assassination. Additional dates for the limited run include April 23rd (National Holocaust Day), May 21st (UN Day for Diversity), June 19th (Freedom Day), July 18th (Nelson Mandela International Day) and July 30th (International Day of Friendship). Tickets are $18.65 and can be purchased through Ripple Effect Artists website: www.rippleeffectartists.com. The Triad Theatre is located at 158 W. 72nd Street, 2nd Fl, NYC. Ripple Effect Artists is an actor's equity 501 (c) 3 nonprofit organization that addresses injustices through theatre - moving audiences from apathy to action, creating a Ripple Effect.
GUARDING THE BRIDGE tells the story of a bigoted father and his well-educated son who occupy a broken-down bridge in a remote wooded area. The father is a manifestation of the son's memory as he recalls events that occurred on the day Martin Luther King, Jr. was assassinated. It becomes increasingly obvious that, despite the younger man's protests to the contrary, his father's prejudices are grounded in his subconscious. A co-winner of the 1998 Michael Kanin Award for Best Short Play.
Ripple Effect Artists, Inc. is an actor's equity 501 (c) 3 non-profit organization that addresses injustice and causes social impact through art - primarily by producing masterful plays - presenting them along with talkback discussions in partnership with educators and advocacy groups. These events, their education plus their game-changing philanthropy cultivate empathy, shift audiences from APATHY to ACTION, and create a RIPPLE EFFECT in the larger community. www.rippleeffectartists.com
Related Articles
More Hot Stories For You