Click Here for More Articles on DAN CODY'S YACHT
Review Roundup: MTC Opens DAN CODY'S YACHT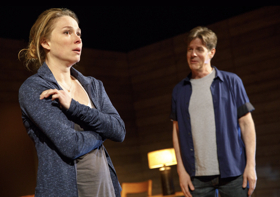 Dan Cody's Yacht opened last night June 6 at MTC at New York City Center - Stage I.
The cast of Dan Cody's Yacht features Kristen Bush (Taking Care of Baby at MTC, The City of Conversation), Meredith Forlenza (1984, The Winslow Boy), Laura Kai Chen(Her, "Days of Our Lives"), Rick Holmes (Junk, Peter and the Starcatcher), John Kroft (Dracula), Jordan Lage (Race, Speed-the-Plow), Roxanna Hope Radja (Ruins of Civilization at MTC, Torch Song), and Casey Whyland (Billy Elliot the Musical).
In a small Boston suburb, a single schoolteacher is struggling to get by when the wealthy father of one of her students surprises her with a financial proposal that could change her daughter's life. Suddenly, their worlds collide in ways that open up the question: what truly separates the haves and the have nots? Is it wrong to seize an incredible chance, even if the circumstances seem questionable? Loosely inspired by a passage from "The Great Gatsby," this timely new play by the author of The City of Conversation probes the troubling relationship of finance to educational opportunity in American life today. Directing is Tony winner Doug Hughes(The Father and Doubt at MTC).
Let's see what the critics had to say...
---
Jesse Green, The New York Times: "Dan Cody's Yacht," a Manhattan Theater Club production that opened at City Center Stage (i) on Wednesday, means to be a truth-telling thought experiment about wealth and opportunity but never gets close to a credible argument. Worse, it seems to have caught a bad case of entitled obnoxiousness from its main character.
Raven Snook, TimeOut NY: Kevin's rationale is unclear-he doesn't suggest a specific quid pro quo-and Karen's motives for tolerating him are even murkier, since he's condescending, rude and vaguely threatening. But these characters have no relation to real people; they're mouthpieces for oft-argued political positions, pressed into a narrative filled with plot holes and blind spots. Despite Doug Hughes's handsome production, which includes committed performances by John Kroft and Casey Whyland as the two protagonists' progeny, Dan Cody's Yacht founders.
Joe Diemianowicz, NY Daily News: Timely, fast-paced and, alas, frustrating, the new play "Dan Cody's Yacht" sails into the choppy waters of American privilege. That's rich and evergreen dramatic territory. And while Anthony Giardina's latest comedy-drama is see-worthy, it's not watertight. Or always plausible. As such, there's a nagging leak at the center of director Doug Hughes' fluid and well-acted production at Manhattan Theatre Club.
Frank Scheck, The Hollywood Reporter: Despite the play's provocative elements, little of its plotting rings true. Both Kevin's mission to preserve the purity of his neighborhood and his underhanded way of achieving it feel like dramatic contrivances. Cara's shock when her investments take a tumble hardly seems credible considering her intelligence and sophistication. Kevin's gayness feels tacked on, as if the playwright were intent on avoiding any romantic subtext (although the two leads' attractiveness results in there being some anyway).
Photo Credit: Joan Marcus