Review Roundup: MARIE, DANCING STILL in Seattle - What Do the Critics Think?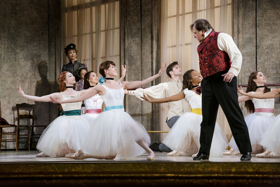 5th Avenue Theatre's production of Marie, Dancing Still officially opened last night, April 5. The show is written by Tony Award-winning authors Lynn Ahrens and Stephen Flaherty (Ragtime, Once On This Island), and is directed by five-time Tony Award-winning director and choreographer Susan Stroman (The Producers, Contact). It stars New York City Ballet principal dancer Tiler Peck.
In this era of groundbreaking artistry, a girl named Marie dreams of being the next star of the ballet. Despite the odds of her hard-scrabble life, she scrimps, saves, and steals in pursuit of her ambitions. But when fate leads her to the studio of Impressionist Edgar Degas, she unknowingly steps into immortality-becoming the inspiration for his most famous sculpture ever: Little Dancer. Marie is the gorgeous new musical poised to conquer the stage-and your heart.
Playing now through April 14, 2019 - single tickets for Marie: A New Musical are on sale now at www.5thavenue.org, by phone at 206.625.1900, or in person at the Box Office at 1308 5th Avenue in Downtown Seattle.
Let's see what the critics are saying...
---
Jay Irwin, BroadwayWorld: With a book and lyrics from Ahrens and music from Flaherty, they've once again shown how their compositions have no boundaries. The tone of the Paris streets of the 1800's in the music is spot on and quite different from their other works and the songs beautifully move the story along creating a soaring story of love, hope, determination, and heartbreak. And then add into it the achingly lovely choreography from Stroman who shows that there is room for ballet on Broadway. Each dance only serves to further the song or story behind it and the final nightmare ballet is one for the ages. I was left breathless.
Misha Berson, Seattle Times: This unabashedly old-fashioned show is largely the brainchild of illustrious director-choreographer Susan Stroman ("The Producers") and the respected team of writer Lynn Ahrens and composer Stephen Flaherty ("Ragtime"). With A-list designers and a blue-ribbon cast, they have fashioned a sincere, attractive, overtly sentimental piece of speculative fiction that is admirably performed and satisfies in some ways. But it leans too heavily on telling rather than showing, and on simplistic, feel-good notions of art and artists.
Michael Strangeways, Seattle Gay Scene: Marie, Dancing Still is not in the same league as other hit shows that got their start in Seattle. It's no Hairspray. But, it's also not a Scandalous either. It has elements that work and elements that don't. But, it needs so much overhauling (like good songs and a new book), that I don't really see that happening. It's worth seeing for the costumes, some charming performances and a powerful final half hour but I find it hard to recommend for much of anything else. Marie needs to keep on dancing through more revisions.