Review Roundup: Immersive SEEING YOU Opens Under The High Line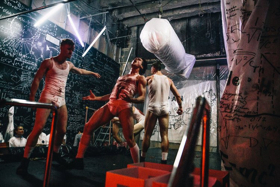 Seeing You, the new immersive experience from impresario Randy Weiner (Sleep No More, Queen of the Night) and avante garde choreographer Ryan Heffington (Sia's "Chandelier" music video), opened last night, June 21, 2017, Off-Broadway at a former meat market under The High Line at 450 West 14th Street in the Meatpacking District of New York City.
The cast of Seeing You features Broadway alums Jesse Kovarsky ('The Fiddler' in 2015 Revival of Fiddler on the Roof), Heather Lang (An American in Paris), Jodi McFadden (Spider-Man: Turn Off the Dark), and Zach McNally (Fiddler on the Roof; Sleep No More) plus Lauren Cox, Aaron Dalla Villa, Christopher Grant (Queen of the Night), Ted Hannan, Alison Ingelstrom, Eriko Jimbo (Julie Taymor's Across the Universe), Maija Knapp, Julliard grad Nicholas Ranauro, Jay Stuart, and Lauren Yalango-Grant (Fuerza Bruta Wayra).
Seeing You transports audiences into a memory of not-so-distant wartime anxiety, told through a seductive mix of maximal-impact choreography, intimate encounters, and genre-spanning musical interludes. A truly singular-and unnervingly timely-experience, Seeing You unfolds inside a historic expanse underneath The High Line, bringing us disarmingly close to a tight-knit community during WW2 suddenly at odds as patriotism gives way to uncertainty and fear.
Let's see what the critics had to say...
---
Ben Brantley and Jesse Green, The New York Times: When you arrive, there are various tableaus vivants in lighted playing areas amid a cavernous darkness, showing young soldiers with sweethearts or family members, beginning their long goodbyes before the boys ship off to Japan. It all initially feels a bit like a World War II-era home-front movie, such as "Since You Went Away" (1944), with Jennifer Jones and Shirley Temple. But when you scratch the rosy surface of this all-American nostalgia - and that's basically what this show devotes itself to - you find all sorts of dark crawly things beneath...Previous work by the team behind "Seeing You" - Randy Weiner and Ryan Heffington created, directed and choreographed it - had less dialogue, less plot, more suggestion.
Adam Feldman, Time Out NY: "I'll be Seeing You in all the old familiar places," promise the lyrics of the 1938 standard from which Seeing You takes its title. It's a song about holding on to the memory of someone who may never return, and it struck a special chord for listeners during World War II. Immersive-theater impresario Randy Weiner and choreograoher Ryan Heffington's engrossing and evocative dance-theater show honors that sentiment, not merely rehashing traditional WWII iconography but infusing it with a ghostly charge...It's very much worth seeing.
Thom Geier, TheWrap: As in Weiner's long-running "Macbeth"-inspired Off Off Broadway hit "Sleep No More," the cast will occasionally interact with theatergoers, pulling them aside for tete-a-tetes or to reveal bits of plot we might have missed. Before long, the audience is herded together for a series of scenes and vignettes that rely more on stylized performance, dance, music and ominous suggestiveness than any conventional sense of plotting...The performances are stylized, often in an over-the-top Kabuki-like fashion that is heightened further by the spastic, balletic choreography of co-director Ryan Heffington, best known for his work on Sia's "Chandelier" music video...There's no real emotional depth to be found here, no historical or dramatic heft.
Breanne L. Heldman, Entertainment Weekly: Once the audience has filed in and had time to meet at least some of the characters - Dorothy (Lauren Yalango-Grant), a young military wife whose husband is enlisted, and I bonded right away - the town hall commences and the congressman poses an interesting conundrum: He asks that you write on those paper slips how many innocent Japanese lives you'd be willing to take in order to save one million American lives...Through the use of curtains and lights, the space was constantly shifting as the actors performed in and around the theatergoers. Some were tapped on the shoulder and taken to more intimate spaces; others were asked questions like, "Have you ever been in love?" and "Are you American?"...Ultimately...I would say Seeing You isn't all that worth seeing. C
---
Photo Credit: Steven Truman Gray
Featured This Week on Stage Door
Shoutouts, Classes, and More from Your Favorite Broadway Stars
Related Articles