Review Roundup: Critics Weigh in on Tracy Letts' THE MINUTES at Steppenwolf Theatre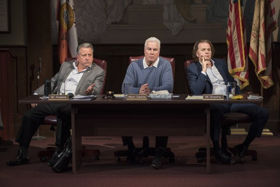 Steppenwolf Theatre Company presents the highly anticipated world premiere of The Minutes by Pulitzer Prize and Tony Award-winning ensemble member Tracy Letts.
Tracy Letts, the writer of Linda Vista and August: Osage County, debuts a scathing new comedy about small-town politics and real-world power that exposes theugliness behind some of our most closely-held American narratives while asking each of us what we would do to keep from becoming history's losers.
Under the direction of Artistic Director Anna D. Shapiro, the cast features the return of six ensemble members Kevin Anderson (Mr. Breeding), Ian Barford (Mr. Carp), Francis Guinan (Mr. Oldfield), James Vincent Meredith (Mr. Blake), Sally Murphy (Ms. Matz) and William Petersen (Mayor Superba). Completing the cast of this political comedy are Brittany Burch (Ms. Johnson), Cliff Chamberlain (Mr. Peel), Danny McCarthy (Mr. Hanratty), Penny Slusher (Ms. Innes) and Jeff Still (Mr. Assalone).
Let's see what the critics had to say!
Steven Oxman, Variety: With his new play "The Minutes," a simmering satire of a small-town city council meeting that evolves - or devolves - into something of a horror tale, Pulitzer-winning playwright Tracy Letts ("August: Osage County") has written what is nearly certain to be the single work of art that best represents, but will also survive, the Trump era. Letts keeps us amused with subtle comedy about broad but still believable characters, who begin arguing about a parking spot and some lost bicycles, but ultimately reveal one truth after another, the biggest being that American politics has become a raw, ugly battle over our deepest underlying narratives. Or, as the mayor character puts it, "History is a verb."
Chris Jones, Chicago Tribune: I'd argue "The Minutes" needs more work. The primal conclusion that awaits depends for its impact on the utter, quotidian veracity of all that is gone before. It's complicated because Letts also wants to have fun. And so he does, telegraphing his intent with clever ticket names, and creating characters like Mr. Oldfield (Francis Guinan) who bathes his colleague Ms. Innes (Penny Slusher) in spittle as he hacks on about nothing in particular. Then there's the unctuous Mr. Breeding (Kevin Anderson); the modestly corrupt Mr. Assalone (Jeff Still); the dotty Ms. Matz (Sally Murphy) and the over-anxious Mr. Hanratty (Danny McCarthy). On occasion, Shapiro leans too readily into the satire without the necessary counterbalance of credibility. That needs recalibrating, without losing the laughter of complicity.