Review Roundup: Critics Weigh-In On MACBETH At the National Theatre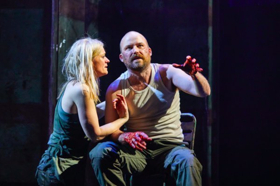 The ruined aftermath of a bloody civil war. Ruthlessly fighting to survive, the Macbeths are propelled towards the crown by forces of elemental darkness. Shakespeare's most intense and terrifying tragedy is directed by Rufus Norris 25 years after his last Shakespeare production.
The cast includes Rory Kinnear (Macbeth), Anne-Marie Duff (Lady Macbeth), Stephen Boxer (Duncan), Kevin Harvey (Banquo), Rakhee Sharma (Fleance), Patrick O'Kane(Macduff), Amaka Okafor (Lady Macduff), Penny Layden (Ross), Trevor Fox (Porter), Parth Thakerar(Malcolm), Beatrice Scirocchi (Witch), Anna-Maria Nabirye (Witch), Hannah Hutch (Witch), Nadia Albina (Gentlewoman), Joshua Lacey(Murderer), Andrew Frame (Siward), Nicholas Karimi (Lennox), Alana Ramsey (Murderer) and Michael Balogun (Doctor).
Set design by Rae Smith, costume design by Moritz Junge, lighting design by James Farncombe and sound design by Paul Arditti.
Let's see what the critics had to say!
---
Sarah Crompton, WhatsOnStage: What is so dismaying is the lack of coherence. Interesting ideas flash by and then are lost in a welter of gory special effects. Speeches are shouted from poles or platforms at the back of the stage and you realise that even though you have listened carefully you haven't understood a word.
Michael Billington, The Guardian: If I was moved, it was mainly by the numbed horror with which Patrick O'Kane's Macduff reacted to the news of his family's slaughter.
Henry Hitchings, The Evening Standard: In the title role Rory Kinnear is a man of intense appetites who's always on the move. Kinnear has a handsome record as a Shakespearean lead, but here despite his usual dextrous way with the language there's not enough sense of the dense geography of Macbeth's inner life.
Andrzej Lukowski, Time Out: We are in a sort of vaguely post-apocalyptic Scotland (not that there's anything particularly Scottish about it). It looks quite cool in a Mad Max sort of way. But after years of smart, revelatory excavations of Shakespeare's works by Hytner (plus decent recent stabs from Polly Findlay and Simon Godwin), it feels like a big problem that the setup here is essentially meaningless - signifying nothing.
Holly Williams, The Independent: So, Macbeth isn't going to be the magic solution to Rufus Norris' struggle with the Olivier. After a series of flops (Salome, Common, Saint George and the Dragon), the supernatural favourite must have seemed like a Shakespearean safe bet.
Dominic Cavendish, The Telegraph: Smith's ugly-to-behold set is dominated by an oppressive backdrop of raven-black hangings (think seaweed crossed with shredded bin-liner) and distinguished by a sloping, shifting wooden walkway. The ambience is Mad Max meets infernal recycling pit, and a further sense of budget dystopian TV is afforded by the scavenger costuming: grubby jeans, combat gear, old coats, makeshift garments. Bald-pated, bearded and stiff-limbed, Kinnear is all nondescript machismo (very Steve McFadden), breast-plate gaffered to his belly.
Marianka Swain, BroadwayWorld: The seduction of ambition is difficult to discern in a universe that already seems ruled by violence and the dissolution of social norms. It's hard to get a handle on the status quo re-established at the end of this civil war - and without that, Macbeth's murderous disruption lacks impact.