Review: MACBETH, National Theatre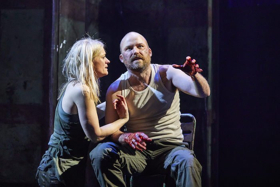 We begin and end with a grisly decapitation. And that's rather the problem with this intermittently engaging Macbeth, which starts in the throes of some unspecified dystopian hellscape, and thus has nowhere to go.
Rufus Norris's production certainly evokes the chaos of this shattered world (his vision of a sub-Mad Max post-Brexit Britain? If so...er, yikes). Rae Smith's bin liner-backed set is dominated by a grimy bridge to nowhere, decorated with corpses - blood and viscera squelchy underfoot - and the Macbeths' home is just a couple of cement shelters amidst the wasteland.
Yet what's unclear is where the power structure fits into this apocalyptic shell. Does a title upgrade really make a substantial difference here? Even a royal one? The sole benefit seems to be changing from camo gear and taped-on armour into a red suit - whose visibility immediately marks you out as a target.
The seduction of ambition is difficult to discern in a universe that already seems ruled by violence and the dissolution of social norms. It's hard to get a handle on the status quo re-established at the end of this civil war - and without that, Macbeth's murderous disruption lacks impact.
There are certainly some nightmarish images, like heads and dead babies stuffed into carrier bags (plastic dominates - Attenborough would not approve - though if this is an environmental disaster, again it's conceptually vague). Orlando Gough and Paul Arditti supply a spine-tingling soundscape, with rasping horns and the sudden shrieks of night terrors.
Imogen Knight's movement is key to some wonderfully weird witches (the excellent Anna-Maria Nabirye, Hannah Hutch and Beatrice Scirocchi) - one moving as though through treacle, another a hyperactive sprite, a third imposing and watchful, yet together harmonising sharply on key lines. Offbeat inflections help here as well: "Macbeth" alone is strikingly odd.
But the dimly lit stage often feels overly busy, from people climbing poles to a too-choreographed rave (the clichéd entertainment of the dystopia). It's all a bit Cirque du Soleil does The Hunger Games - or even a bizarro world Strictly, as the newly elevated Macbeths don silk shirts and shredded sequins respectively.
Amidst all of this, Rory Kinnear - though as clear-spoken and intelligent with verse as always - doesn't immediately register as intensely as he might, but grows stronger as Macbeth's guilt overtakes him, with real existential angst and a furious fit as Banquo's bloody visage appears outside his window.
He also introduces welcome notes of deadpan and sarcasm in a production otherwise tonally unvarying. "'Twas a rough night," he mutters, hours after slaughtering his king, turning the line into wonderfully bleak gallows humour.
Anne-Marie Duff's Lady Macbeth feels half-formed. She's introduced wearing similar camo gear, the tough chick to his warrior, yet is prone to weeping; she hints at women's weapons, at utilising her sexuality, but doesn't really follow through on that either. Her powers of persuasion never quite convince, and her later remorse is woeful rather than truly tragic.
There are some strong supporting turns: Stephen Boxer's florid, almost dandyish Duncan, dangerously out of step with his feral pack; Kevin Harvey's genial Banquo, later a horrifying vision; Amaka Okafor's understandably aggrieved Lady Macduff; Penny Layden's impassioned Rosse; and Rakhee Sharma and Hutch poignant as the threatened children.
Patrick O'Kane is a convincing wild warrior of a Macduff, but also lands the most moving moment as he learns the fate of his family - pausing the frantic conflict to count the human cost. Trevor Fox's compelling, eccentric Porter is more involved in the action, which adds interesting colour to his speeches.
Norris's production (which shed half an hour in previews) certainly offers some memorable moments, but overall, if we are to understand the tragedy of this terrible choice, we have to see the alternative - the better world, the soul, that Macbeth destroys. Otherwise it feels like he's doomed either way.
Macbeth at National Theatre until 23 June. Broadcast live to cinemas by National Theatre Live on 10 May
Photo credit: Brinkhoff Mögenburg