Producers of ANGELS Cast Recording to Celebrate Australian Release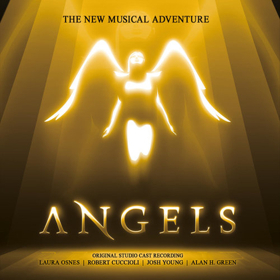 "ANGELS," the original studio cast recording released from Broadway Records, celebrates the Australian album launch with an exclusive event at the Northern Beaches Christian School in their performance space appropriately known as "Manhattan City" on Nov. 28.
The event, beginning at 7:30 p.m., will be opened by Hon. Anthony Roberts MP, Minister of Planning & Housing and Special Minister of State, and will feature live performances from "ANGELS" by the album creators with top Australian musicians and worship leaders from C3 Church Global.
"ANGELS" is an exciting, musical adventure about the ancient war between the angels and Lucifer's demons. The long-awaited album, produced by Rich Fowler, features musical arrangements from veteran worship leaders David Holmes, Darlene Zschech's personal music director and former C3 Church Global Music Director, and international worship artist and educator Rev. Dr. Daniel Thornton. The original studio cast recording features two-time Tony nominee Laura Osnes ("Bandstand," "Cinderella"), Tony nominee Josh Young ("Amazing Grace," "Jesus Christ Superstar"), Tony nominee Robert Cuccioli ("Jekyll & Hyde") and Alan H. Green ("Charlie and the Chocolate Factory," "School of Rock").
"Creating the music for the album was an exciting journey," stated Holmes. "It was a fulfilling venture with the characters, creating sounds and arrangements that reflect the great themes of the story. Its sound is of new beginnings. I was in search of the sound of enduring hope and a message of love and friendship. My aim was to somehow musically depict the tension between good and evil, and I believe we have accomplished that with this album."
"ANGELS" shares a timeless tale of hope versus despair, angels versus demons, told through the eyes of Sera. Though she is gifted with the power to control light, she aspires to a more heroic role. Facing the opposition of Lucifer and the chaos he has created, Sera must find the courage to rise in victory over him and fulfill her true purpose.
"There's a beautiful message of redemption and hope, contentment, and purpose," stated Osnes. "Finding your real purpose and coming into that, and being fulfilled by it. I hope the message spreads because it's a story that needs to be told."
In 2008, "ANGELS," was weeks away from its first-class out of town debut when the U.S. economy crashed and "ANGELS" had to halt production. Now with renewed support and the recent release of the "ANGELS" album, producers are ready to launch into the next phase and are working towards a full-stage production of "ANGELS."
"After more than 10 years in New York and so many ups and downs, I am thrilled to share "Angels" in the place where it all began. The vision was born here in Sydney; it's been a long journey and it's not over yet," said Marcus Cheong, a native Australian who along with Mark Kang is producing "ANGELS." "I hope that this inspires others to find their purpose and reach their dreams, no matter what the challenges."
This international collaboration of the best of Broadway together with the finest musical talent in Australia features Osnes as 'Sera, Cuccioli as 'Lucifer,' Young as 'Tyriel,' Green as 'Gabriel,' Alexandra Zorn as 'Rebekah/Vixen,' Stephen Cerf as 'Michael/Moore/Joab,' Kevin T. Collins as 'Stratus/Dasher/Titus/Reuben,' Elizabeth Ann Berg as 'Bethany,' and Stefanie Clouse as 'Sofiel.' Additional vocalists on the album include Jane Lesley Anderson, Hugh Wilson, Nicky Kurta, Tim Moxey, Gabrielle Lee, Mark Friedlander, Hannah J. Peterson, James Tehero, Daniel Thornton and Mikaela Thornton.
The album was recorded at The Grove Studios in Somersby, Australia; Ramrod Studios and 301 Studios in Sydney, Australia; and Downtown Music Studios and Smash Studios in New York.
The band for "ANGELS" includes Mitch Farmer (drums/percussion), Ben Whincop (bass), Jeff Camilleri (bass) and Charmaine Ford (keys). Holmes served as the music director, with Tauesa Tofa serving as music co-director and Jane Lesley Anderson serving as assistant music director. The assistant director was Breanna Hickson. Orchestral arrangements are by Daniel Thornton, and the original vocal arrangements are by Linda Wood. "ANGELS," was written by Ken Lai (Music, Book and Lyrics) and Marcus Cheong (Book and Lyrics).
"ANGELS," is now available on iTunes, Spotify, Amazon, and other major music retailers. The album is also available at BroadwayRecords.com. For more information, visit www.seraangels.com.
Broadway Records (Van Dean, President) is one of the preeminent theatrical record labels to produce original cast albums for major Broadway and Off-Broadway shows including the Grammy and Tony Award-winning "The Color Purple" (2015 revival), the Grammy nominated "Matilda The Musical" and "Fiddler on the Roof" (2015 revival), "Allegiance and Disaster!" among others. To learn more, visit BroadwayRecords.com.
Related Articles
More Hot Stories For You
HAMILTON Will Hold A Fan Performance on October 31 With All Tickets Available For $10 Via Lottery
For the second year in a row, Hamilton will host a special fan performance on Thursday, October 31 at the Richard Rodgers Theatre on Broadway, with al... (read more)

Breaking: Ethan Slater, Gavin Lee & More Will Reunite to Film SPONGEBOB for Nickelodeon
Following a critically lauded run on Broadway, members of the original award-winning Broadway company of The SpongeBob Musical: Live On Stage! will re... (read more)

BWW Photo Exclusive: Adam Pascal Stars In THE MUSIC MAN At 5-Star Theatricals
Tony nominee Adam Pascal stars as Professor Harold Hill in the first show of the 5-Star Theattricals 2019-2020 season, THE MUSIC MAN.... (read more)

MOULIN ROUGE To Head To The West End in 2021
The blockbuster Broadway hit, Moulin Rouge, will be heading to the West End in 2021!... (read more)

Tony Nominee Jenn Colella Will Depart COME FROM AWAY in November
BroadwayWorld has just learned that Jenn Colella, original cast member of Come From Away, will depart the musical next month. Colella was Tony-nominat... (read more)

Exclusive: Get A First Look At Teal Wicks, Bobby Conte Thornton, And More In LAST DAYS OF SUMMER
BroadwayWorld has a first look at the new musical LAST DAYS OF SUMMER, presented by George Street Playhouse and directed by Jeff Calhoun (NEWSIES, GRE... (read more)