Click Here for More Articles on Podcasts
Podcast: 'Broadwaysted' Welcomes the Fabulous Cast of CAGNEY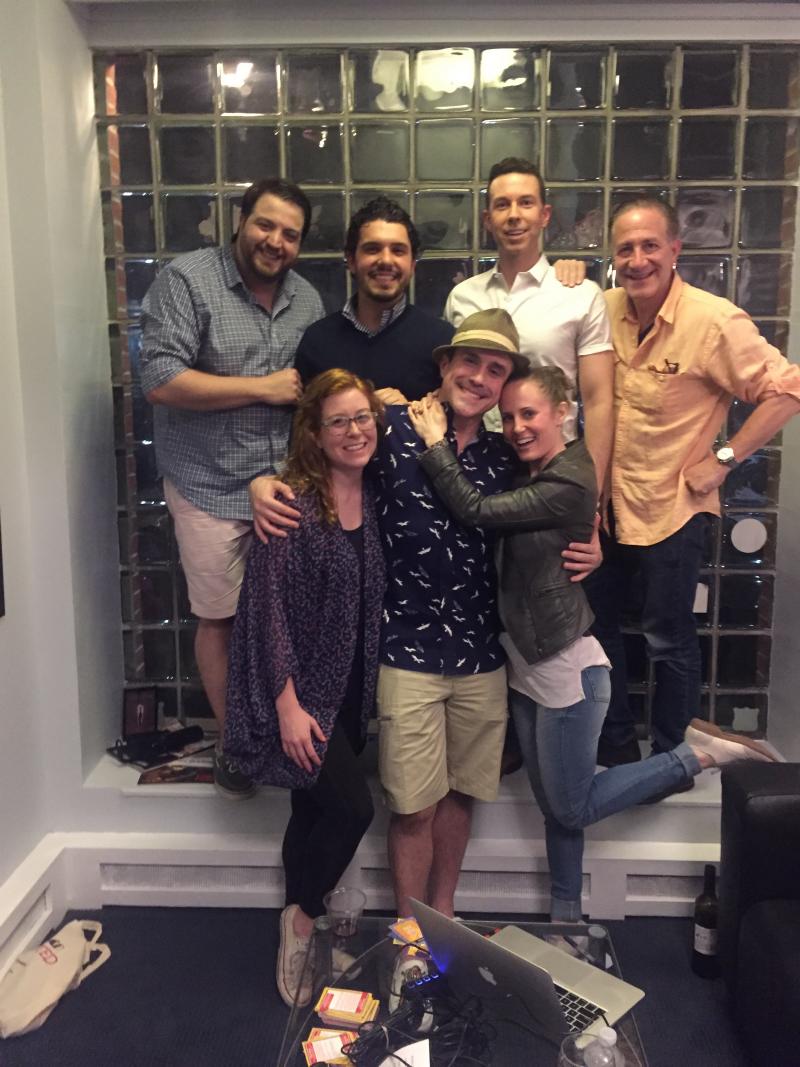 It's time for Another Round of Broadwaysted and this week the whole gang is hanging out with some of the talented cast members of Cagney THE MUSICAL! On this episode, we' pour out wine and gather around the mics with Jeremy Benton, Bruce Sabath, Josh Walden, and Ellen Zolezzi and discuss the musical that has kept them all tapping and singing Off-Broadway for over a year!
#WhatHaveYouSeenThisWeek finds us all discussing the great new play CHURCH & STATE, the TV show "Feud,"and then chatting about MISS SAIGON on Broadway and sharing our favorite Tam stories. Game Master Kimberly leads the most amount of players we've ever had in an epic "Match Game" and then we all play a rapid-fire Lights of Broadway Show Cards "Hot Potato" Guessing Game.
We also randomly bring up the Power Rangers, Blimpie, and have a serious debate about what makes an ice cream sandwich versus what makes a chipwich. It was a blast hanging out with cast of Cagney THE MUSICAL! Don't miss your chance to see them before the show closes May 28th! Tell them, "Broadwaysted sent me." They'll know what it means.
Listen to the episode here:
---
Bios of the Cast of CAGNEY THE MUSICAL:
Jeremy Benton (@JeremyWBenton) received a Fred and Adele Astaire Award for his role in Cagney THE MUSICAL and has been seen on Broadway as Billy Lawlor in 42ND STREET opposite Shirley Jones and the national tour of ANYTHING GOES opposite Rachel York.
Bruce Sabath (@brucesabath) appeared as Larry on Broadway in the Tony-Winning Revival of Sondheim's COMPANY and has been seen in NYC in HELLO AGAIN and regionally as Tevye in FIDDLER ON THE ROOF (BroadwayWorld Award).
Josh Walden (@thejoshwalden) has appeared on Broadway as Harry Thaw in RAGTIME, Mercedes in LA CAGE AUX FOLLES, Bobby/Larry/Paul/Don/Greg/Richie covers in A CHORUS LINE and a Thug/Waiter in 42ND STREET.
Ellen Zolezzi (@ellen_zolezzi) originated her role in Cagney THE MUSICAL in 2009 and has been with the show ever since. Favorite roles include Polly in CRAZY FOR YOU, Judy in WHITE CHRISTMAS, and Lola in DAMN YANKEES.
---
About the Show:
Broadwaysted: Where we're drunk on Broadway! Literally. This isn't your typical theatre podcast. Come "take a glass together" with us every Tuesday!
Join our cocktail hour as we pour a few rounds, play some games, and chat all things theatre with your favorite members of the Broadway community. From current hits, to past flops, and future stars, Broadwaysted drinks to it all. It's a place to unwind, be yourself, and hang out among friends who love what you love. Feel like you're at the table with your host Bryan Plofsky, co-host Kevin Jaeger, game master Kimberly Cooper, and amazing guests! Let's all get Broadwaysted!
Twitter: @Broadwaysted
Instagram: @Broadwaysted
Bryan's Twitter: @nuttyplofessor
Kevin's Twitter: @JaegerKev
Kimberly's Twitter: @KimberCoops