Photo Flash: THE NORMAN CONQUESTS: LIVING TOGETHER
Alan Ayckbourn's comic trilogy of plays, THE NORMAN CONQUESTS, comes to Broadway following its sold out critically acclaimed run in London. The production, the latest success for The Old Vic Theatre Company under the artistic leadership of Kevin Spacey, will play for 16 weeks only. THE NORMAN CONQUESTS, directed by Matthew Warchus, opens Thursday, April 23 at Circle in the Square Theatre (235 West 50th Street, between Broadway and Eighth Avenue). Previews began Tuesday, April 7.
The first Broadway revival of Ayckbourn's masterpiece will feature the original heralded company from The Old Vic: Amelia Bullmore (Ruth), Jessica Hynes (Annie), Stephen Mangan (Norman), Ben Miles (Tom), Paul Ritter (Reg) and Amanda Root (Sarah).
THE NORMAN CONQUESTS will be produced by Sonia Friedman Productions, Marc Routh, Richard Frankel, Steven Baruch, Tom Viertel, Dede Harris, Tulchin/Bartner/Lauren Doll, Jamie deRoy, Eric Falkenstein, Harriet Newman Leve, Probo Productions, Douglas G. Smith, Michael Filerman/Jennifer Manocherian, Richard Winkler in association with Dan Frishwasser, Pam Laudenslager/Remmel T. Dickinson, Jane Dubin/True Love Productions, Barbara Manocherian/Jennifer Isaacson.
THE NORMAN CONQUESTS comprises three full length plays - Table Manners, Living Together and Round and Round the Garden. Each individual play offers a view of one comically catastrophic weekend, shared by six spouses and in-laws, at the family house in the country. And while each play is complete on its own terms, by viewing all three plays (in any order), the audience is able, detective-like, to piece together all of the hidden secrets and lies, the outrageous, hilarious and shocking interactions, which occurred over the weekend. And there are some wonderful and brilliant surprises!
Set in the dining room (Table Manners), living room (Living Together) and garden (Round and Round the Garden) of an English country house, THE NORMAN CONQUESTS follows six characters - assistant librarian Norman, his wife, in-laws and the local vet - from Saturday night through Monday morning. We watch as desperate lothario Norman (Stephen Mangan) attempts to seduce his sister-in-law Annie (Jessica Hynes), charm his brother-in-law's wife Sarah (Amanda Root) and woo his estranged wife Ruth (Amelia Bullmore), during a disastrously hilarious weekend of eating, drinking and misunderstanding. With his characteristic compassionate humor, Ayckbourn explores the disappointments bubbling beneath the surface as his characters' dreams of love and fulfillment go amiss.
THE NORMAN CONQUESTS is designed by Rob Howell, with lighting by David Howe, music by Gary Yershon and sound by Simon Baker for Autograph.
THE NORMAN CONQUESTS is performed in repertory. For complete scheduling information visit www.NormanConquestsOnBroadway.com
Photos by Joan Marcus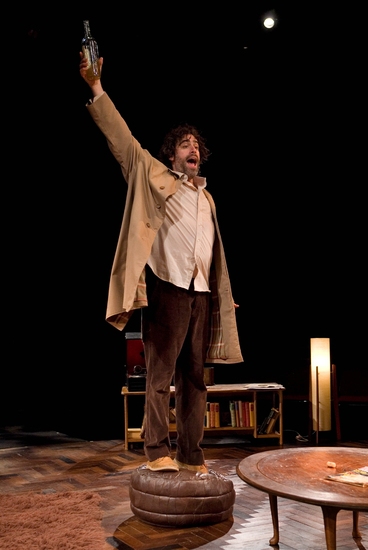 Stephen Mangan

Stephen Mangan and Amelia Bullmore

Stephen Mangan, Ben Miles, and Paul Ritter