Photo Flash: Richard Skipper: For He's A Jolly Good Fellow!
The stars came out for prominent entertainment personality, Richard Skipper, Sunday, February 11, in celebration of the celebrator - his birthday. Producer RUSS WOOLLEY gathered some stunning talent to serenade the host with the most at the Laurie Beechman Theatre on 42nd Street with songs and stories bringing on laughter, tears, and a lots of applause.
The guest list included cabaret notables, Peggy Eason, Randie Levine Miller, and Leanne Borghesi. Ms. Borghesi shared information on the opening of her theatrical company, The National Theater of Uptown and her own cabaret show. Piano/vocalist (and designer), old buddy Michael Masci, flew in with his entire family to be with Richard on this special day; celebrated performer Anita Gillette sang to both Richard and his husband, Daniel Sherman (the couple were married on the historic first day New York allowed gay-marriage). Carole Demas, who originated the role of Sandy in the original Broadway production of Grease and Sara Rice, the first Joanna in Sweeney Todd on Broadway were also on hand to sing to the man of the hour. On the topic of originals, Kathleen Hochberg of the early days of Godspell brought birthday cupcakes for Richard before launching into "Day by Day." Finally, David Sabella (Chicago's first Mary Sunshine, among other Broadway bows) brought the audience to their feet for a toast to the birthday boy and then finished with a rousing version of "Old Friends" from Merrily We Roll Along.
All these originators might be on-hand again in April as Richard Skipper Celebrates Broadway originators; but before that, the Skipper's March event will be a book launch for the legendary Connie Francis.


The stars came out for Richard Skipper (photos courtesy of Jay Michaels Arts & Entertainment)

Richard and Leanne Borghesi

Richard, Kathleen Hochberg, and producer Russ Wolley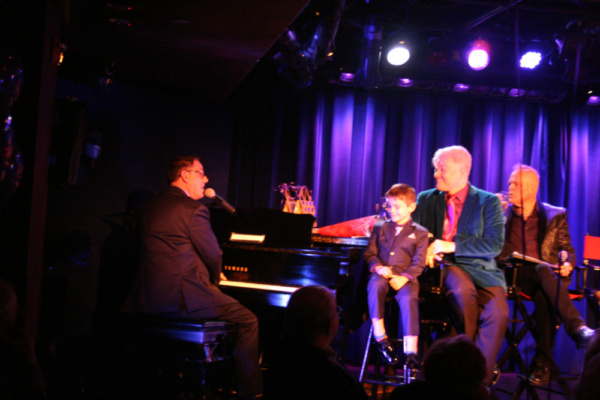 Michael Masci sings as his son, Richard, and Russ look-on.

Peggy Eason serenades Richard the house.

Anita Gillette gets between Richard and Daniel Sherman

Carole Demas and Sara Rice offer congrats to Richard as Russ comments.

The man of the hour, the King of Live Entertainment, Richard Skipper