Click Here for More Articles on AFTER MIDNIGHT
Photo Flash: Rev. Jesse Jackson Visits k.d. lang and Dule Hill at AFTER MIDNIGHT
The cast of Broadway's After Midnight had a special Black History Month guest when Rev. Jesse Jackson attended the show and visited the cast backstage. Scroll down for photos!
After Midnight, currently playing at the Brooks Atkinson Theatre, just welcomed k.d. lang as special guest star. Lang will continue her Broadway run through March 9.
k.d. lang has been honored with four Grammy awards, eight Juno awards, a BRIT, an AMA, a VMA and four awards from GLAAD. In 2013, she was inducted into the Canadian Music Hall of Fame. She has appeared alongside such musical luminaries as Tony Bennett, Roy Orbison, Bonnie Raitt, Elton John and Loretta Lynn. lang has also contributed to numerous soundtracks and has appeared in films and television shows. Her two-disc Recollection, released in 2010, is a personal selection of her very best songs over her 30-year recording career. "She's the
The evocative After Midnight takes the sexy, smoky glamour of the original Jazz Age and catapult it into a whole new era of heart-pounding, mind-blowing entertainment for modern Broadway audiences. Refracted through a contemporary lens, After Midnight celebrates Duke Ellington's years at the Cotton Club using his original arrangements and performed by a world-class big band of 17 musicians hand-picked by living jazz legend, Wynton Marsalis. The timeless tunes set against a narrative of Langston Hughes poetry provide an authentic backdrop for an array of cutting-edge performances by 25 sensational vocalists and dancers, including special guest stars, whose interpretations shatter everything you think you know about music, nightlife and Broadway.
Photo Credit: O&M Co.

Bryonha Marie Parham and Rev. Jesse Jackson

k.d. lang, Rev. Jesse Jackson and Dule Hill

Rev. Jesse Jackson and the Ladies of AFTER MIDNIGHT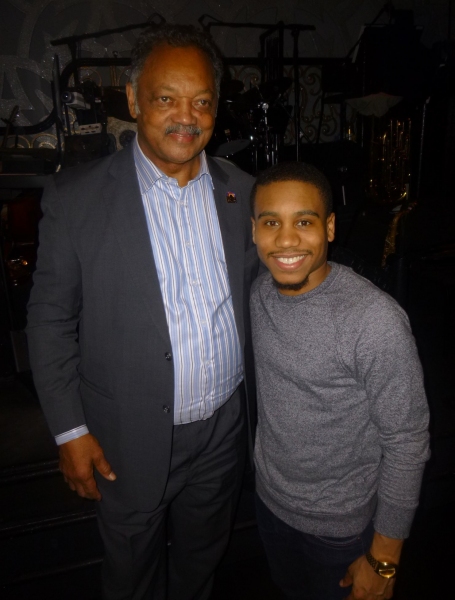 Rev. Jesse Jackson and Virgil J. Gadson