Photos: Meet the Cast of THE NORMAL HEART National Tour!
Arena Stage at the Mead Center for American Theater produces the 2011 Tony Award-winning production of Larry Kramer's The Normal Heart, directed by George C. Wolfe. Wolfe, who directed the show's sold-out Broadway engagement last season, mounts the professional D.C.-area premiere of this production, which features returning Broadway cast members Patrick Breen and Luke MacFarlane, among others. Presented by special arrangement with Daryl Roth, The Normal Heart runs June 8-July 29, 2012 in the Kreeger Theater. The limited engagement was announced to be the first on a planned national tour; additional dates are yet to be announced.
"It is a real privilege for Arena Stage to bring Larry Kramer's work to his native Washington, which I saw in New York in a powerful and masterful production," shares Arena Stage Artistic Director Molly Smith. "Under the guidance of veteran director George C. Wolfe, I believe this important play will inspire D.C. audiences by offering a deep look at a group of people who bravely fought the unknown of the beginning of the AIDS epidemic."
Breen (Broadway's Next Fall), who portrayed Mickey Marcus in the Broadway production, and MacFarlane (Scotty on ABC's Brothers & Sisters), who portrayed Craig Donner/Grady, return to take on new roles of Ned Weeks and Felix Turner respectively. Noted TV actress Patricia Wettig (Holly Harper on ABC's Brothers & Sisters, FOX's Prison Break) will play the paraplegic doctor Emma Brookner.
They are joined by Tom Berklund (Broadway's The Addams Family) as Craig Donner/Grady, Michael Berresse (Broadway's A Chorus Line) as Mickey Marcus, Christopher Dinolfo (Round House Theatre's Next Fall) as David, Christopher J. Hanke (Broadway's How to Succeed in Business Without Really Trying) as Tommy Boatwright, Jon Levenson (understudy for Broadway's The Normal Heart) as Hiram Keebler/Examining Doctor, Nick Mennell (Broadway's A Free Man of Color) as Bruce Niles and John Procaccino (Lincoln Center Theater's Blood and Gifts) as Ben Weeks.
Photo Credit: Carol Rosegg


George C. Wolfe (center) with THE NORMAL HEART cast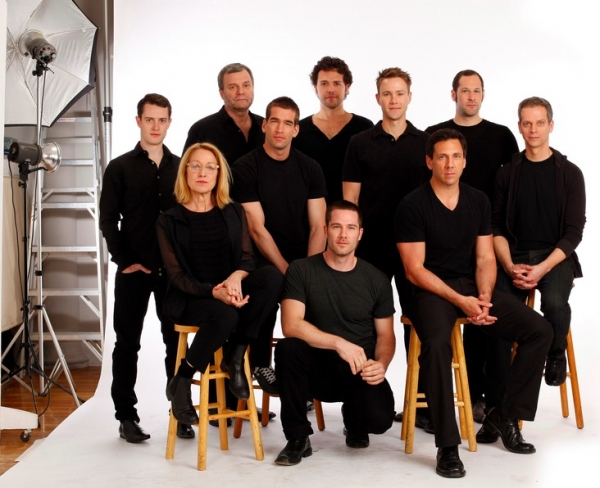 THE NORMAL HEART