Click Here for More Articles on LIZA MINNELLI
Photo Flash: Liza Minnelli Honored in Provincetown
The Provincetown Theater Foundation honored Liza Minnelli Saturday for her commitment to the arts with the 2nd Annual Provincetown Theater Foundation Award.

Judy Garland's daughter received the award from Dennis Cole, a foundation board member, before her show at the Cape Cod Melody Tent. Cole and Minnelli danced together years ago in Summer Stock.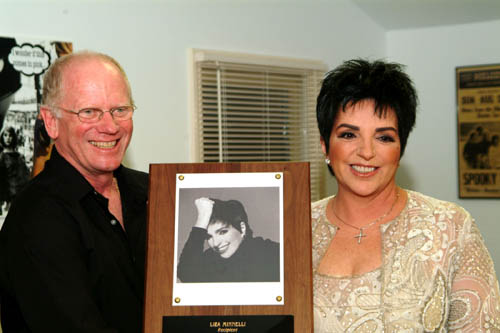 Liza Minnelli is one of the world's most multitalented and popular entertainers. Minnelli's entertainment career began at the age of two and, over the years, she has been the recipient of several notable honors. At the age of 19, Minnelli became the youngest actress to win a Tony for her role in Flora, The Red Menace. In 1972, she won the Oscar for Best Actress for the film Cabaret, as well as an Emmy for her television special Liza with a 'Z'. And in 1985, Minnelli won a Golden Globe for her television movie A Time to Live. Minnelli's vitality, acting talent and beautiful singing voice have made her a quintessential entertainer for the last four decades, and she continues today to be one of America's brightest stars.
"I am so excited to see Liza again and to be able to present her with the Second Annual Provincetown Theater Award For Outstanding Contribution To The Performing Arts" said Dennis Cole, Provincetown Theater Foundation board member. "Who knew what would happen to us 40 years ago when we worked together in Summer Stock? She is so gracious to accept this award and become a part of the Provincetown Theater Community."
The presentation of this award has great significance as it represents the joining of the past, present and future of American Theatre in Provincetown. The Provincetown Theater has just celebrated its first birthday, a momentous event that has been cause for great celebration in an arts community that had previously thrived without a permanent theater space since 1977 when the Provincetown Playhouse burned to the ground. Theatre in Provincetown is legendary—from the likes of Eugene O'Neill to Richard Gere and Elaine Stritch, and now Idina Menzel, set to perform in the town this summer.
The Provincetown Theater opened at 238 Bradford Street as Provincetown's first playhouse in over 25 years. Formerly the site of the old Provincetown Mechanic's Building, the theater opened in 2004 and houses two resident theater companies: The Provincetown Theatre Company (PTC), a community-based theatre company, and the Provincetown Repertory Theatre (REP), a professional theatre operating under arrangement with Actors' Equity Association. In addition to being a permanent home for the PTC and REP, the theater offers performance and meeting space for other community, business and performing arts organizations on Cape Cod and beyond.