Photo Flash: Lark and PoNY Welcome Kimber Lee
On October 28, 2013 Lark Play Development Center and Playwrights of New York (PoNY) welcomed 7th PoNY Fellow Kimber Lee, the newest Lark/PoNY fellow to begin her one-year residency in the PoNY apartment in the heart of Manhattan's theater district. The apartment has been home to playwrights who are changing the face of the American Theater. Lee is the seventh playwright in the apartment, former home to Carson Kreitzer (NEA Art Works Award for Behind The Eye),Samuel D. Hunter (2013 Drama Desk Award for The Whale), Katori Hall (Olivier Best New Play Award for The Mountaintop), Tommy Smith (The Wife), A. Rey Pamatmat (Edith Can Shoot Things And Hit Them) and Dominique Morisseau (Detroit '67 and Sunset Baby). Together, these PoNY Fellows have written a total of 29 new plays while residing in the apartment and garnered 31 productions in 18 cities.
Board members, friends and supporters of Lark and PoNY attended the event welcoMing Lee and congratulating Dominique Morisseau, the 2012-13 fellow, on completing her year in the apartment. During Morisseau's Fellowship year her play Detroit '67 premiered at The Public Theater and Classical Theatre of Harlem and tickets are currently on sale for her production of Sunset Baby which will run at the LAByrinth Theater Company from November 6 - December 8, 2013.
Kimber Lee is a member of the Ma-Yi Writers Lab. In 2014, Center Theatre Group will present the world premiere of her play different words for the same thing at the Kirk Douglas Theatre in Los Angeles. On hand to toast Kimber Lee's arrival were Sandi Goff Farkas (Founder of PoNY), Mara Manus (PoNY Advisor), John Clinton Eisner (Artistic Director of Lark Play Development Center), past PoNY fellows Carson Kreitzer, Dominique Morisseau, A. Rey Pamatmat and Tommy Smith, Andrew Farkas (founder and CEO of Island Capital Group), Seth Glewen (Gersh Agency), Ellen and Arnie Jacobs (partner, Capital Markets), Amanda Lipitz (producer), Ben Pesner (producer and writer, co-author of Outrageous Fortune), Lark and PoNY staff and many friends.
Photos by Andres Otero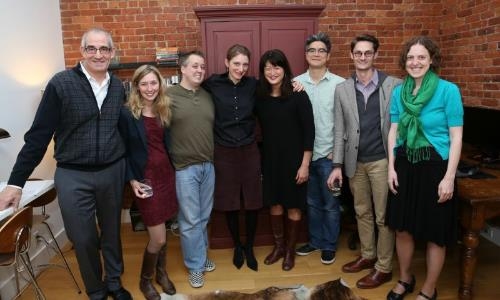 PoNY Fellow with Lark Staff: John Clinton Eisner, Anna Kull, Tim Oâ€Donnell, Vanessa Rose, Kimber Lee, Lloyd Suh, Michael Robertson and Andrea Hiebler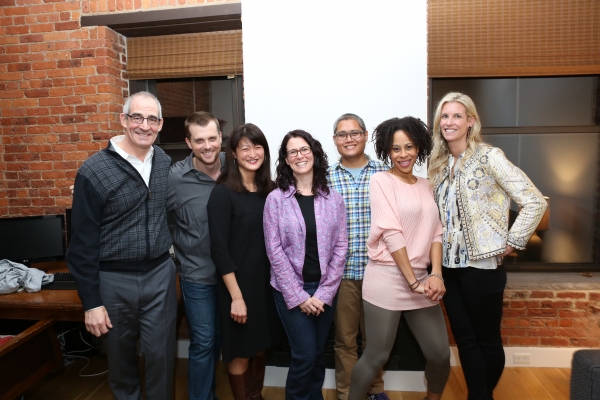 John Clinton Eisner, Tommy Smith, Kimber Lee, Carson Kreitzer, A. Rey Pamatmat, Dominique Morisseau, Sandi Goff Farkas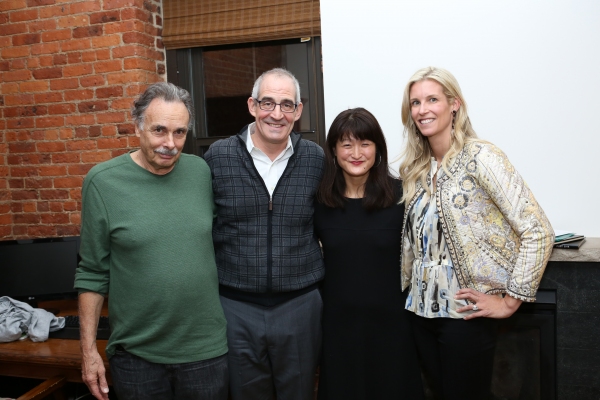 Arthur Kopit, John Eisner, Kimber Lee and Sandi Goff Farkas