Photos: Kerry Butler at TKTS Downtown Brooklyn Opening
Bensonhurst native Kerry Butler, the star of Broadway's musical hit XANADU, Brooklyn Borough President MARTY MARKOWITZ and Assemblywoman JOAN MILLMAN (52nd Assembly District, Brooklyn, NY) lent a hand to help cut the ribbon at the opening ceremony for Theatre Development Fund's new TKTS Downtown Brooklyn Discount Ticket Booth on Thursday, July 10 at 10:15am.  The cast of FORBIDDEN BROADWAY  performed songs from this summer's edition of the long-running, award winning hit, entitled FORBIDDEN BROADWAY DANCES WITH THE STARS!
TKTS Downtown Brooklyn is located on the ground floor of 1 MetroTech Center at the corner of Jay Street and Myrtle Avenue. TKTS Downtown Brooklyn will offer Broadway, Off Broadway, music, dance and Brooklyn performing arts events at discounted prices to Brooklyn residents and visitors.  TKTS offers same-day evening and next-day matinee tickets at discounts of up to 50% off.TKTS Downtown Brooklyn will be open Monday - Friday from 11am to 6pm. TKTS will sell tickets to same-day evening performances and next-day matinee performances.  TKTS Downtown Brooklyn will accept credit cards, cash and travelers checks.*  It is located right outside of the Jay Street-Borough Hall station of the A, C and F trains and near the Court Street – Borough Hall station of the M, R, 2, 3, 4, 5 trains and the Lawrence Street station of the M, and R trains.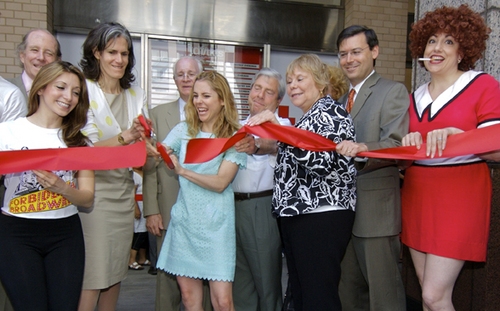 Christina Bianco (Forbidden Broadway) David D. Holbrook (TDF Chairman) Kate D. Levin (Commissioner of Cultural Affairs) Michael Weiss (Exec. Director of MetroTech BID) Kerry Butler (star of Xanadu) Marty Markowitz (Brooklyn Borough President Joan Millman (NYS Assemblywoman, 52nd District) David Yassky (City Council Member, 33rd District), and Gina Kreiezmar (Forbidden Broadway)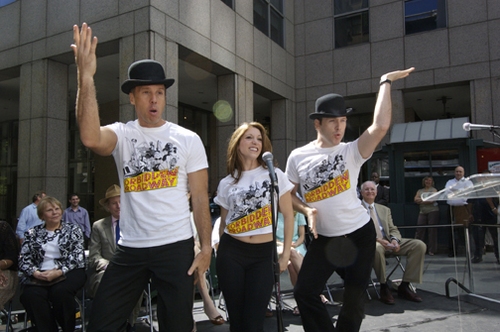 Michael West and Jared Bradshaw performing "Glossy Fosse" from FORBIDDEN BROADWAY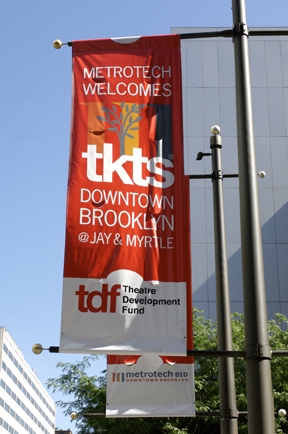 TKTS Downtown Brooklyn sign

Kerry Butler at podium

First TKTS Downtown Brooklyn ticket buyers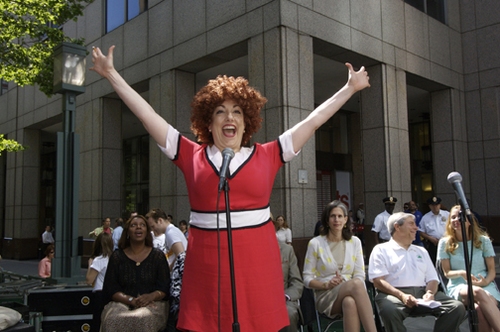 Gina Kreiezmar as "Annie' from FORBIDDEN BROADWAY
Photos by Ann Billingsley.