Photos: Jordan Roth Concludes 'Bway Talks' Series with Nathan Lane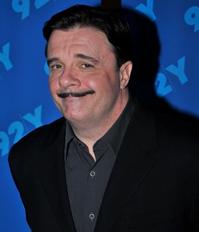 Yesterday, June 27, Jordan Roth, President of Jujamcyn Theaters, concluded the first season of his multi-evening conversation series, "Broadway Talks," with Emmy and Tony Award-winning actor Nathan Lane. Among other topics, Roth and Lane discussed his current role in The Addams Family at the 92nd Street Y (1395 Lexington Avenue at 92nd Street).
A presentation of the 92nd Street Y, Jordan Roth's "Broadway Talks" series featured illuminating one-on-one discussions between Mr. Roth and current Broadway stars. Previous conversations have featured Liev Schreiber (Tony Award nominee, A View from the Bridge), Laura Linney (Tony Award nominee, Time Stands Still) and Sean Hayes (Tony Award nominee, Promises, Promises).
Nathan Lane. Broadway: The Addams Family, Present Laughter (Drama Desk nominee), Merlin, The Wind in the Willows, Some Americans Abroad, On Borrowed Time, Guys and Dolls (Tony nominee, Drama Desk and Outer Critics Circle Awards), Laughter on the 23rd Floor, Love! Valour! Compassion! (Drama Desk and Outer Critics Circle Awards), The Man Who Came to Dinner, The Producers (Tony, Drama Desk, Outer Critics Circle and Olivier Awards), The Frogs, The Odd Couple, Butley, November and Waiting For Godot (Outer Critics Circle nominee). Off-Broadway: 1992 Obie Award for Sustained Excellence. Credits include Dedication or the Stuff of Dreams (Drama Desk nominee); Trumbo; A Midsummer Night's Dream; Measure for Measure (Bayfield Award); Luv, the Musical; She Stoops to Conquer; The Common Pursuit; The Film Society; Mizlansky/Zilinsky; In a Pig's Valise; The Lisbon Traviata (Drama Desk and Lucille Lortel Awards); Bad Habits; Lips Together, Teeth Apart; Love! Valour! Compassion! (Obie Award) and Do Re Mi at Encores! Television: Five Emmy nominations, two Emmy Awards and a People's Choice Award. Over 30 films including The Birdcage (Golden Globe nominee, Screen Actors Guild and American Comedy Awards), Ironweed, Frankie and Johnny, Mousehunt, Jeffrey, The Lion King, Stuart Little, Nicholas Nickleby (National Board of Review Ensemble Acting Award), Swing Vote and The Producers (Golden Globe nominee). Honored with a star on the Hollywood Walk of Fame and recently inducted into the Theater Hall of Fame.
Founded in 1874 by a group of visionary Jewish leaders, the 92nd Street Y's mission is to enrich lives, create community and elevate humanity. The organization serves about 300,000 people of all ages, races, faiths and backgrounds annually through its local programs, and reaches many more through its satellite, television, radio and Internet broadcasts. The 92nd Street Y awards nearly $1 million in scholarships annually and reaches out to thousands of public school children through subsidized arts and science education programs. 92Y's new downtown venue, 92YTribeca, opened in October 2008, and features a wide range of programming including music, film, comedy and talks. For more information, please visit www.92Y.org.
Jordan Roth is the President of Jujamcyn Theaters, whose current Broadway productions include American Idiot, Fela!, Hair, Jersey Boys, and A Little Night Music.