Photo Flash: Inside the Benefit Reading of THE DESTINY OF ME Featuring Mark Ruffalo, Lee Pace, and More
On Monday, June 25, Ellen Barkin, Eric Bogosian, Edie Falco, Gideon Glick, Josh Hamilton, Lee Pace and Mark Ruffalo appeared in a one-night-only reading of Larry Kramer's The Destiny of Me, to benefit The New Group. Trip Cullman directed with an introduction by Tony Kushner. Check out photos from the event below!
The New Group gratefully acknowledges Ryan Murphy for this presentation of The Destiny of Me.
The Destiny of Me, Larry Kramer's companion play to the 1985 classic The Normal Heart, follows Ned Weeks as he checks into a hospital to undergo an experimental treatment for AIDS. As he undergoes treatment, Ned reexamines his life as a young gay man growing up in a household and a world reluctant to accept who he is. The reading, arriving timed to NYC Pride, coincides with Larry Kramer's birthday. Please join us on June 25 for this very special one-night-only event.
Directed by Trip Cullman, this benefit reading featured Ellen Barkin (Rena Weeks), Eric Bogosian (Richard Weeks), Gideon Glick (Alexander Weeks), Josh Hamilton (Dr. Thomas Hamilton), Lee Pace (Benjamin Weeks) and Mark Ruffalo (Ned Weeks), with Stage Directions read by Edie Falco.
Larry Kramer (Playwright): After graduating from Yale he worked in the film industry, eventually writing and producing the Oscar film adaptation of D. H. Lawrence's Women in Love. With the sudden arrival of hiv/AIDS in 1981, he with five friends founded Gay Men's Health Crisis (GMHC), the first service organization for the sufferers of this plague. In 1987 he founded ACT UP, the AIDS Coalition to Unleash Power, which fought into being the treatments that now keep us alive. His writings include the novel Faggots, the plays The Normal Heart, The Destiny of Me and Just Say No, and his political writings, Reports from the holocaust and The Tragedy of Today's Gays. Ryan Murphy directed the film of The Normal Heart. His many awards include an honorary Doctor of Humane Letters from Yale. His attempt to establish a program for the study of gay history at Yale remains a failure. Farrar Straus and Giroux published volume one of The American People, his history of homosexuality and is readying volume two. He and his husband architect/interior designer David Webster live in New York and Connecticut.
Kramer Levin Naftalis & Frankel LLP has generously provided lead sponsor support for The Destiny of Me.
The New Group (Scott Elliott, Artistic Director; Adam Bernstein, Executive Director) is an award-winning, artist-driven company with a commitment to developing and producing powerful, contemporary theater. The company's upcoming 2018-2019 Season features four world premiere productions: Sharr White's The True, directed by Scott Elliott, with Edie Falco, Michael McKean and Peter Scolari (Fall 2018); Clueless, The Musical, by Amy Heckerling, with choreography by Kelly Devine, directed by Kristin Hanggi (Fall 2018); Jeremy O. Harris' "Daddy," a co-production with Vineyard Theatre, directed by Danya Taymor, featuring Alan Cumming (Winter 2019); and Jesse Eisenberg's Yea, Sister!, directed by Scott Elliott (Winter 2019). For more, please visit www.TheNewGroup.org.
Photo Credit: Erik Carter/courtesy of The New Group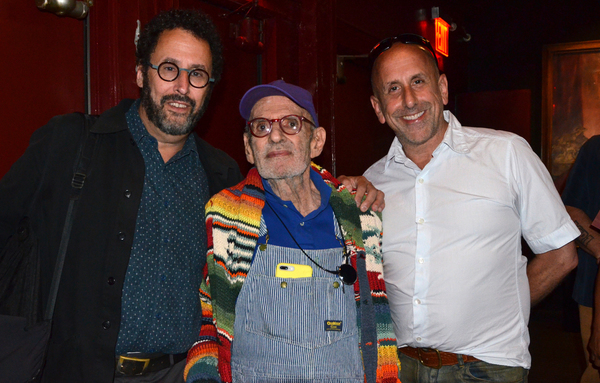 Tony Kushner, Larry Kramer and Scott Elliott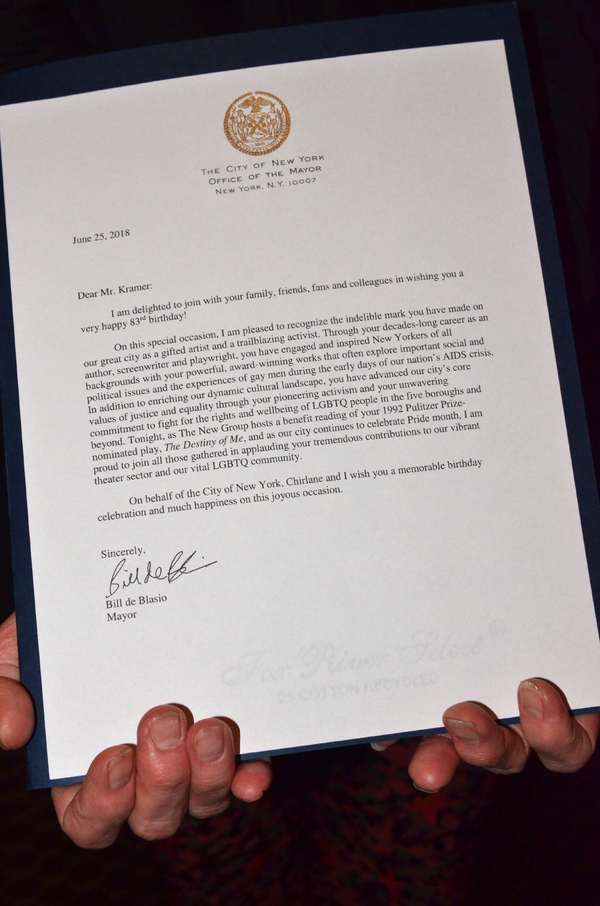 Note from Mayor Bill de Blasio to Larry Kramer

Scott Elliott and Carla Hoke-Miller, Director of Theatre Programs and Partnerships at the New York City Mayor's Office of Media and Entertainment, reading the note from Mayor Bill de Blasio to Larry Kramer

Introduction by Tony Kushner

The cast of Destiny of Me (Eric Bogosian, Ellen Barkin, Gideon Glick, Mark Ruffalo, Lee Pace, Josh Hamilton with stage directions by Edie Flaco)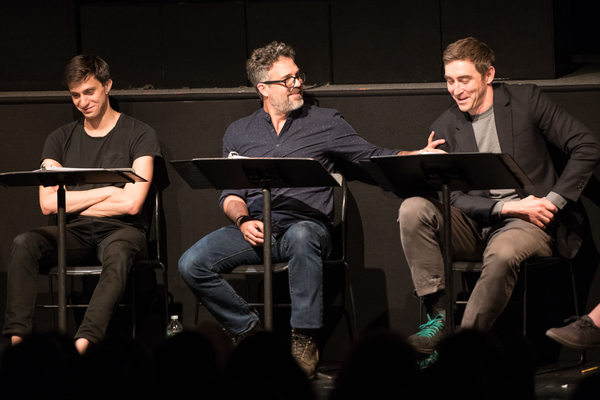 Gideon Glick, Mark Ruffalo and Lee Pace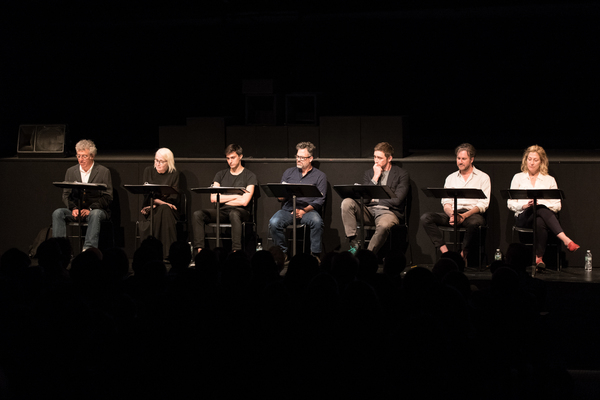 The cast of Destiny of Me (Eric Bogosian, Ellen Barkin, Gideon Glick, Mark Ruffalo, Lee Pace, Josh Hamilton with stage directions by Edie Flaco)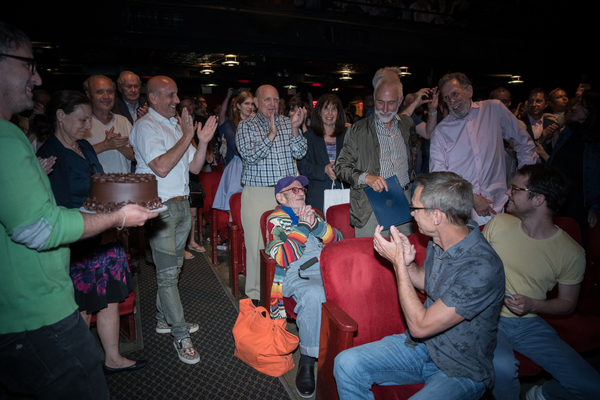 The audience singing Happy Birthday to Larry Kramer

Trip Cullman, Scott Elliott, Ellen Barkin, Gideon Glick, Larry Kramer, Mark Ruffalo, Lee Pace, Edie Falco, Eric Bogosian, Josh Hamilton

Larry Kramer's birthday cake

George C. Wolfe and Larry Kramer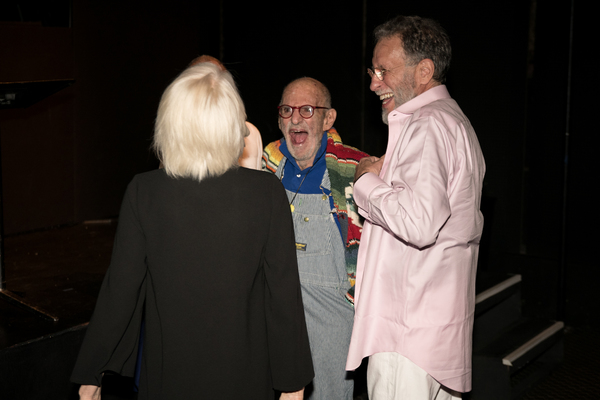 Larry Kramer and guests

Carla Hoke-Miller and Bill Bahlman
Related Articles
More Hot Stories For You
VIDEO: On This Day, July 9- Lin-Manuel Miranda, Phillipa Soo, Ariana DeBose, and Leslie Odom, Jr. Say Goodbye to HAMILTON
On this day in 2016, original Hamilton cast members, Leslie Odom Jr., Phillipa Soo, and Ariana DeBose along with the musical's star and composer, Lin-...

Broadway League Approves 15-Second COVID-19 Test For Actors and Crew; League President 'Cautiously Optimistic' About Early 2021 Return
Broadway League President Charlotte St. Martin told the New York Post that for the first time, she feels 'cautiously optimistic' about Broadway being ...

BROADWAY AT HOME on PBS Continues With GREAT PERFORMANCES: SHE LOVES ME & More
Beginning July 24, GREAT PERFORMANCES will continue to keep the performing arts alive with Broadway at Home, broadcasting a theatrical favorite every ...

Actors' Equity Files Grievance Against Walt Disney World for Retaliating Over Request for Testing at Disney World
With days until Walt Disney World's scheduled reopening, Actors' Equity Association has filed a grievance against Disney for retaliating against membe...

QUIZ: Spend a Day at North Shore High and We'll Tell You Which Mean Girls' Plastic You're Most Like!
Are you a Cady, Regina, Karen, or Gretchen? Take our quiz to find out which of the North Shore plastics are you!...

Will Broadway Be Back in Early 2021? Charlotte St. Martin is 'Cautiously Optimistic'
As the Broadway League continues to work with city and state officials as well as leaders in science, technology, and medicine to formulate the best p...