Click Here for More Articles on SPIDER-MAN
Photo Flash: First Look at Law & Order Spider-Man Episode
SPIDER-MAN: TURN OFF THE DARK has been making headlines since even before it began previews in November 2010. It comes as no surprise, then, that Law & Order: Criminal Intent - known for molding the stories that make news into their plot - set to work on an episode inspired by the mammoth musical.
The episode, which will feature an intricate production of Icarus, draws many parallels to SPIDER-MAN. A sitcom star turned Broadway actor is killed performing a stunt in a controversial and highly technical Broadway musical, and the real drama is trying to figure out who wanted the leading man dead. The episode will guest star Cynthia Nixon, Patti Smith, Eion Bailey, Christopher McDonald, and will air this Sunday at 9 pm on USA.
SPIDER-MAN opened June 14th after a record 183 previews. It is the most ambitious production ever undertaken on Broadway and certainly the most expensive and most heavily watched productions in Broadway history. The show features creative consultation by Philip William McKinley (The Boy From Oz), original direction by Tony® Award-winner Julie Taymor (The Lion King, Across The Universe, Frida), music and lyrics by 22- time Grammy® Award-winners Bono and The Edge, and book co-written by Taymor, Glen Berger (Underneath The Lintel) and Roberto Aguirre-Sacasa (Fantastic Four and Spider-Man comics, "Big Love").
Photo Credit: Will Hart/USA Network


Cynthia Nixon, Eion Bailey

 Cynthia Nixon, Kathryn Erbe, Vincent D'Onofrio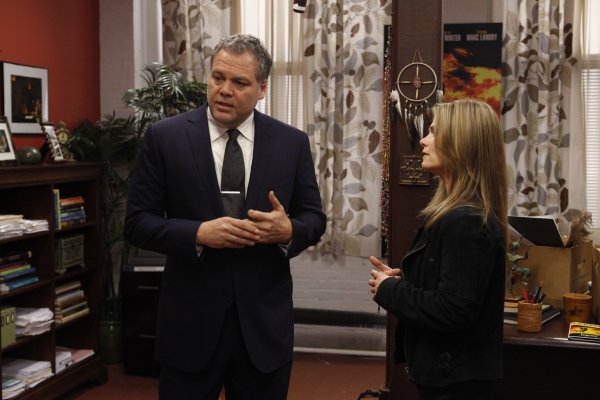 Vincent D'Onofrio, Kathryn Erbe