Spider-Man Turn Off the Dark - 2011 - Broadway Tickets, News, Info & More
SPIDER-MAN Turn Off The Dark features music and lyrics by 22-time Grammy Award-winners Bono and The Edge and a book co-written by Julie Taymor, Glen Berger and Roberto Aguirre-Sacasa, with direction by Ms. Taymor and additional direction by Philip William McKinley. Scenic Designer George Tsypin and Costume Designer Eiko Ishioka are winners of Outer Critics Circle Awards and were nominated for Tony Awards for their work on SPIDER-MAN Turn Off The Dark.
Video preview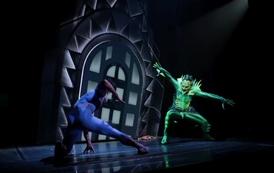 Photo preview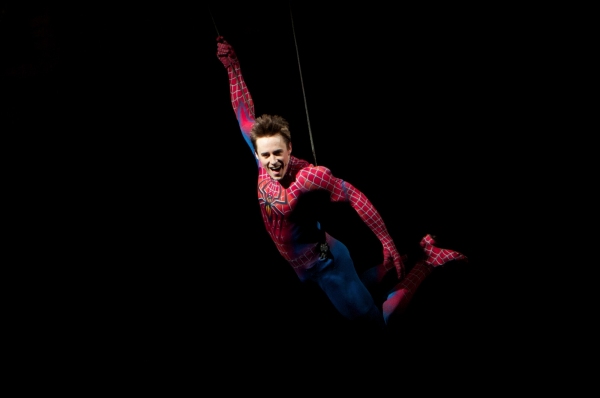 Schedule
Running Time: 2 hours and 45 minutes, with one intermission
Featured Reviews For Spider-Man Turn Off the Dark
'Spider-Man: Turn Off the Dark' zips open - New Jersey Newsroom
Watching this elaborate if numbing attraction at the Foxwoods, theatergoers with long memories may recall the Andrew Lloyd Webber musical "Starlight Express," which opened in 1987 and was the most expensive-ever show of its day. Costing a cool $8 million, the musical involved roller-skating performers impersonating trains running on tracks laid around the auditorium, lasted 700-odd performances and never paid off its investment both commercially and as satisfying theater for adults. While there is certainly a significant audience for junk food-style entertainment on Broadway, I wonder whether the million empty calories represented by "Spider-Man: Turn Off the Dark" will be tasty enough to attract sufficient customers for a very long time.
Spider-Man: Turn Off the Dark - Entertainment Weekly
Early in Act 2 of Spider-Man: Turn Off the Dark, the genetically altered villain Green Goblin (Patrick Page) sings, 'I'm a $65 million circus tragedy - actually, more like 75.' Yes, that's a wink-wink nod to the show's notorious crawl to opening night following months of delays, budget overruns, cast injuries, and the exit of original director and co-creator Julie Taymor. So how does the retooled Broadway production fare? It gets full marks for spectacle - Daniel Ezralow's aerial choreography and George Tsypin's sets deserve a curtain call all their own - but only partial credit as musical theater.
Spider-Man Turn Off the Dark Broadway Cast