Spider-Man Turn Off the Dark - 2011 - Broadway
SPIDER-MAN Turn Off The Dark features music and lyrics by 22-time Grammy Award-winners Bono and The Edge and a book co-written by Julie Taymor, Glen Berger and Roberto Aguirre-Sacasa, with direction by Ms. Taymor and additional direction by Philip William McKinley. Scenic Designer George Tsypin and Costume Designer Eiko Ishioka are winners of Outer Critics Circle Awards and were nominated for Tony Awards for their work on SPIDER-MAN Turn Off The Dark.
Video preview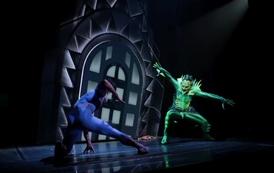 Photo preview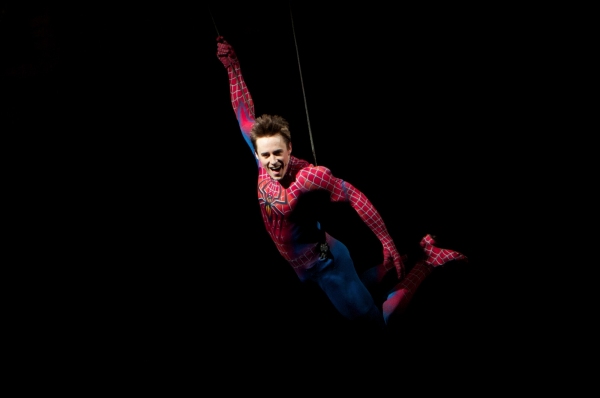 Schedule
Running Time: 2 hours and 45 minutes, with one intermission
Featured Reviews For Spider-Man Turn Off the Dark
Spider-Man: Turn Off the Dark - Entertainment Weekly
Early in Act 2 of Spider-Man: Turn Off the Dark, the genetically altered villain Green Goblin (Patrick Page) sings, 'I'm a $65 million circus tragedy - actually, more like 75.' Yes, that's a wink-wink nod to the show's notorious crawl to opening night following months of delays, budget overruns, cast injuries, and the exit of original director and co-creator Julie Taymor. So how does the retooled Broadway production fare? It gets full marks for spectacle - Daniel Ezralow's aerial choreography and George Tsypin's sets deserve a curtain call all their own - but only partial credit as musical theater.
1 Radioactive Bite, 8 Legs and 183 Previews - New York Times
So is this ascent from jaw-dropping badness to mere mediocrity a step upward? Well, until last weekend, when I caught a performance of this show's latest incarnation, I would have recommended "Spider-Man" only to carrion-feasting theater vultures. Now, if I knew a less-than-precocious child of 10 or so, and had several hundred dollars to throw away, I would consider taking him or her to the new and improved "Spider-Man."
Spider-Man Turn Off the Dark Broadway Cast