Photo Flash: First Look at Karen Ziemba, Nicolas Dromard and More in 42ND STREET at Lexington Theatre
The brand-new Lexington Theatre Company opened its inaugural production of 42ndStreeton Thursday, July 23. Tony Award-Winner Karen Ziemba, plays Dorothy Brock, alongside other Broadway veterans and up-and-coming actors. 42nd Street is presented by Variety Live at The Opera House with Co-Producing Sponsor Kentucky One Health, and runs July 23-26 at the Lexington Opera House. Check out a first look below!
Joining Ziemba are Matthew Shepard (Beauty and the Beast, The Scarlet Pimpernel, Wonderful Town) as Julian Marsh,Nicolas Dromard (Mary Poppins, Oklahoma!, The Boy From Oz; Jersey Boys National Tour; Wicked - San Francisco) as Billy Lawlor, and Darien Crago (City Center Encores' Lady Be Good & Paint Your Wagon, Irving Berlin's White Christmas National Tour) as Peggy Sawyer.
The Lex is presenting the 2001 Revival version of the show, featuring choreography by multiple-time Tony-nominee, Randy Skinner (42nd Street, Irving Berlin's White Christmas, Ain't Broadway Grand), recreated and adapted by Mary Giattino (Irving Berlin's White Christmas, Nat'l Tours Billy Elliot, 42nd Street, City Center Encores' Lady Be Good). 42nd Street is directed by The Lex Artistic Director, Lyndy Franklin Smith (A Chorus Line, The Little Mermaid), and Producing Director, Jeromy Smith, (Nat'l Tours of 42nd Street, Swing). Musical Direction is by Joseph Jefferson Award Winner, Bradley Vieth. Brock Terry(University of Kentucky) serves as Resident Music Associate. Equity Production Stage Manager is Emily F. McMullen (The Huntington Theatre Company, Music Theatre Wichita, Merrimack Repertory Theatre, Cincinnati Playhouse in the Park.)
The cast is rounded out by college students from many top-notch theatre, music and dance programs from across the country, as well as some of Lexington's favorite local talents.
Featured actors include Robert Parks Johnson (Abner Dillon), Michael Sheehy (Bert Barry), Rachel Marie Snyder (Maggie Jones), Justin Ostergard (Pat Denning), Sarah Shelton (Anytime Annie), Alexander H. Miller (Andy Lee), Megan McLaughlin (Lorraine Fleming), Casey Wenger-Schulman (Phyllis Dale), and William Linder (Mac). Ensemble members include Caleb Dicke, Nathan Fister, Phillip Anthony Giandiletti, James Harvener, Alex John Johnson, Tyler Johnson-Campion, Ryan Lambert, Brianna Latrash, Elizabeth McGuire, Elise Mestichelli, Fiona Mowbray, Michelle Orren.
Members of the High School Apprentice Program include Lindsey Carroll, Harrison Carter, Kirby Crosbie, Annie Davis, Olivia Eckert, Rachel Eckert, Cooper Fitch, Kristen Harlow, Courtney Hausman, Kelsey Dawn Hutchison, Quinn Lehmann, Lily Rasmussen, Tamaira Robinson, Taylor Robinson, Christina Wilson, Samuel Jolly, Joseph Waterbury-Tieman, Jordan Vescio.
Sets (designed by Bruce Brockman) and costumes (designed by Debbie Roberts) are provided by Music Theatre Wichita. Tanya Harper (University of Kentucky)is the Lighting Designer. John Ferguson (Lexington Opera House) is the Sound Designer. Joseph D. Sibley (Music Theatre Wichita, Maine State Music Theatre) is Wardrobe & Wig Coordinator. Kurt Alger(North Shore Music Theatre, Maine State Music Theatre) is Wig Designer. UK Theatre's Tony Hardin serves as Production Coordinator. Gretchen Shoot is Stage Manager and Abby Schroering is Assistant Stage Manager.
42nd Street performs July 23-26, at the Lexington Opera House, and is sponsored by Variety Live at the Opera House and Co-Producing Sponsor Kentucky One Health, Central Bank, Hilliard Lyons, Toyota on Nicholasville and Elite Graphics. Performance times are Thursday-Saturday (7/23-7/25) at 8:00pm, Saturday-Sunday (7/25-7/26) at 2:00pm. For more information and to buy tickets or make a donation, please visit the organization's website, www.lexingtontheatrecompany.org. Tickets may also be purchased at The Lexington Center Ticket Office, please phone (859) 233-3535.
Photo Credit: Philip Groshong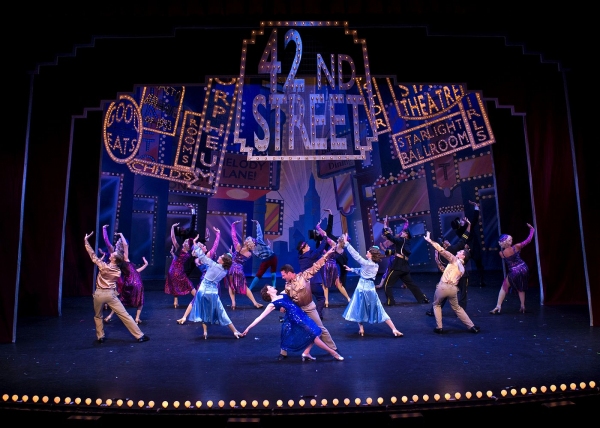 Darien Crago, Nicolas Dromard and company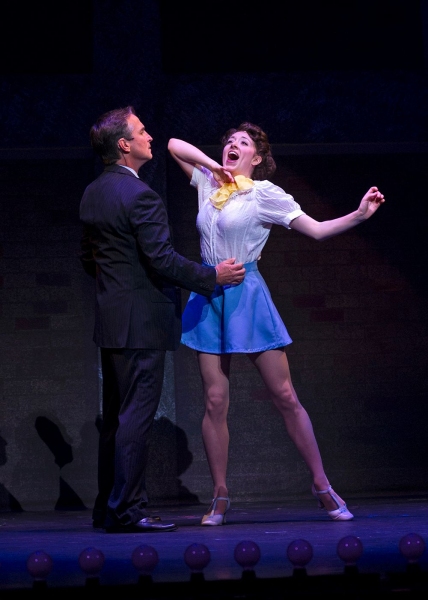 Mathew Shepard and Darien Crago

Darien Crago and company

Michael Sheehy, Darien Crago, Matthew Shepard, Alexander H. Miller and Nicolas Dromard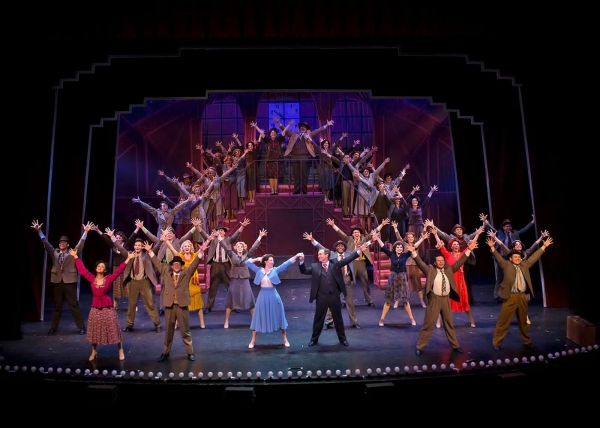 The company

Nicolas Dromard, Darien Crago (Peggy), Matthew Shepard and company

Karen Ziemba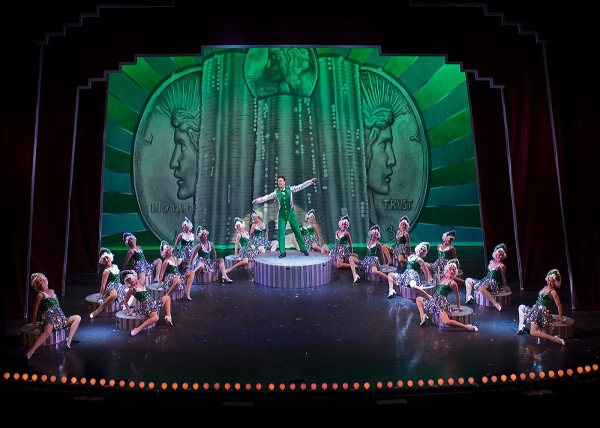 Nicolas Dromard (Billy) and company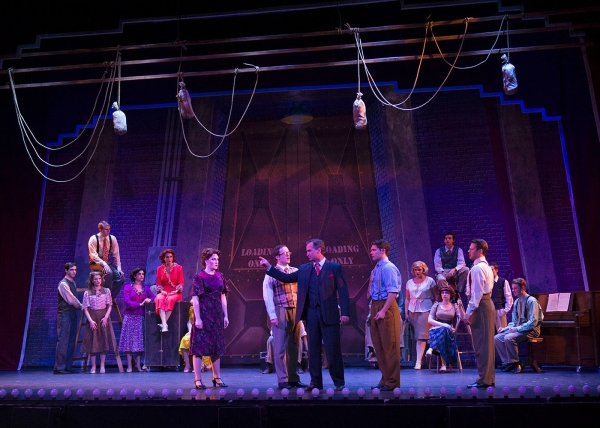 Rachel Marie Snyder, Michael Sheehy, Matthew Shepard, Alexander H. Miller, Nicolas Dromard and the company

Karen Ziemba as Dorothy Brock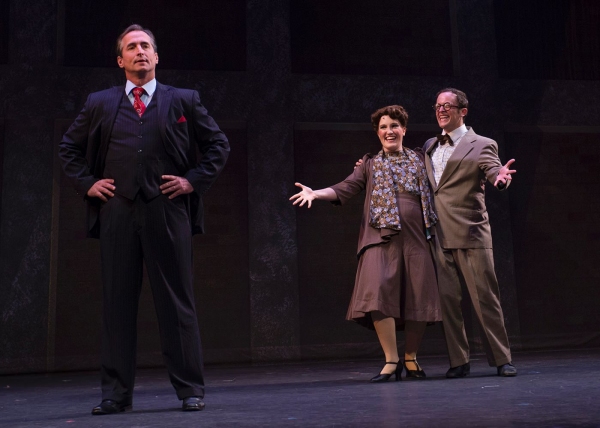 Matthew Shepard (Julian), Rachel Marie Snyder (Maggie) and Michael Sheehy (Bert)