Click Here for More Articles on SUBMISSIONS ONLY
Photo Flash: Finding Their Inner Sexy - The SUBMISSIONS ONLY Cast Strikes a Pose
The cast of Submissions Only traded in spit takes and prat falls for a little hard-edged glamour, thanks to the vision of photographer Curtis Brown, who invited the S.O. folks for a fun photo shoot back in March.
"People may be surprised to know how easy it is for me to harness my sex appeal," said Colin Hanlon, who plays Tim Trull on the series, "The comedy is actually what's hard."
"I've been waiting a long time to give this kind of smoke to the camera," said Kate Wetherhead, who plays Penny Reilly and is also the show's co-creator along with Andrew Keenan-Bolger.
"It's true," Keenan-Bolger concurred, "You should see Kate on set, always looking in the mirror with a 'Come Hither' stare. I'm glad she finally got an opportunity to make sweet love to the camera."
Stephen Bienskie, who plays agent Steven Ferrell, was a little scared about the consequences of releasing such a titillating photo. "When the fans realize just how sexy I am, I'll get even more unwanted attention. It's bad enough now as it is." Max von Essen chimed in: "Stephen has to be really careful. His attractiveness can be overpowering for a lot of people."
Anne L. Nathan and Lindsay Nicole Chambers, who play Linda Avery and Gail Liner respectively, were unphased by the whole experience. "Our characters on the show are inherently sexy," said Nathan, "So none of this was much of a stretch."
"Did somebody say 'stretch'?" asked Wade McCollum, who plays Nolan Grigsby and who spent much of the shoot in an impressively deep Downward Dog pose. "I look best in a stretch," he added, slightly disappointed when Brown asked him to stand.
"These guys are to the web series community what breath is on a cold day," said Brown, "Steamy." Brown is planning an entirely nude photo shoot for the cast later in the summer, when everyone has more of a tan.**
**This "article" was written by Kate Wetherhead.
Be sure to catch the Season 3 finale of SUBMISSIONS ONLY on BWW right after the Tony Awards tomorrow night, and in the meantime, watch the trailer for the season closer!
Photo Credit: Curtis Brown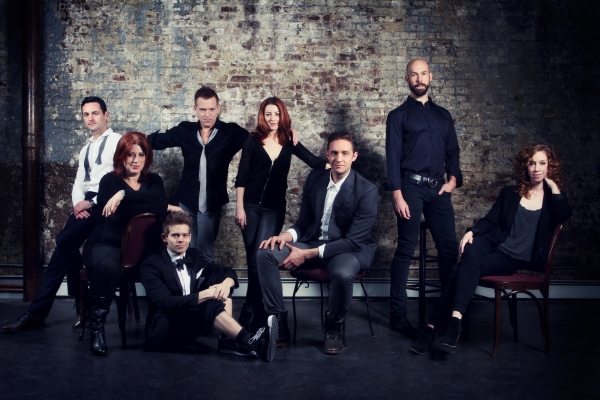 Max von Essen, Anne L. Nathan, Andrew Keenan-Bolger, Stephen Bienskie, Kate Wetherhead, Colin Hanlon, Wade McCollum, and Lindsay Nicole Chambers

Related Articles
More Hot Stories For You
VIDEO: On This Day, July 9- Lin-Manuel Miranda, Phillipa Soo, Ariana DeBose, and Leslie Odom, Jr. Say Goodbye to HAMILTON
On this day in 2016, original Hamilton cast members, Leslie Odom Jr., Phillipa Soo, and Ariana DeBose along with the musical's star and composer, Lin-...

Broadway League Approves 15-Second COVID-19 Test For Actors and Crew; League President 'Cautiously Optimistic' About Early 2021 Return
Broadway League President Charlotte St. Martin told the New York Post that for the first time, she feels 'cautiously optimistic' about Broadway being ...

BROADWAY AT HOME on PBS Continues With GREAT PERFORMANCES: SHE LOVES ME & More
Beginning July 24, GREAT PERFORMANCES will continue to keep the performing arts alive with Broadway at Home, broadcasting a theatrical favorite every ...

Actors' Equity Files Grievance Against Walt Disney World for Retaliating Over Request for Testing at Disney World
With days until Walt Disney World's scheduled reopening, Actors' Equity Association has filed a grievance against Disney for retaliating against membe...

QUIZ: Spend a Day at North Shore High and We'll Tell You Which Mean Girls' Plastic You're Most Like!
Are you a Cady, Regina, Karen, or Gretchen? Take our quiz to find out which of the North Shore plastics are you!...

Will Broadway Be Back in Early 2021? Charlotte St. Martin is 'Cautiously Optimistic'
As the Broadway League continues to work with city and state officials as well as leaders in science, technology, and medicine to formulate the best p...