Photo Flash: FELA! Begins Broadway Previews 10/19
As previously announced, Fela!, the new musical based on the life and music of groundbreaking African composer, performer and activist Fela Anikulapo-Kuti, will arrive on Broadway at the Eugene O'Neill Theatre (230 West 49th Street). Performances commence tonight, Monday, October 19 with an official opening set for Monday, November 23. This new musical is directed and choreographed by Tony® Award-winner Bill T. Jones (Spring Awakening), with a book by Jim Lewis and Bill T. Jones. Sahr Ngaujah and Kevin Mambo will play the title character on alternate performances, while the world renowned Antibalas and other members of the NYC Afrobeat community, under the direction of AaRon Johnson, will again perform Kuti's rousing music live onstage. Winner of this year's Lucille Lortel Award for Best Musical, Fela! was conceived by Bill T. Jones, Jim Lewis and Stephen Hendel. Fela! had its world premiere at Off-Broadway's 37 Arts in September 2008, where it enjoyed a sold-out limited run. Tickets for Fela! on Broadway are available through www.Telecharge.com or by calling (212) 239-6200.  
In this revolutionary new musical, directed and choreographed by Tony® Award-winner Bill T. Jones with a book by Jim Lewis, audiences are welcomed into the extravagant, decadent and rebellious world of Afrobeat legend Fela Anikulapo-Kuti. Using his pioneering music (a blend of jazz, funk and African rhythm and harmonies), Fela! exploresKuti's controversial life as artist, political activist and revolutionary musician. Featuring many of Fela Kuti's most captivating songs and Bill T. Jones's imaginative staging, Fela! is a provocative hybrid of concert, dance and musical theater.
Fela! will feature a multi-cultural cast led by Sahr Ngaujah (recipient of an Obie Award for his performance in the title role Off-Broadway) and Kevin Mambo (MTC's Ruined), alternating in the role of Fela Anikulapo-Kuti. Lillias White will play Funmilayo Ransome Kuti (Fela's mother) and Saycon Sengbloh (Hair) plays Sandra, Kuti's love interest. The company also includes Corey Baker, Hettie Barnhill, Nicole Chantal DeWeever, Lauren Deveaux, Elasea Douglas, Rujeko Dumbutshena, Catherine Foster, Talu Green, Shaneeka Harrell, Abena Koomson, Ismael Kouyate, Gelan Lambert, Farai M. Malianga, Shakira Marshall, Afi McClendon, Adesola Osakalumi, Jeffrey Page, Daniel Soto, Jill M. Vallery, J.L. Williams, Iris Wilson, Aimee Graham Wodobode. Scenic and costume design is by Marina Draghici, lighting design is by Rob Wierzel, sound design is by Rob Kaplowitz and projection design is by Peter Nigrini. Musical arrangements and additional music by AaRon Johnson and Jordan McLean, and Jim Lewis provided additional lyrics.
Fela! is produced by Stephen & Ruth Hendel, Roy Gabay, Edward Tyler Nahem, Chip Meyrelles/Ken Greiner and Daryl Roth/True Love Productions.
Photos by Monique Carboni

Sahr Ngaujah

Aimee Graham, Irish Wilson, Marcus Phillips, Corey Baker, Jill M. Vallery, Rujeko Dumbutshena, Daniel Soto, Lauren Deveaux, and Maia McKinney

Sahr Ngaujah

Anne V. Andre, Lauren Deveaux, Maia McKinney, and Iris Wilson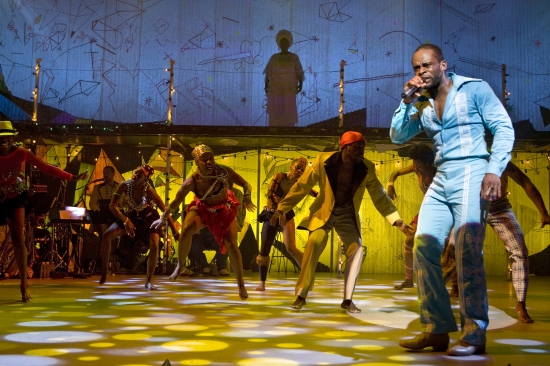 Anne V. Andre, AaRon Johnson (in back), Rujeko Dumbutshena, Aimee Graham, Irish Wilson, Abena Koomson (standing above), Ismael Kouyate, Luaren Deveaux, Sahr Ngaujah (Fela). Daniel Soto (behind Sahr)