Photo Flash: Deborah Cox Stuns in Jazzy First Look at World Premiere Musical JOSEPHINE
Asolo Rep, in collaboration with Tony Award® winner Kenneth Waissman (Grease, Torch Song Trilogy) presents the world premiere of the new, Broadway-bound musical JOSEPHINE. BroadwayWorld brings you a series of first-look photos below!
Now in rehearsal, the production runs at the Mertz Theatre, located in the FSU Center for the Performing Arts, JOSEPHINE April 27 - May 29. Friday, May 6 at 8pm is the official press opening. Grammy® nominated, multi-platinum selling recording artist Deborah Cox (Broadway's Aida, Jekyll & Hyde; vocals for the Whitney Houston Lifetime movie Whitney) stars as the legendary African-American performer Josephine Baker. Directed and choreographed by two-time Tony Award-nominee Joey McKneely (The Life, Smokey Joe's Café), JOSEPHINE features a book by Ellen Weston and Mark Hampton; music by five-time Emmy Award®-nominee and three-time Grammy Award-nominee Stephen Dorff; and lyrics by Academy Award®, Grammy, and Golden Globe®-nominee and two-time Emmy Award-winner John Bettis.
Inspired by Stephen Papich's book Remembering Josephine, the musical revolves around Baker's stint as the star of the Folies Bergère in Paris between 1939-45, her scandalous affair with Swedish Crown Prince Gustav VI, and her heroic service in the French Resistance during World War II. She was hailed as the "Black Pearl." Picasso dubbed her the "Nefertiti of Now." Ernest Hemingway called her "the most sensational woman anyone ever saw." The entrancing Josephine Baker was beautiful, ambitious, and the toast of Europe at the height of her fame in the 1920s-30s. Born into poverty in St. Louis, she rose to become an icon of the Jazz Age, captivating Paris audiences as a dancer, singer, actress and the twentieth-century's first international black female sex symbol.
JOSEPHINE features Kevin Earley (Broadway's LES MISERABLES, Thoroughly Modern Millie, and A Tale of Two Cities) as Jo Bouillon, Josephine Baker's band conductor and love interest; and Mark Campbell (national tours of The Phantom of the Opera, Guys & Dolls; television's Sleepy Hollow) as Baker's forbidden lover, Prince Gustav VI of Sweden.
The cast of JOSEPHINE also features Jelani Alladin, Tori Bates, Dillon Cassidy, Elyse Collier, Asia Dekle,Lynette DuPree, Timothy J. Fitzgerald, Laura Keller, Michael Keyloun, Matthew McGee, Alison Mixon,Julian Ramos, Naomi C. Walley, and Zach Williams; Orchestrations, arrangements and musical supervision by Steve Orich; scenic design by Paul Tate dePoo III; costume designer Eduardo Sicangco; lighting design by Brian Nason; sound designer by Justin Stasiw; and projection design by Alex Basco Koch.
"We are excited to present the world premiere of this extraordinary original musical, brimming with unparalleled Broadway talent," said Asolo Rep Producing Artistic Director Michael Donald Edwards. "JOSEPHINE vividly brings to life the story of a beloved American icon - one of the most magnetic and fascinating women in history. This celebration of Josephine Baker is a remarkably evocative work of art and a brilliant addition to our five-year American Character Project."
"For a number of years, I had been intrigued with the idea of recreating the glamorous and exotic world of Josephine Baker in a stage musical," said Kenneth Waissman. "She was a larger than life African-American expatriate who transcended her color, her gender and her times. Her exotic looks, fabulous gowns and feathered headdresses, her obsession with her royal lover and her life-risking exploits in the French underground during WWII provide the sex, romance and intrigue of this original new musical. I'm thrilled to be working with Asolo Repertory Theatre on the world premiere of this Broadway-bound dream."
"I am so excited about this production of JOSEPHINE where I play Josephine Baker," said Deborah Cox. "I've been working on this incredible project for several years and now it's time to present it. I can't wait for everyone to experience what is only the tip of the iceberg of a true icon. There is so much about Josephine Baker that I'm still discovering and yet the little that I do know is more than most of us would be able to achieve in a couple of lifetimes."
"JOSEPHINE the musical will be every bit as sensational as Josephine Baker the woman was - glamorous, provocative, sexy and heartwarming," said Director/Choreographer Joey McKneely. "It's a spectacular singing and dancing show to raise the roof and have people talking for decades, just as Josephine Baker would have done herself. It brings me so much joy to finally bring her amazing story to the stage for all to enjoy!"
Mike Ruiz_ © Deco Recording Group, LLC_.jpg" width="600" />
Deborah Cox; Photo by Mike Ruiz
Deborah Cox; Photo by Mike Ruiz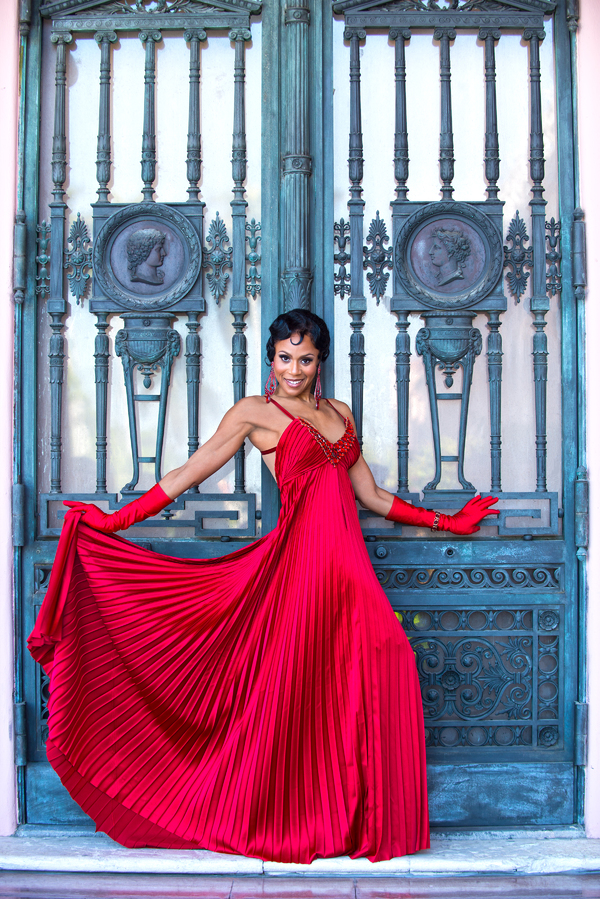 Deborah Cox; Photo by John Revisky

Deborah Cox, Mark Campbell; Photo by John Revisky

Deborah Cox & Company; Photo Courtesy of Asolo Rep