Photo Flash: BILLY ELLIOT Performs at Duke of Edinburgh's International Award and Young Americans' Challenge Gala
THEY WERE ALL THERE...British Royalty, Hollywood A-Listers, legendary athletes, beauty queens, NYC socialites and top business executives. They all came together to support the Duke of Edinburgh's International Award and Young Americans' Challenge at the Pierre Hotel. Sponsored by RBC Capital, the night was filled with entertainment, heart-warming speeches, much laughter and great food. The ballroom was bursting with British tradition... from the sound of bagpipes to the smell of Yorkshire Roses, to the haunting music of BILLY ELLIOT. HRH The Prince Edward, Earl of Wessex, graciously greeted guests with a smile, clearly enjoying the fun and laughter of the guests, and the special message of the Speakers. Check out photos from the event below!
The event benefited the Duke of Edinburgh's International Award and Young Americans' Challenge, an award program started by HRH Prince Philip in 1956. Since its introduction, the self- development initiative has been implemented in more than 130 countries. Seven million young people have taken the Award Challenge. The Award is dedicated to the personal development of people aged 14-25 from all backgrounds. The International Award honors those who have made great personal achievements in the areas of service, exploration in a challenging environment, skills and physical recreation. The Award encourages fitness, mental challenge, individual perseverance, teamwork and interactions with others.
Sam Haskell, President of the Duke of Edinburgh's Young Americans' Challenge introduced HRH The Prince Edward to speak. When His Royal Highness's microphone abruptly cut out, he joked, "You can't get rid of me that quickly!" creating a roar of laughter amongst guests. BILLY ELLIOT performers
Jacob Clemente
and
Liz Pearce
wowed the crowd with numbers, Electricity and Shine from the Tony Award winning Broadway musical. VIP guests included
Kirstie Alley
with her daughter Lillie Parker,
Ed Westwick
,
Lucie Arnaz
,
Laurence Luckinbill
, Rob Gilbert,
Marilu Henner
, Miss America 2011 Teresa Scanlan, Bruce Levingston and Stephen Baer. After spending much of the evening at an event with President Obama and stuck in a frozen zone,
Whoopi Goldberg
made her way across town for friendly hellos and photographs with some lucky guests.Guests had traveled from far and wide. Fred Obala, an International Award recipient together with Corrin Varady had journeyed from Africa. A group of DOE workers, headed by Elisee Etienne who spoke on behalf of this powerful local NYC group, wowed their crowd with their passionate stories and perseverance through incredible hardships. Greg Belton, chairman of the International Awards group joined Mark Standish, sponsor and head of RBC Capital Markets and several other Canadians who had traveled to NYC for the event. Judy Murat Grubman was in from Palm Beach and Lee Tirdavel traveled across the pond. Catherine Saxton, of Sheffield and New York chaired the Gala, and Josh Randle, Todd Ruppert, Rohina Bhandari,
Michael Smith
and David Hryck were amongst the committee.
Photo Credit: Rob Rich


Ed Westwick, Liz Pearce, Jacob Clemente

Jacob Clemente

Jacob Clemente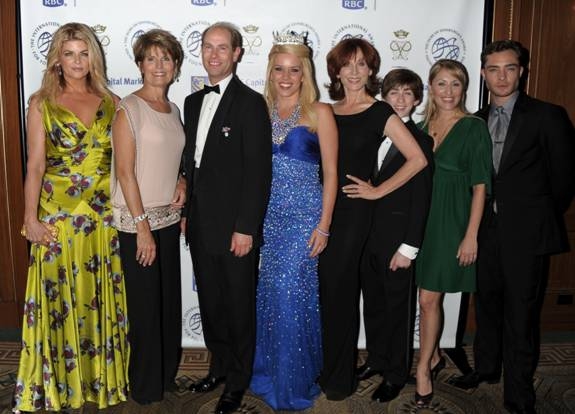 Kirstie Alley, Lucie Arnaz, Prince Edward, Teresa Scanlan, Jacob Clemente, Liz Pearce, Ed Westwick

Liz Pearce

Related Articles
More Hot Stories For You