Photo Flash: Al Pacino, Norman Lear Visit Cherry Lane's MANIPULATION
MANIPULATION, a world-premiere play by Victoria E. Calderon about one woman's struggle for freedom and self-discovery, opened last week at Off-Broadway's Cherry Lane Theatre (38 Commerce Street) in Manhattan. Over the Independence Day weekend,  Al Pacino and television producer/writer Norman Lear attended the show and posed for a photo afterwards. Check out pictures of the cast and their visitors below!
In MANIPULATION: Cristina seems to have it all - money, position, privilege. So why is she beginning to feel she has no control over her life, mind or body? Drawing on the best traditions of Latin American literature and its potent "magic realism," as well as a little-known Biblical tale, playwright Victoria E. Calderon conjures a provocative and unexpected world where the relationships we all cling to - mother and child, husband and wife - become a swirl of games, deception and surprise. Is Cristina willing to fight for her authenticity and a real place in this world?
The production stars Robert Bogue, Gabriel Furman, Jeremy Stiles Holm, Brendan McMahon, Saundra Santiago, Rafi Silver and Marina Squerciati
MANIPULATION runs through August 21 at Cherry Lane Theatre (38 Commerce Street): Tuesdays-Fridays at 8pm; Saturdays at 2pm and 8pm; and Sundays at 3pm and 7pm (with the following exceptions: no performances on Sunday, June 26; added performance Wednesday, June 22 at 2pm; opening on Tuesday, June 28 at 7pm). Tickets are $68.50. For tickets, visit Telecharge.com or call 212-239-6200 or 800-432-7250 . Tickets may also be purchased at the Cherry Lane box office: Tuesdays-Fridays, 4-8 pm; Saturdays, 12-8 pm; and Sundays, 1-7 pm.
For more information, visit www.manipulationtheplay.com
Photo Credit: Saundra Santiago


Jeremy Stiles Holm, Marina Squerciati, Norman Lear, Saundra Santiago, Robert Bogue; (foreground, l-r): Brendan McMahon, and John-Patrick Driscoll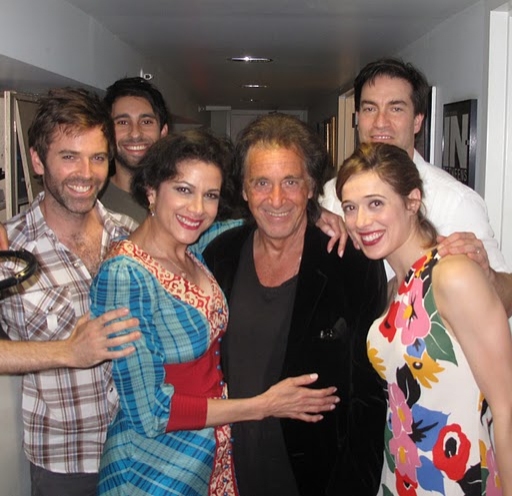 Brendan McMahon, Rafi Silver, Saundra Santiago, Al Pacino, Jeremy Stiles Holm, and Marina Squerciati