Photo Coverage: Meet the Company of Playwrights Horizons' THE CHRISTIANS
Playwrights Horizons and Center Theatre Group will present The Christians, the New York premiere of a new play by Lucas Hnath (A Public Reading of an Unproduced Screenplay About the Death of Walt Disney, Isaac's Eye, Death Tax). Directed by Obie Award winner Les Waters (Doris to Darlene at PH; the recent 10 Out of 12; In the Next Room, or the vibrator play; Big Love; eurydice), the play is the opening production of the theater company's 2015/2016 Season.
The cast of The Christians will feature Emily Donahoe (33 Variations on Broadway; Queens Boulevard-the musical, Apparition Off-Broadway; The Christians at Humana; "Homeland"), Andrew Garman (Salome on Broadway; Ashville, Burning, Uncle Vanya, Hamlet Off-Broadway; The Christians at Humana), Philip Kerr (The End of the Day at PH; A Time to Kill, Macbeth, Tiny Alice on Broadway; As You Like It Off-Broadway; opposite Dame Judith Anderson's Hamlet at Carnegie Hall), Larry Powell (While I Yet Live, Broke-ology Off-Broadway; The Christians at Humana) andLinda Powell (On Golden Pond, Wilder Wilder Wilder on Broadway; Omnium Gatherum, Jar the Floor, Jitney Off-Broadway; The Christians at Humana; "The Good Wife").
The production will also feature a rotating twenty-person choir drawing singers from all five boroughs.
THE CHRISTIANS will begin previews Friday, August 28, 2015 with an Opening Night set for Thursday, September 17 at 7PM. The limited engagement will play through Sunday evening, October 11 at Playwrights Horizons' Mainstage Theater (416 West 42nd Street).
Ten years ago, Pastor Paul's (Mr. Garman) church was a modest storefront. Now it houses thousands, with a coffee shop in the lobby and a baptismal font as big as a swimming pool. But Paul is about to preach a sermon that will shake the foundation of his congregation's beliefs. Backed by a live choir, The Christians is both epic and unexpectedly intimate, an unflinching look at faith in America - and its power to unite or divide.
Photo Credit: Jennifer Broski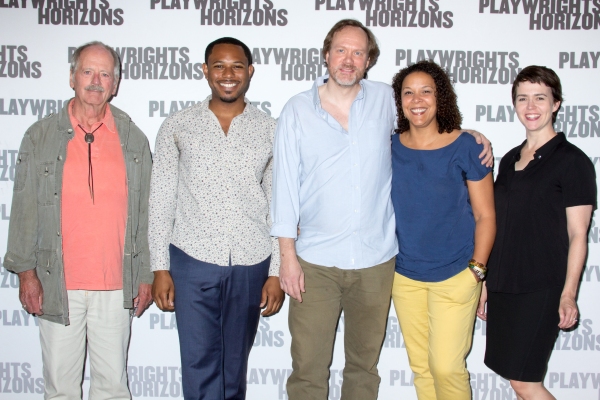 Philip Kerr, Larry Powell, Andrew Garman, Linda Powell, Emily Donahoe

Les Waters, Philip Kerr, Larry Powell, Andrew Garman, Linda Powell, Emily Donahoe, Lucas Hnath

Leslie Marcus, Les Waters, Philip Kerr, Larry Powell, Andrew Garman, Linda Powell, Emily Donahoe, Lucas Hnath, Tim Sanford

Philip Kerr, Andrew Garman, Larry Powell

Les Waters, Lucas Hnath

Les Waters, Lucas Hnath, Tim Sanford