Click Here for More Articles on ENCORES!
Photo Coverage: MERRILY WE ROLL ALONG Original and Encores! Casts Reunite at City Center - Sondheim & More!
19 cast members of the original 1981 Broadway production of Stephen Sondheim's MERRILY WE ROLL ALONG, including leading actors Lonny Price, Ann Morrison and Jim Walton, were reunited at New York City Center for a reception and performance of the City Center Encores! production last night, February 14. BroadwayWorld was on hand for the emotional curtain call- featuring a cameo by Stephen Sondheim himself! - and brings you photo coverage below!
Original cast members Mana Allen, Donna Marie Asbury, James Bonkovsky, David Cady, Liz Callaway, Daisy Prince Chaplin, Paul Hyams, David Loud, Marc Moritz , Ann Morrison, Abby Pogrebin, Lonny Price Forest D. Ray, Janie Scott, Tom Shea, David Shine, Gary Stevens, Jim Walton, Terry Finn and Maryrose Wood met at City Center yesterday afternoon for a reception with City Center's Encores! cast, before attending the evening performance.
The Encores! production features Colin Donnell, Celia Keenan-Bolger, Lin-Manuel Miranda, Elizabeth Stanley, Betsy Wolfe, Adam Grupper and Zachary Unger.
Merrily We Roll Along, with music and lyrics by Stephen Sondheim and book by George Furth, is a musical about friendship and the compromise of youthful ideals, based on the 1934 play of the same name by George S. Kaufman and Moss Hart. The show moves backwards in time from 1980 to 1955 and examines the lives of three people whose friendship is tested by time, events, ambition and fate. It charts the rise of a songwriting team during the years of Sondheim's own early career and includes some of his most brilliant and bruising songs, such as "Not a Day Goes By," "Old Friends," "Our Time" and "Opening Doors." Merrily We Roll Along will run February 8 – 19, 2012.
Photos by Walter McBride / Retna Ltd.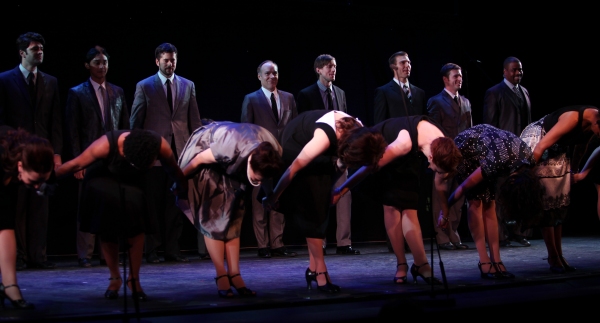 Ensemble Cast

Ensemble Cast

Lin-Manuel Miranda, Celia Keenan-Bolger, Colin Donnell & the Encores! Cast

Lin-Manuel Miranda, Celia Keenan-Bolger, Colin Donnell & the Encores! Cast members

Colin Donnell & the Encores! Cast members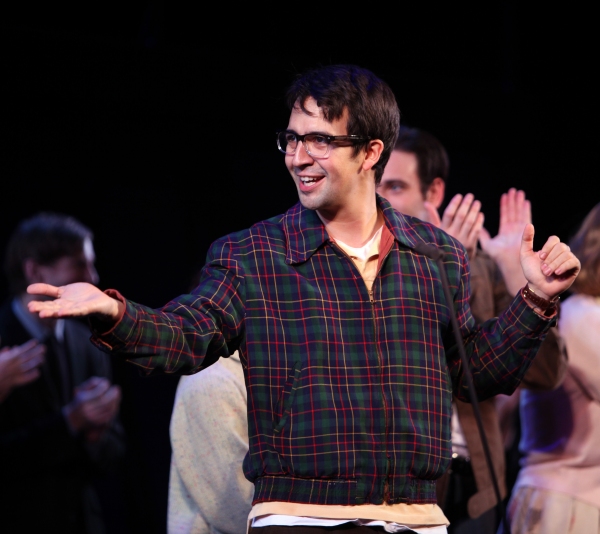 Lin-Manuel Miranda & the Encores! Cast members

Elizabeth Stanley, Lin-Manuel Miranda, Colin Donnell, Celia Keenan-Bolger, Betsy Wolfe & the Encores! Cast members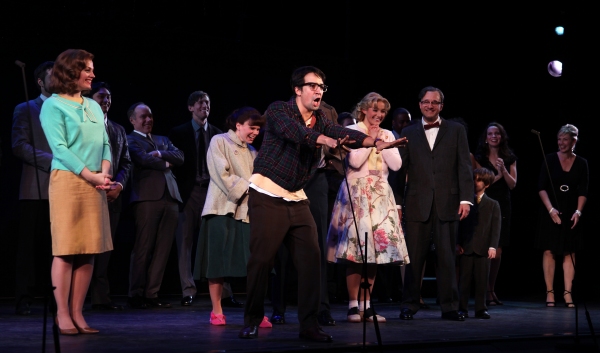 Elizabeth Stanley, Lin-Manuel Miranda,Colin Donnell, Celia Keenan-Bolger, Betsy Wolfe & the Encores! Cast members

Jim Walton with Elizabeth Stanley, Lin-Manuel Miranda, Colin Donnell & the Encores! Cast Members of the Original Broadway & Encores! Casts of MERRILY WE ROLL ALONG

Elizabeth Stanley, Lin-Manuel Miranda, Colin Donnell & the Encores! Cast Members of the Original Broadway & Encores! Casts of MERRILY WE ROLL ALONG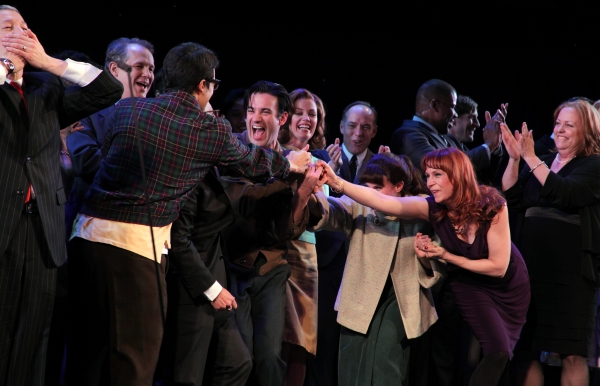 Gary Stevens
,
Jim Walton
,
Lin-Manuel Miranda
,
Lonny Price
,
Colin Donnel
l,
Celia Keenan-Bolger
&
Ann Morrison
with
Members of the Original Broadway & Encores! Casts of MERRILY WE ROLL ALONG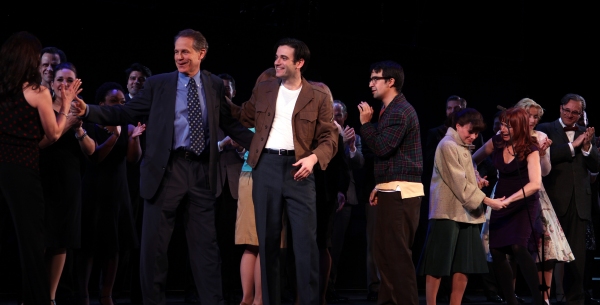 Jim Walton, Lin-Manuel Miranda, Lonny Price, Colin Donnell, Elizabeth Stanley, Celia Keenan-Bolger, Ann Morrison & Betsy Wolfe with Members of the Original Broadway & Encores! Casts of MERRILY WE ROLL ALONG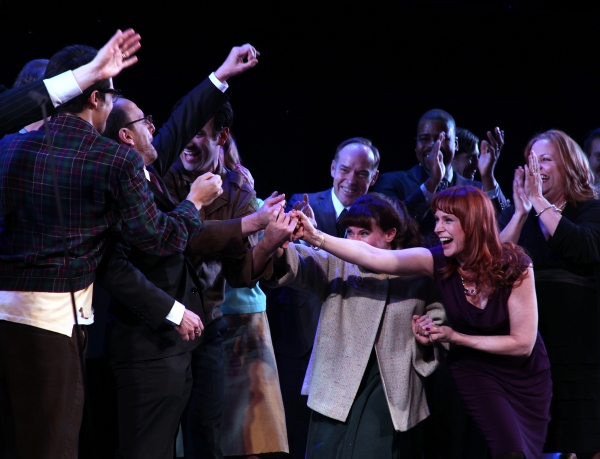 Lin-Manuel Miranda, Lonny Price, Celia Keenan-Bolger & Ann Morrison with Members of the Original Broadway & Encores! Casts of MERRILY WE ROLL ALONG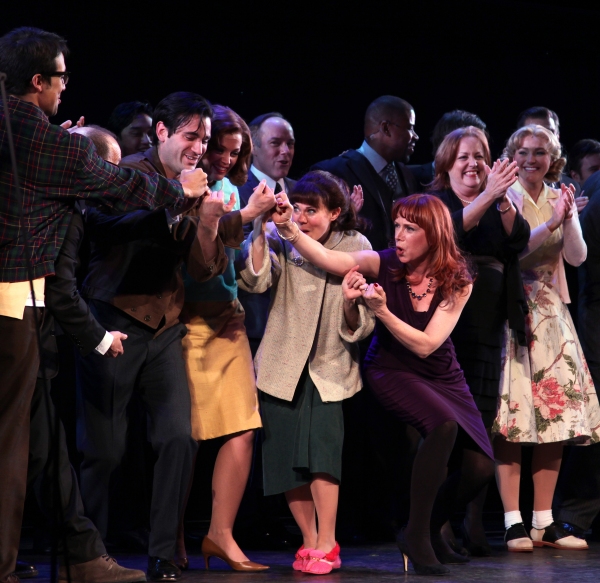 Lin-Manuel Miranda, Lonny Price, Colin Donnell, Elizabeth Stanley, Celia Keenan-Bolger, Ann Morrison & Betsy Wolfe with Members of the Original Broadway & Encores! Casts of MERRILY WE ROLL ALONG

Liz Callaway, Gary Stevens, Jim Walton, Lin-Manuel Miranda, Lonny Price, Colin Donnell, Celia Keenan-Bolger & Ann Morrison with Members of the Original Broadway & Encores! Casts of MERRILY WE ROLL ALONG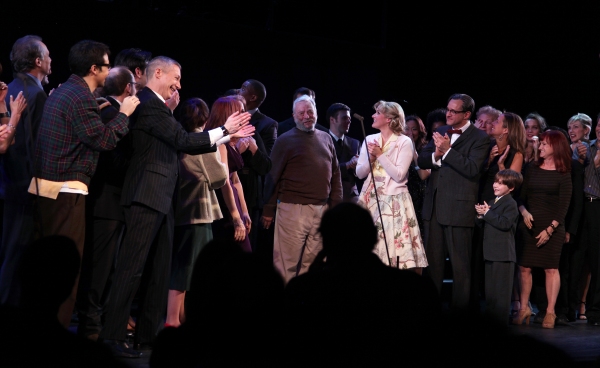 Stephen Sondheim with Liz Callaway, Gary Stevens, Lin-Manuel Miranda, Lonny Price, Colin Donnell, Elizabeth Stanley, Celia Keenan-Bolger, Ann Morrison, Betsy Wolfe and Members of the Original Broadway & Encores! Casts of MERRILY WE ROLL ALONG

Stephen Sondheim with Liz Callaway, Gary Stevens, Lin-Manuel Miranda, Lonny Price, Colin Donnell, Elizabeth Stanley, Celia Keenan-Bolger, Ann Morrison, Betsy Wolfe and Members of the Original Broadway & Encores! Casts of MERRILY WE ROLL ALONG

Stephen Sondheim

Stephen Sondheim with Betsy Wolf and MERRILY WE ROLL ALONG Cast Members

Stephen Sondheim with MERRILY WE ROLL ALONG Cast Members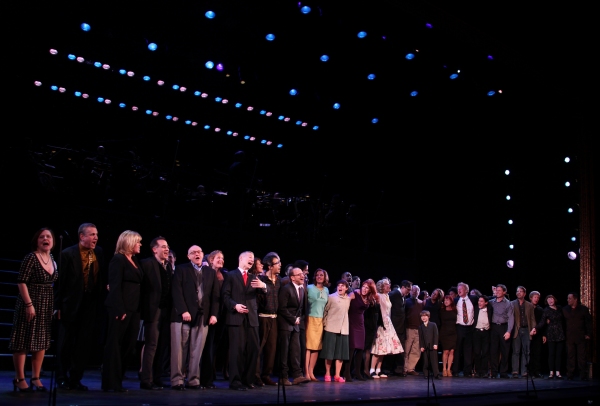 Members of the Original Broadway & Encores! Casts of MERRILY WE ROLL ALONG

Related Articles