Photo Coverage: GAYFEST NYC Celebrates with Leslie Jordan
On April 14, 2008 GAYFEST NYC hosted a major fundraising event as a kick-off for this year's Festival and a benefit for the Harvey Milk High School scholarship fund. The evening included a performance by Emmy Award-winning actor Leslie Jordan at the New World Stages, 340 West 50th Street, New York, NY 10036, with a reception to follow at Crave Restaurant and Bar.
The second annual GAYFEST NYC, the country's premier festival of new gay-themed plays, will be presented May 14 - June 15, 2008 at the TBG Arts Center, 312 West 36th Street, New York City. The five-week event, produced by Bruce Robert Harris and Jack W. Batman, presents professional Off-Broadway productions of new works by LGBT authors or spotlighting gay issues. Five fully-staged professional productions featuring Actors' Equity Association casts, talk-backs with the authors of the Festival plays, appearances by celebrated members of the LGBT community, plus other events are planned.
GAYFEST NYC's reach has extended beyond national borders and into the international theatre community. This year's Main Stage selections, from dozens of submissions worldwide, are Edward the King by David Brendan Hopes, directed by Sidney J. Burgoyne, Spill the Wine by Brian Dykstra, directed by Margarett Perry and Jumping Blind by Philip Gerson, director TBA. Two additional plays will be produced in the Studio Theatre: The Wrath of Aphrodite by Tim O'Leary, directed by Martin Casella and Steve Hayes' Hollywood Reunion, written by and starring Steve Hayes.
"GAYFEST NYC's mission is to develop new voices for the LGBT community and expand the reach and accessibility of both emerging and established playwrights, composers and lyricists, while providing high level entertainment to a very discerning and supportive audience," said Jack W. Batman, co-Producer of the festival. "At the same time, we are committed to giving back to the LGBT community, through our fundraising efforts and the generosity of our sponsors, advertisers and supporters. To that end, we established a scholarship fund to benefit students of Harvey Milk High School," continued Batman, "and last year GAYFEST NYC awarded eleven scholarships to graduating seniors and established an after-school acting program for the students." Harvey Milk High School (HMHS) is a fully-accredited, voluntary NYC public high school focused on the educational needs of teenagers who are in crisis or at risk of physical violence and/or emotional harm in a traditional educational environment.
"GAYFEST NYC is also committed to producing plays that will have a life outside the Festival," said Bruce Robert Harris, co-Producer of GAYFEST NYC, "plays that will represent the Festival in productions around the English-speaking world and which might also be brought to life in television and/or film presentations. Board members of GAYFEST NYC include Terrence McNally, Kate Clinton, Charles Busch, Douglas Carter Beane, Mario Cantone and a distinguished group of Broadway producers, actors, writers, artistic and executive directors of regional theatres plus other entertainment professionals. The play choices present a balanced program that will give audiences a comprehensive educational and entertainment experience."
Sponsors of GAYFEST NYC include HSBC Bank, Bud Light, RockStar energy drink, Andrew Christian, DG Neary Real Estate, Jamie DeRoy, Gayla, Inc., Interactive Male, Dr. Frank Spinelli, Steel Gym, Sutter Home Vineyards, Theatermania.com and media sponsors including Where New York, IN New York magazine, Next Magazine, Back Stage, HX Magazine, The New York Blade, GO! Magazine, FunMaps, Mark Nelson Events and others. GAYFEST NYC also receives generous support private from the Office of the Manhattan Borough President.
Emmy Award-winner Leslie Jordan (Outstanding Guest Actor in a Comedy Series for his portrayal of "Beverley Leslie," best friend and arch-nemesis of "Karen" [Megan Mullally] on "Will & Grace") starred for one night only in a performance of his one-man comedy "Leslie Jordan: My Trip Down the Pink Carpet" directed by David Galligan at New World Stages.
Jordan has performed as "Brother Boy" in the feature film version of Del Shores' adaptation of his play "Sordid Lives'" with Olivia Newton-John, Delta Burke and Beau Bridges. He will perform that role again as a special guest star in the television series based on the play and film for the LOGO network. Besides his Emmy-winning role on "Will & Grace," Jordan has had recurring roles on the television series "Boston Legal," "Hidden Palms," and "Reba." He is also starring in the soon-to-be-released feature film "Wanted: Undead or Alive" with Chris Kattan and on HBO's "12 Miles of Bad Road" with Lily Tomlin and Mary Kay Place.
For more information and the festival schedule please visit www.gayfestnyc.com. For additional information on The Harvey Milk High School at www.hmi.org along with updates on Leslie Jordan at www.thelesliejordan.com
Photos By Linda Lenzi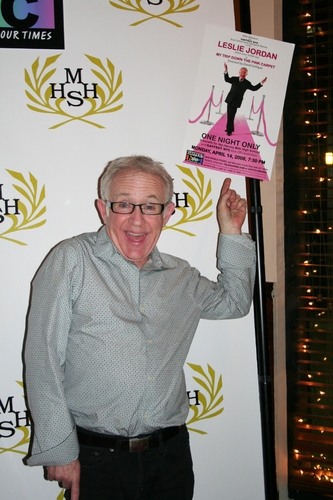 Emmy Award Winner Leslie Jordan

Leslie Jordan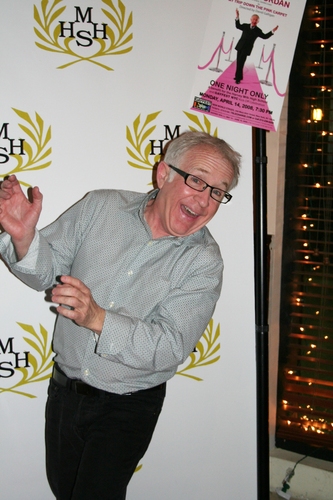 Leslie Jordan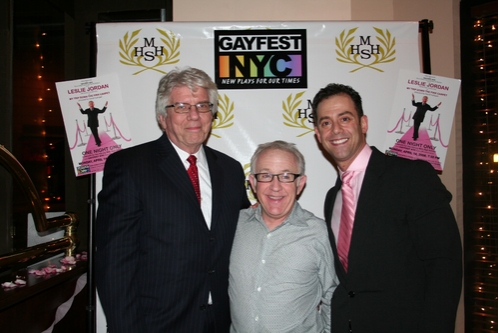 GAYFEST NYC 2008 Co-Producer Jack W. Batman, Leslie Jordan and GAYFEST NYC 2008 Co-Producer Bruce Robert Harris

Leslie Jordan and Jack W. Batman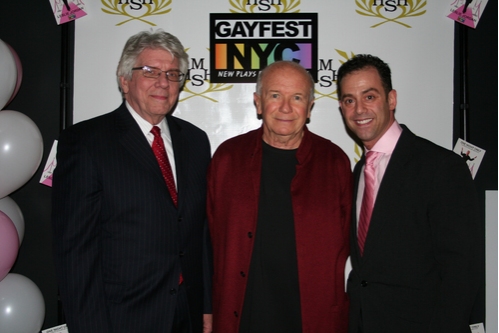 Jack W. Batman, Playwright Terrence McNally and Bruce Robert Harris

Scott Miller (Communications Officer In The Life Media Inc.), Bruce Robert Harris and Michael Billy (Host, In The Life Media Inc.)

Singer, Songwriter Brian Kent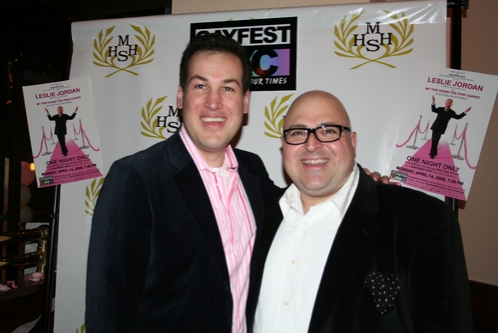 Jim Colucci and Sirius Radio's Out Q Radio Host Frank DeCaro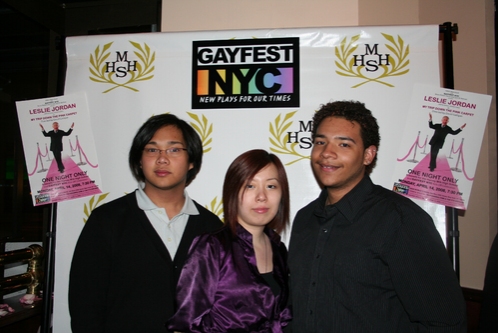 Harvey Milk High School Students, Ryan De Los Reyes, Aggy Wong and Marquis Baskerville

Harvey Milk High School Students Rachel Sanchez, Judith Torres and Margaret Mulligan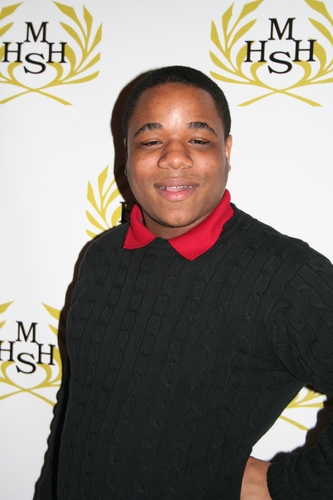 Harvey Milk High School Student Victor Rose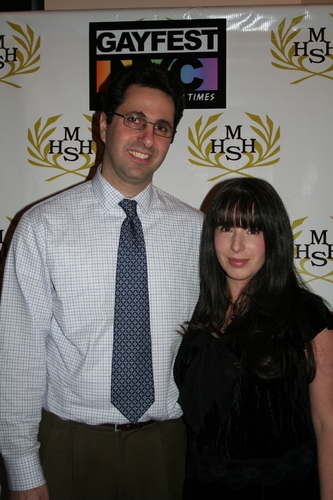 The Harvey Milk High School Assistant Principal Mark Jabir and the Harvey Milk High School Social Worker Tanya Koifman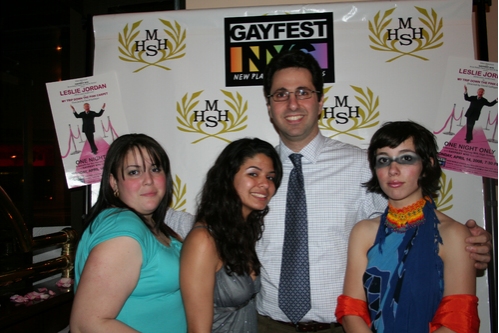 Rachel Sanchez, Judith Torres, Mark Jabir and Margaret Mulligan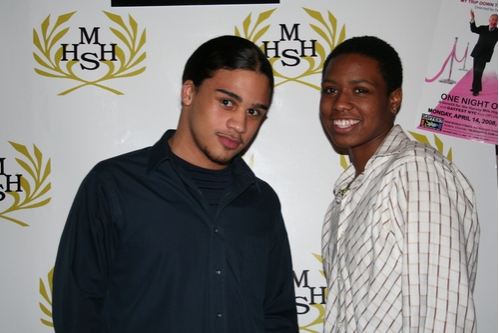 The Harvey Milk High School Alumni, Intern Jaszi Alejandro

Leslie Jordan with Ryan De Los Reyes, Aggy Wong, Marquis Baskerville, Rachel Sanchez, Judith Torres, Margaret Mulligan, Victor Rose and Jaszi Alejandro

Leslie Jordan with Ryan De Los Reyes, Aggy Wong, Marquis Baskerville, Rachel Sanchez, Judith Torres, Margaret Mulligan, Victor Rose and Jaszi Alejandro

Ed Hummel, Leslie Jordan and Bruce Robert Harris

Jack W. Batman, Playwright Steve Hayes and Bruce Robert Harris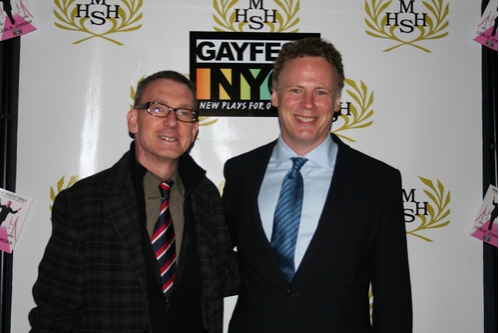 Playwright Marty Casella and Playwright Philip Gerson

Leslie Jordan and Michael Billy
GAYFEST NYC 2008's Creative Team; Director Marty Casella, Director Margarett Perry, Director
Sidney J. Burgoyne
, Casting Director
Judy Bowman
and Playwright
Philip Gerson