Paula Ewin And Ted Osborne Present WITH SPIRIT AND WITH FIRE A Celebration Of Playwright Bill Nave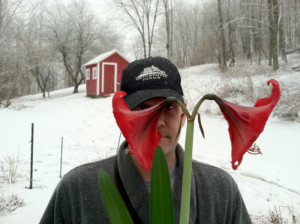 29th Street Rep (Paula Ewin and Ted Osborne, Producers) present the ONE NIGHT ONLY celebration of Playwright in Residence Bill Nave, who died in 2016. Directed by Vera Beren at The Leonard Nimoy Thalia at Symphony Space at 2537 Broadway at 95th Street, New York, NY on Wednesday, May 2nd at 8:00 pm. Admission is free and by invitation. The performance will run approximately 3 hours, with one intermission.
In 1988, shortly after 29th Street Rep was formed, Founding Member and actress Paula Ewin met Bill Nave in a chance encounter on a NYC bus and she invited him to attend an upcoming performance at the Rep's space. Thus began a relationship that would lead to 8 productions and numerous readings of works by Nave, many written with the Rep's actors in mind., including 7 leading roles for Ewin. His first produced play, Necktie Breakfast, based on the true story of the last public execution in the US of a young black man accused of the rape and murder of an elderly white women in Owensboro, KY (Nave's home town) in 1936 was moved to an Off Broadway production at The Harold Clurman Theater in 1991 after the critically acclaimed showcase at the Rep's home on 29th Street and 7th Avenue. His celebrated one act plays, including Visiting Oliver and With Spirit and With Fire were a staple at 29th Street Rep and in 1993 Visiting Oliver was published by Samuel French, Inc. after winning numerous awards including the OOBR Award for Night of Nave .His explosive full length 1994 satire, Bible Burlesque (With the Words of Our Lord in Red) featured a young Edward Norton as Christian Pilgrim and helped shape the actor's career path. Bill Nave was a prolific writer and in total wrote over 15 one act and full-length plays, some of which are included in the evening's celebration. Bill Nave was the Playwright in Residence at 29th Street Rep from 1991 until the theater lost its space in 2008. He died at the age of 55 after a long battle with prostate cancer. He holds a BFA with honors from New York University. He is survived by his husband, Jared Stamm.
29th Street Rep (aka 29th Street Repertory Theatre, Inc.) was founded in 1988 by five actors with a common goal: to produce exciting and visceral theater. After 78 productions, including the New York Premiere of Tracy Lett's Killer Joe and the critically acclaimed Bold Girls by Rona Monroe in addition to 8 productions by Playwright in Residence, Bill Nave, the theatre was forced to close due to rising rents and expenditures in association with Manhattan commercial leases. Lincoln Center's Library for the Performing Arts (TOFT) archives have recorded numerous 29th Street Rep productions.
Vera Beren has served as Director for every Bill Nave play produced by 29th Street Rep. The relationship was formed at 29th Street Rep with the original production of Necktie Breakfast in 1991. Director, actress, producer, musician and Renaissance woman, Beren has been instrumental in the shaping and presentation of Nave's plays and is collaborating with actors from the 29th Street Rep's original ensemble as well as newcomers who are simpatico with the themes and musicality of Nave's words. In addition, Stewart Wagner, long time lighting designer for 29th Street Rep and Beren collaborator will provide ambiance.
The evening's program will be a retrospective of Nave's body of work in the theater, which will include projections, video, live music, scenes and monologues
Featured actors include 29th Street Members Tim Corcoran, Paula Ewin, Leo Farley, David Mogentale, Chuck Willey and guest artists
Timothy Doyle, Cynthia Enfield, Aurora Heimbach, Fletcher Liegerot, Robert McKeon, Ted Osborne, Grant Schumacher and Maja Wampuszyc.
Musicians include Kendra Jo Brook, Mark Ettinger and Teresa Lotz.
Related Articles

More Hot Stories For You