Pace University's School Of Performing Arts Welcomes Incoming Freshman Class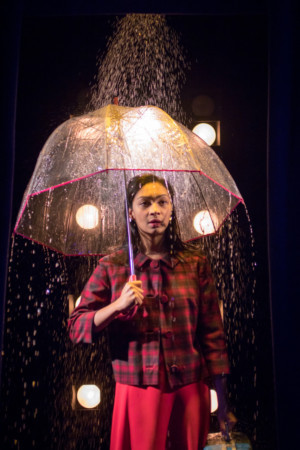 Pace University's School of Performing Arts (PPA) welcomed 176 star freshmen to their graduating class of 2022. The school received a record number of applications this year from six continents with over 3,700 hopefuls vying for a spot at the innovative performing arts school. Applications from the United States were received from 49 states as well as Puerto Rico.
"I am impressed by the immense talent of the students and the drive and focus they have demonstrated to get to this point," said Jorge Cacheiro, executive director, Pace School of Performing Arts. "Our faculty members are extremely excited to teach and train them over the next four years."
The students are already busy with rehearsals for the first shows of the season: "Boeing Boeing," "Les Miserablés in Concert," and "Sunday in the Park with George." Additionally, students in the International Performance Ensemble are continuing their work on an original piece they began this summer in Stara Zagora, Bulgaria, based on George Orwell's "Animal Farm."
Pace University's School of Performing Arts offers a wide range of groundbreaking programs including acting, directing, stage management, commercial dance, musical theater, stage design and a program geared towards acting for film, TV, voiceovers, and commercials.
Earlier this month, Playbill ranked Pace University in their top ten most represented colleges on Broadway in the 2018-2019 season.
Last month, Onstage Blog, which last year ranked the Pace School of Performing Arts number one in New York State, ranked PPA's Musical Theater major number four in the country, its Acting major number 6 in the country, its Commercial Dance major number 16 in the country, and its Production and Design major number 23 in the country.
About the Pace School of Performing Arts
The Pace School of Performing Arts in the Dyson College of Arts and Sciences is one of the most sought-after undergraduate training destinations in the United States. Dedicated to providing the finest possible pre-professional education, groundbreaking programs re-imagine how young artists are trained for today's industry. In addition, Dyson College's strong liberal arts curriculum provides students with a solid educational foundation that enriches their professional development as artists, giving students a deeper understanding of themselves and the world. The school's mission is to prepare students for careers as performers, designers, and technicians in today's ever-changing entertainment industry with curricula that train students for both the world of theater and dance as well as film and television. At the Pace School of Performing Arts, curricula are taught by leading artist-educators from across many disciplines. With more than 50 productions a year in New York City and internationally, intense training led by more than 125 prominent artists and teachers, and unique networking opportunities across the entertainment industry, the Pace School of Performing Arts is the place for aspiring artists to pursue their dreams.
About Dyson College of Arts and Sciences
Pace University's liberal arts college, Dyson College offers more than 50 programs, spanning the arts and humanities, natural sciences, social sciences, and pre-professional programs (including pre-medicine, pre-veterinary, and pre-law), as well as numerous courses that fulfill core curriculum requirements. The College offers access to numerous opportunities for internships, cooperative education and other hands-on learning experiences that complement in-class learning in preparing graduates for career and graduate/professional education choices. http://performingarts.pace.edu/
About Pace University
Since 1906, Pace has educated thinking professionals by providing high quality education for the professions on a firm base of liberal learning amid the advantages of the New York metropolitan area. A private university, Pace has campuses in Lower Manhattan and Westchester County, NY, enrolling nearly 13,000 students in bachelor's, master's, and doctoral programs in its Lubin School of Business, Dyson College of Arts and Sciences, College of Health Professions, School of Education, Elisabeth Haub School of Law, and Seidenberg School of Computer Science and Information Systems. A 2017 study by the Equality of Opportunity Project finds that Pace graduates are out-earning their parents and peers, bucking a nationwide trend for millennials. www.pace.edu.